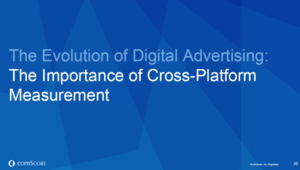 The Evolution of Digital Advertising
今すぐダウンロード
---
ブログ
7月. 2, 2012
|
Share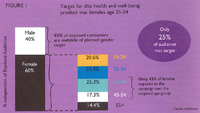 With the rising popularity of social media and online video, along with the growing adoption of smartphones and other connected devices, the Internet continues to consume an increasing amount of time in the daily lives of millions of consumers. For brands around the globe, the Internet has also emerged as a significant advertising channel. Consider... さらに表示する
By:
Gian Fulgoni
タグ:
Advertising
,
Cookies
ブログ
6月. 8, 2009
|
Share
Last Monday I spoke to a packed room at Federated Media's Conversational Marketing Summit in New York, where I announced comScore's new digital audience measurement initiative, Media Metrix 360. さらに表示する
By:
Magid M. Abraham, Ph.D.
タグ:
Cookies
ブログ
2月. 21, 2008
|
Share
Kevin Mannion's January 25 blog about engagement metrics on MediaPost's Online Metrics Insider raises some interesting issues about online measurement, but fails to address the inability of site server data to provide any of the key people-based metrics that are needed for online media planning and analysis. In the world of online media, I never... さらに表示する
By:
Marv Pollack
タグ:
Cookies
ブログ
10月. 23, 2007
|
Share
Louise Story's October 22nd article in the New York Times, entitled "How Many Site Hits? Depends Who's Counting" highlights the challenges of getting up to speed on the continuing debate about the differences between the online unique visitor counts provided by publishers' web server logs and the independently measured unique visitor counts... さらに表示する
By:
Andrew Lipsman
タグ:
Cookies
,
Web Traffic
ブログ
5月. 30, 2007
|
Share
Who would have thought, a few weeks ago, that Randy Rothenberg, President & CEO of the IAB, would refer to comScore and Netratings as "the heroes of the interactive marketing and media ecosystem"? さらに表示する
By:
Magid M. Abraham, Ph.D.
タグ:
Audience Measurement
,
Cookies
,
Marketing Research
,
Web Analytics
,
Web Traffic
ブログ
4月. 23, 2007
|
Share
Hello, I'm Magid Abraham, and I'm the co-founder, president and CEO of comScore. Here on comScore Voices, I hope to share insight on the latest trends and advances in digital media measurement. さらに表示する
By:
Magid M. Abraham, Ph.D.
タグ:
Audience Measurement
,
Cookies
,
Internet Use
,
Marketing Research
,
Web Analytics
,
Web Traffic
ブログ
4月. 17, 2007
|
Share
We issued an important press release today showing the results of a comScore study on the rate of cookie deletion, and the impact this has on the accuracy of cookie-based server data in measuring unique visitors (UVs) to a site or the reach and frequency (R/F) of an online ad campaign. We based the study on the comScore U.S. database of 400,000 computers.... さらに表示する
By:
Gian Fulgoni
タグ:
Cookies
,
Marketing Research
,
Web Traffic