- April 7, 2014
Are Mobile Operators Asking the Right Questions of their Subscriber Big Data?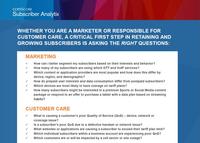 With the global addition of over 526 million mobile devices in 2013 – 77 percent of which were smart phones – the demand for mobile data has exploded faster than ever before. This driving market trend has resulted in the growth of mobile data traffic by 81 percent globally, fueling the increase in Average Revenue Per User (ARPU) for data services; however, this has come at a cost to traditional Voice and SMS revenues. Here lies the challenge for mobile operators.
Mobile operators' ability to leverage customer Big Data will be a key competitive advantage to retain subscribers and remain at the forefront of this dynamically changing industry. So the real question is – what should mobile operators be asking of their Big Data to compete in a world where there will be more mobile-connected devices than people on the planet?
The Mobile Operators Question Guide below is designed to help operators discover the power of asking the right question and learn where to find the answers.
PDF: Mobile Operators Question Guide
Download now
Comscore solutions for Mobile Operators
Comscore Subscriber Analytix Care provides frontline customer care teams with timely access to root cause analysis  of a subscribers Quality of Service (QoS) to quickly identify, resolve and prevent future subscriber issues – all leading to decreased costs, churn reduction and an improved customer experience.
Comscore Subscriber Analytix Marketing ingests billions of records and applies digital data enrichment via Comscore assets to generate exclusive marketing intelligence through subscriber interest categorization, segmentation and targeting dashboards – enabling marketing planners to create more relevant product and service offerings and increase Average Revenue Per User (ARPU).