- February 21, 2019
Can Audience Sentiment and Box Office Dollars Predict Oscar Wins?
The Academy Awards are one of cinema's most anticipated annual affairs – synonymous with celebrity star power and Hollywood glitz. Aside from sheer industry aplomb, winning an Oscar can also translate into dollars – giving a film a huge boost at the box office and beyond. Case in point, 2017's Best Picture winner, "Moonlight," made more than 20 percent of its box office grosses after its Oscar win.
And this year's record-breaking domestic box office, which boasted over $11.8 billion in revenue, is one to celebrate. With a diverse set of content that ranged from big blockbuster films to dazzling documentaries, this year's set of nominees spans the gambit. Take the Best Picture category, for example, which includes a superhero film "Black Panther," music powerhouses "A Star is Born" and "Bohemian Rhapsody," political and societal commentary in "BlacKkKlansman," "Green Book" and "Vice," an autobiographical drama "Roma," and a period drama "The Favourite." These eight nominees perfectly embody the spirit of what was intended when the academy broadened the category to include as many as ten films back in 2010.
But what makes a film an Oscar-winner? Does winning at the box office and winning the love of moviegoers predict an Academy Award or is it all about the critical review? Are there any early indicators as to what film takes home the title?
We took a look back at performance in 2017 as well as trends from 2018 to see if there are any themes across a film's path to the golden statue.
Word of Mouth Follows Critical Darlings
When examining data from Comscore PostTrak,* an exit polling service that reports audience demographics and the aspects of each title that trigger interest and attendance within the first two weeks of a film's wide release, we can see there is a potential link between the critic endorsement factor and a film's Oscar potential.
Looking at the past two years of nominations, all of the nominated movies had a high percentage of their audiences citing a critic's review as the main thing driving them to the box office – all well above the norm of eight percent. Even more so, the movies with high percentages of audiences citing a critic's review as their main driver also tend to be the ones that actually ultimately took home the award for Best Picture. In 2017, Moonlight had 28 percent of audiences citing a critic's review as the main driver – the highest score of its nominated group. And in 2018, "The Shape of Water" had 21 percent – the third highest score of its nominated group ("Lady Bird" took the top spot but didn't win the statue that year). If this year follows the same pattern, many eyes will be on "Black Panther," "BlacKkKlansman" and "A Star is Born."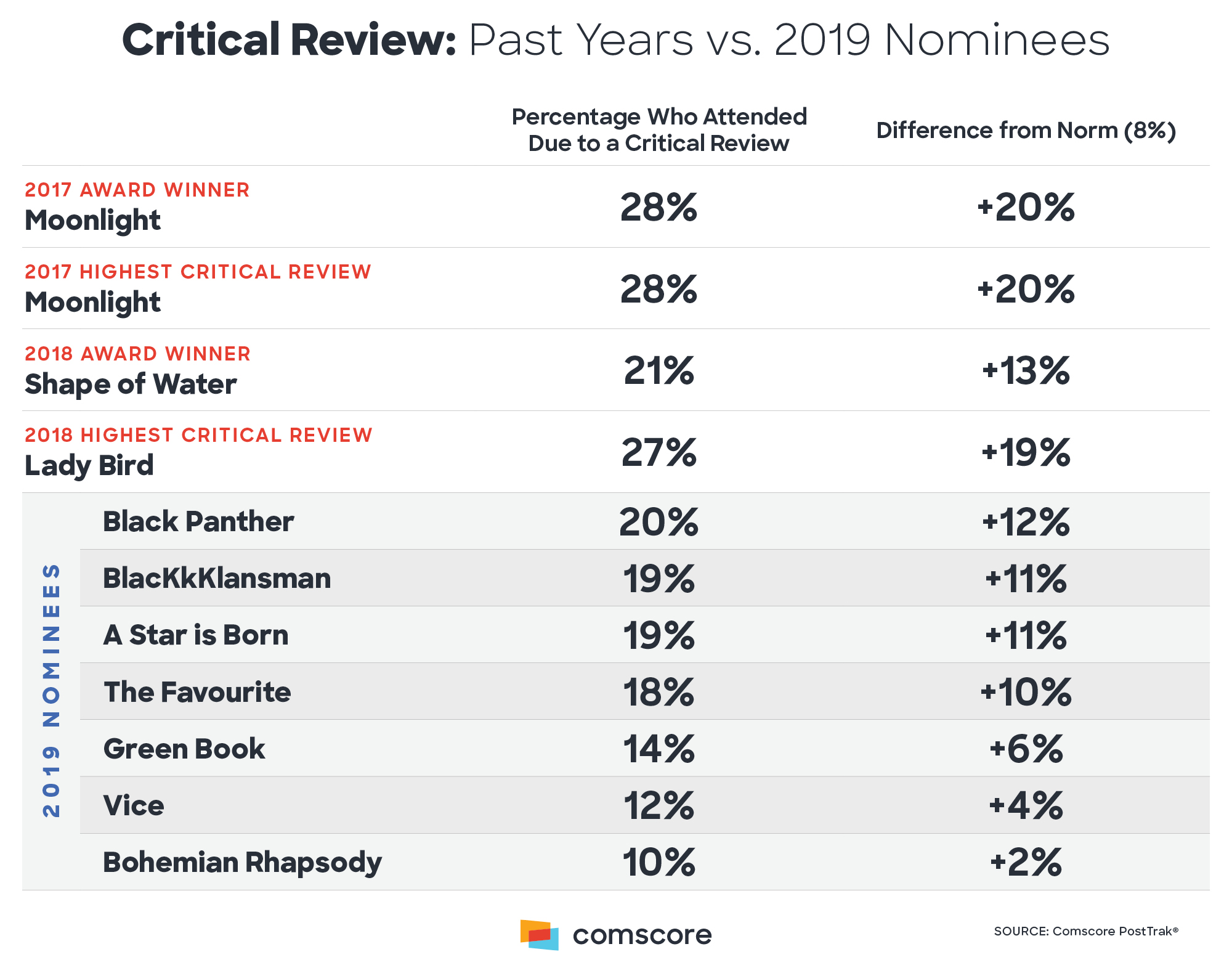 The same potential link can be made for general word-of-mouth referrals. However, similarly to the critical reviews, while the winners still had high word-of-mouth scores (i.e., "hearing it was good" as a main motivator for a moviegoer to see the film), past winners did not always have the highest score on the list.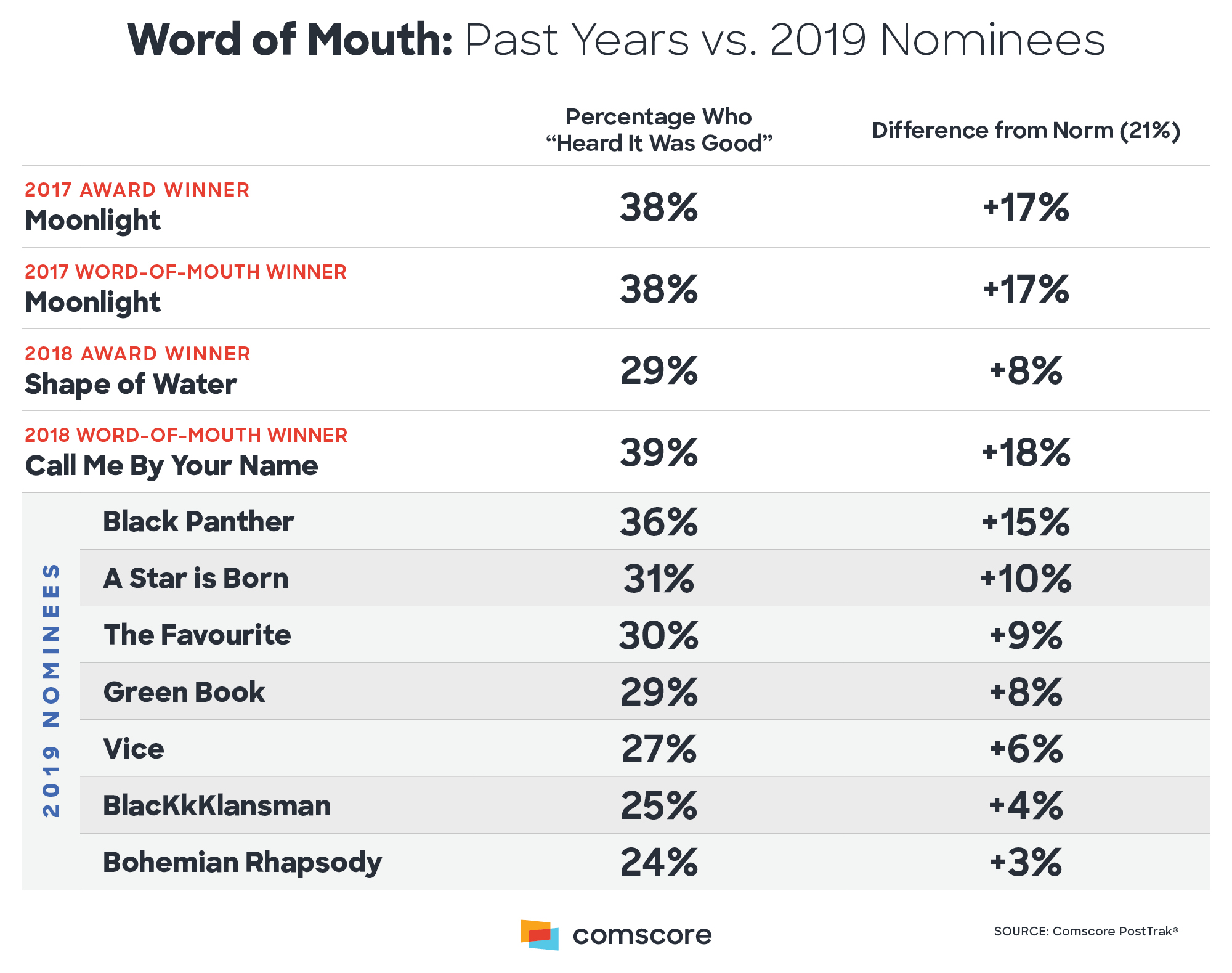 To summarize, as we prepare for the annual ceremony, taking a cue from just the critics or your friends may not give you the edge with your Oscar bracket. Titles with both high critic and word-of-mouth scores, however, are definitely the ones to watch.
A Year of Overachievers: Big Bucks and Audience Love
While every year Best Picture nominees are an impressive bunch, this year took the cake when it came to nominating fan favorites.
We saw the academy recognize numerous big blockbuster films' contributions to the art of filmmaking, with nominees such as "Black Panther," "Bohemian Rhapsody" and a "A Star Is Born." These three films alone generated a combined box office total of over $1 billion in North America, based on our census box office revenue data. To put that in perspective, last year's top three highest grossing Best Picture nominees combined made less than half of that amount with a grand total of $450 million in North America.
And beyond the tangible success of these films, PostTrak shows that this year's Best Picture category is full of fan favorites. "Black Panther" for example, boasted a whopping 95 percent total positive score – higher than any film in the past two years of nominees. Other big blockbuster films like "Bohemian Rhapsody" and "A Star is Born" also received high grades with 87 and 86 percent total positive scores, respectively. But limited releases also played well with audiences with films like "BlackKKlansman" and "Green Book" both enjoying nearly 90 percent favorability ratings with audiences.
In fact, the average favorability score for the eight nominees this year was an impressive 82 percent, well above the norm of 74 percent.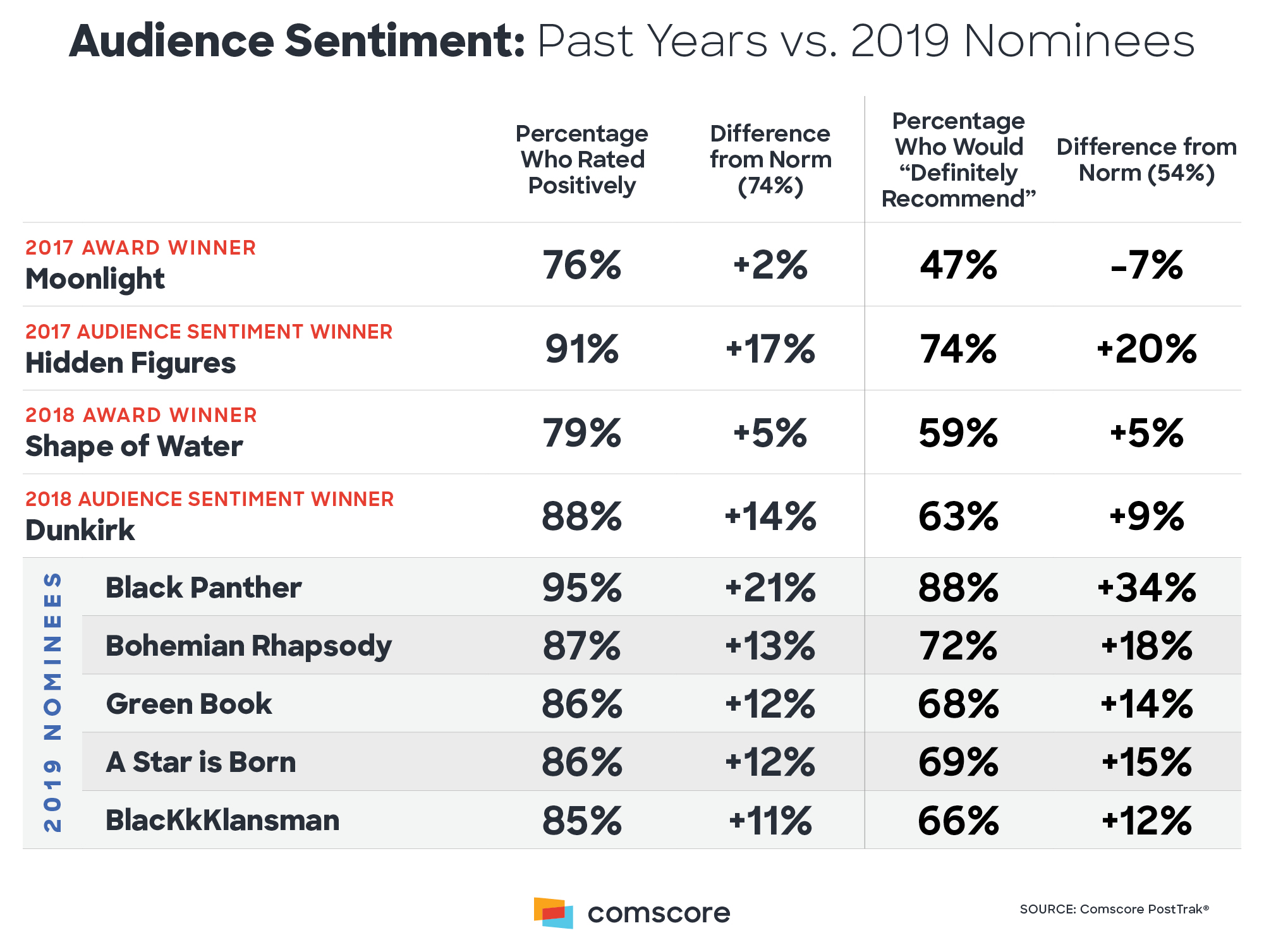 But do these high favorability scores indicate the Oscar winner? The answer: Not in recent history.
If we look at the nominated films who received the highest total positive fan marks from the past two years, it's clear that while fan favorites are included in the nominees they don't usually win. In 2017, "Hidden Figures" ranked highest with fans, but "Moonlight" was the winner. And in 2018, "Dunkirk" ranked highest with fans, but "The Shape of Water" took home the award. And while all of these films are of cinematic excellence, this points to a disconnect between the films that attract droves of moviegoers and those that receive this prestigious recognition from the academy.
So, what's the verdict?
While films beloved by critics stand a solid chance of taking home the win from the academy, audiences cast their votes with dollars. It's one thing to recognize a film through a nomination, but these crowd-pleasing, money-makers may also deserve their place within the academy's Oscar-winning canon as the true winners of moviegoers' hearts and pocketbooks.
To learn more about Comscore movie measurement solutions, please contact us.
*Powered in partnership with ScreenEngine/ASI
Quantify the impact of trailers and film campaigns against the competitive landscape with Comscore PreAct™ .