- October 29, 2014
Facebook Messenger Climbs Mobile App Rankings After Unbundling from the Big Blue App
In August, Facebook disabled the messaging feature on its flagship app in a strategic move that shifted all mobile messaging activity on the social network to its standalone Facebook Messenger app. This tactic of building out separate standalone apps for different product features has become more commonplace among larger digital media companies in pursuit of the emerging ' app constellations' strategy.
Google – aided in part by its ownership of the Android platform -- has perhaps the most expansive and far-reaching constellation of apps, with YouTube, Google Play, Google Search, Google Maps and Gmail all ranking among the top 15 mobile apps and all serving vastly different customer needs. Altogether, app constellations (defined here as a company with at least three apps) account for 13 of the top 15 mobile apps (Google with five, Facebook with three, Apple with two, Yahoo with two, and Amazon with one) and 22 of the top 50.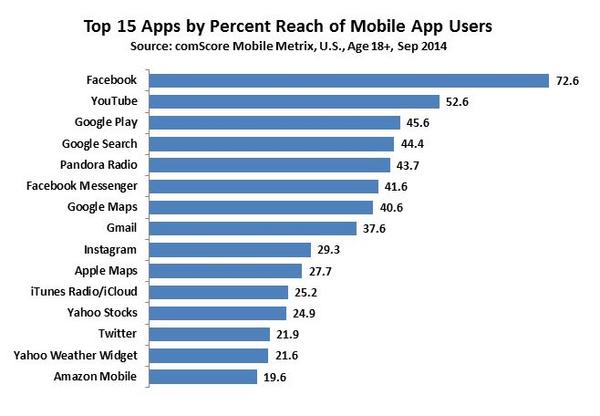 Why are media companies increasingly pursuing the constellation strategy? For one, dedicated apps can specialize and perform their primary functions without compromising other features, thereby delivering a better experience to the end user. It also allows media companies to deliver experiences that conform to different levels of digital identity and privacy. In social media, for example, there are trends toward interacting with greater anonymity and the ephemerality of content.
There are also some potential downsides to the constellation strategy. One issue is that the majority of mobile app users don't download any new apps in a given month, making it difficult to get included in a phone's scarce app real estate. So requiring a user to download a new app for a specialized purpose could result in that user foregoing the product feature altogether.
Viewed through that lens, Facebook's strategy to migrate users to the standalone Messenger app is interesting because a recent huge jump in traffic suggests users are sticking with the behavior and did in fact migrate once it was required. Comscore Mobile Metrix data showed a 52-percent increase in Facebook Messenger's U.S. audience from July to August, with the app gaining 23 million users that month while jumping four spots to #6 in the ranking of top apps. As of September, Messenger now has 66.9 million monthly active users (MAUs) in the U.S., putting it squarely ahead of other popular messaging apps such as Skype, Kik, Line, Viber and Facebook's own acquisition WhatsApp. We can also see a steady climb for Messenger over the past year as Facebook appealed to users to transition to the standalone app before finally mandating it.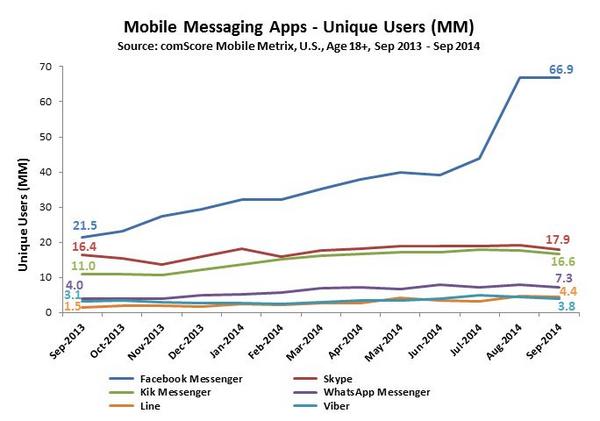 In light of Messenger's already strong leadership position in the U.S., one could easily question Facebook's $19 billion acquisition of WhatsApp. But it's important to remember that WhatsApp has had dramatic success overseas – particularly within developing markets representing many of Facebook's "next billion" users – providing a strategic rationale for the purchase. Still, Facebook's willingness to bet big on the future of the messaging app market is nevertheless revealing.
With Facebook's flagship app already the market leader in the Social Networking category and its Instagram app leading the Photos category, the company's aggressive moves over the past year to assume the mantle in Instant Messaging means it now sits atop the perch in several key areas of the social web.
In this sense, the constellation strategy can be a path to market leadership because it allows media companies to cover more ground and design better experiences to meet the needs of users. Success is not guaranteed, however, so it will be important for media companies to learn from examples like Facebook Messenger that have actually paid off.