- September 3, 2014
Radio, Maps and Instant Messengers Achieve Greater Audience Reach on Apps than Desktop
Consumers use different devices depending on the digital task they are trying to accomplish, the type of media content they seek to engage with and their physical location at the time of consumption. The categories that tend to skew higher on mobile apps tend to be those that digital consumers want to engage with on-the-go and at that very moment.
It comes as no surprise then that some categories such as Radio, Maps and Instant Messengers achieve much higher reach on mobile, while others such as Search and News reach a greater percentage of the audience on desktop. The Photos category also tends to invite larger mobile audiences, due to the immense popularity of apps such as Instagram and Snapchat.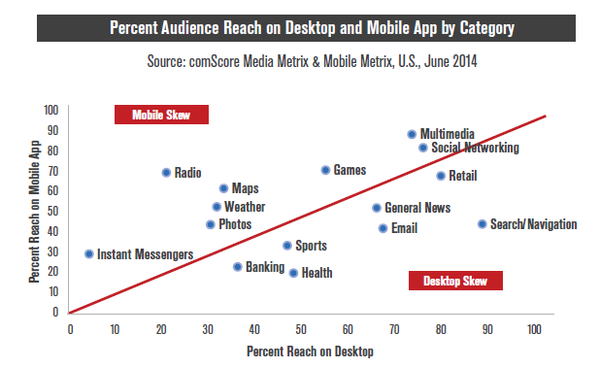 Many of the categories with larger mobile app audiences also happen to lead the medium in terms of share of time spent. In fact, Social Networking (25%), Games (16%) and Radio (8%) – the medium's three largest categories – together contribute nearly half of the total time spent on mobile apps. The strength of these categories highlights that mobile devices are more heavily used for entertainment and communication than their desktop counterparts.
For more insights into the fast-growing mobile app landscape, download a complimentary copy of our U.S. Mobile App Report (August 2014) here.