- December 18, 2013
How Australia Spends Its Time Online
There's a popular quote, "Time is what we want most, but what we use worst."
Here's a chance to find out how Australia spends its time online.
This graph presents a quick summary of how a typical hour of online activity would breakdown based on Australia's internet usage in October 2013.
No surprises that Social Media is the number 1 online activity taking up 6m30s in every hour or more than 10 percent of time. Services which includes email, online chat, messengers amongst other activities adds another big chunk to social time.
The next two big categories are entertainment and portals with 4m36s and 4m respectively. Just three years ago these two segments took up more than 40 percent of online time.
The other popular categories in the top 10 include News/Information, Search, Retail, Games, Business/Finance and Lifestyle.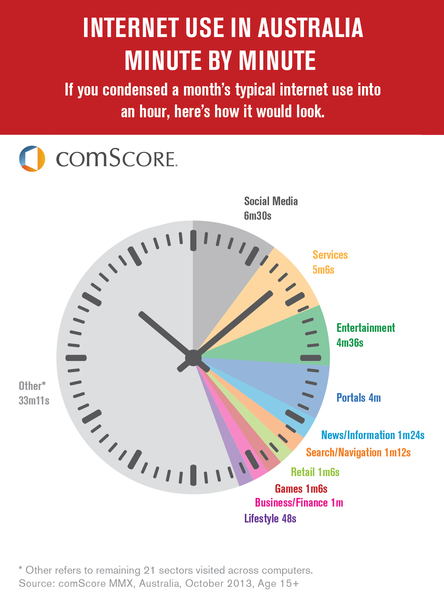 This report has been created using Comscore MMX.
Click here to see some interesting facts related to the Australian online retail market.
Download the PDF here or embed on your site
<p><a href="http://www.comscore.com/time-spend-online-in-australia">How Australia spends it's time online?</a></p>
<a href="http://www.comscore.com/time-spend-online-in-australia"><img src="http://www.comscore.com/content/content/download/23077/1193399/file/internet-use-in-australia.png" alt="How Australia spends it's time online?" width="1284″ /></a>