June 4, 2009
Huffington Post Defies Expectations, Reaches New Heights Post-Election
In the run-up to the 2008 presidential election, mainstream America first became acquainted with Huffington Post (aka Huff Post), the popular news aggregator and commentary site. The site featured a swirl of real-time news and analysis that fed the addiction of news junkies (like myself) interested in reading anything and everything about the election.
comScore reported that the site had reached new highs in October 2008 when it drew 5 million visitors, which was not altogether surprising with the election reaching a fever pitch. But, like many in the news media, I expected that Huff Post's audience would come back down to earth after the election.
Only that didn't happen…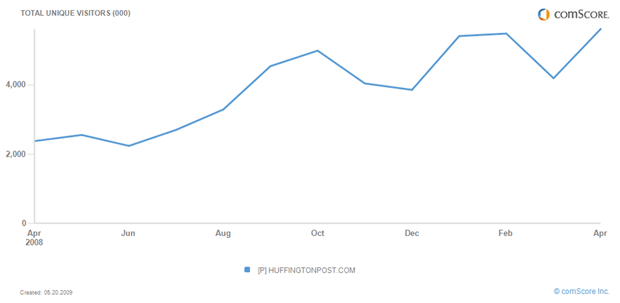 The peak coverage of the election season was reached in October 2008, and as anticipated the two subsequent months saw traffic pull back to around 4 million visitors a month. However, defying the expectations, traffic soon picked back up beginning in January as the number of visitors soared past its previous high to 5.4 million. And the site managed to sustain this growth, with three out of the first four months of 2009 attracting more visitors than the October peak. April 2009 represented an all-time high for Huff Post with 5.6 million visitors.
This clear undercurrent of growth at the site suggests that there may be an emerging trend in how Americans consume news. With so many disparate news sources available online, it can be difficult to keep up with the best of what's available and news aggregators like Huff Post offer links to the day's most interesting stories.
With print readership of newspapers declining, a concern among the industry is whether or not these news aggregators will cannibalize newspapers' digital business. While it may be difficult to know conclusively whether or not this is the case, I found one piece of evidence suggesting that Huffington Post might in fact encourage online newspaper consumption. comScore data revealed that the average online newspaper reader spends an average of 26.2 minutes consuming online newspaper content each month, but the average reader of Huff Post spends 55.5 minutes doing so. So there is significantly heavier online newspaper consumption among those who visit Huffington Post.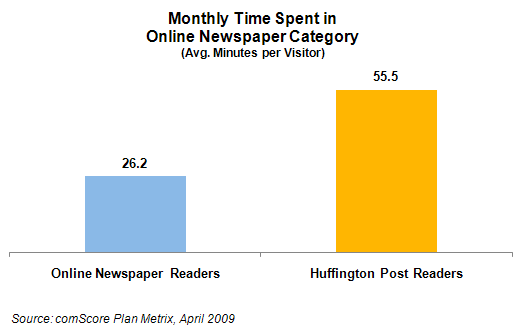 Of course, it would be unfair to assume that this correlation necessarily implied causation (after all, Huff Post readers might be inherently heavier online newspaper readers than the average category visitor), but the stark difference does at least suggest that the site just might play some role in driving more consumption of online newspapers. If that's the case, then newspapers ought to be devising strategies to get their content front and center on news aggregators, because in all likelihood they are only going to get bigger with time.
The downside risk of such a strategy is that if people become more dependent on news aggregators, they could stop visiting online newspapers as a primary source of news. Will the once-loyal New York Times reader begin visiting a site like Huffington Post for his first glance at today's news in lieu of the NYTimes.com homepage? So as these news aggregators gain prominence, it will be interesting to monitor whether or not they have an effect on existing online news consumption habits.
This of course forces newspapers to walk a fine line: how to get content distributed as widely as possible without losing the eyeballs of your regular readers? Ultimately, I suspect the newspapers will have to strike a healthy balance with the aggregators, enabling them to feature content while policing how much of that content can be repurposed before linking to the full story. I also believe that as this new digital news paradigm emerges, there will be a renewed emphasis on writing talent, content quality, in-depth analysis and investigative journalism – the real differentiators for news today. The news brands that choose to focus on these elements will not only be able to survive the current landscape but will find their way to new and valuable audiences across geographies that they never before would have reached. With the right strategy, the newspapers just might find a useful ally in the news aggregators.
Related Products
comScore Media Planner™ enables a fully-digitized planning process, helping agencies to build more efficient plans, eliminate waste and garner overall better results.

Learn More