- June 8, 2020
Mobile Contactless Payments Rise to the Centre as Mobile Device Focus Grows
In our 2020 Global Mobile Payments Outlook whitepaper, we learned how consumers worldwide continue to shift towards mobile devices, which has been a positive for mobile wallet adoption.
Not only is the share of digital audiences using mobile devices growing, but the share of online transactions happening on mobile now surpasses the 50% mark across regions (with Latin America and Asia Pacific approaching the 60% threshold). Of those transactions, mobile wallets have already captured a significant share, leading the way with 42.5% in Asia Pacific, 38.5% in Europe, 34% in Latin America, and 22.5% in North America.
As mobile devices continue to grow in importance as a commerce channel, one of the burgeoning mobile-enabled payment capabilities is mobile contactless payment. In this blog post, we will examine some of the latest trends in in-store (offline) payments via code scanning and NFC technologies. We will cover activities observed in North America (represented by U.S. and Canada), Latin America (represented by Mexico, Brazil, and Argentina), Europe (represented by U.K., Germany, France, Italy, and Spain) and Asia Pacific (represented by India, Japan, and Australia). Note that we are excluding in-store purchases made by consumers tapping their physical contactless cards as that are not considered a mobile activity.
Mobile contactless payments are gaining traction, but still face important barriers to growth
Mobile contactless payment adoption is highest in Asia Pacific and Latin America, the regions which show a stronger dependence on mobile. As you can see below, Asia Pacific leads in adoption with 46% of smartphone buyers (that is, users who buy online) using mobile contactless payment technology during Q4 2019. Latin America is next with 34%, and is far ahead of both North America and Europe, with adoption rates of 16% and 14%, respectively.
Mobile Contactless Payments Penetration and Frequency of Use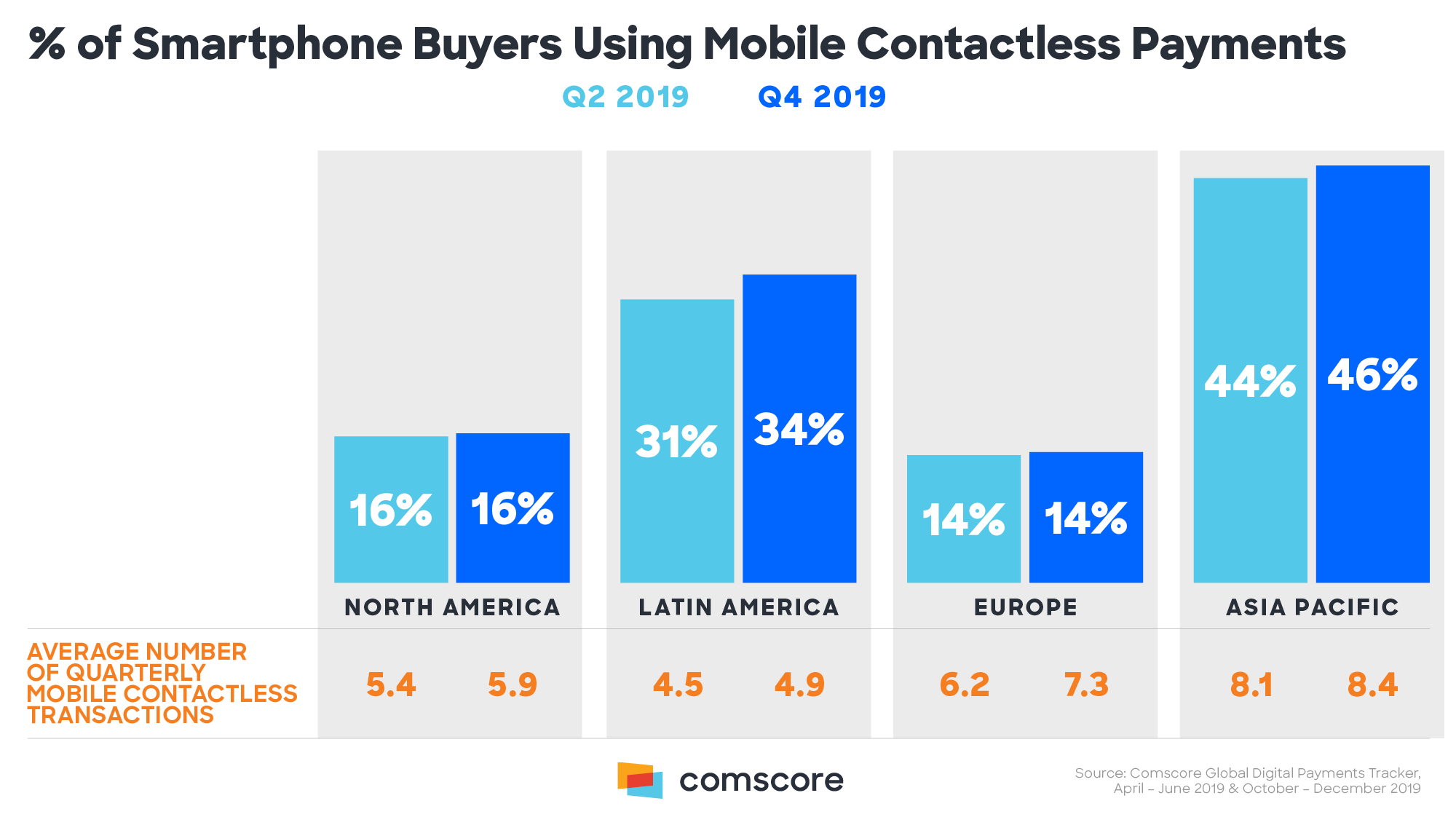 Where North America is represented by U.S. and Canada, Latin America by Mexico, Brazil and Argentina, Europe by U.K., Germany, France, Italy and Spain, and Asia Pacific by Japan, India and Australia.
Even though these adoption rates increased only in Asia Pacific and Latin America from the second quarter to the fourth quarter of 2019, we see the average number of transactions going up across the globe. That is a positive sign for the adoption of this mobile contactless payment technology. In North America and Europe, penetration has been flat during the second to fourth quarter of 2019, which suggests that both regions still have various barriers to adoption to overcome in order to entice the next wave of adopters to join in. While we have seen that a higher percentage of mobile users are willing to use their phones to make purchases online (that is, mobile represents more than 50% of the share of online transactions across all regions in 2019), using their phones to make purchases at the store may be more of a stretch for consumers. Perhaps consumers in North America and Europe are having a hard time breaking the habit of swiping a physical card, find the whole mobile contactless process confusing, or do not see the value in switching how they pay.
Ultimately, the adoption of mobile contactless payments is analogous to a chicken-and-the-egg problem. Without widespread merchant acceptance, consumer adoption will remain low, and on the flipside, merchants will not accept these new forms of payments unless there is higher consumer usage. A mix of incentives for both consumers and merchants will likely do the trick. Next, we will discuss some examples on how firms try to balance both sides of that equation.
North America and Latin America are each led by a top regional player, Asia Pacific is divided up into local players, and Europe remains up for grabs
In the span of a few years, top mobile wallets have rushed to expand their geographical coverage and have managed to carve out their territories. The graphic below shows that in the case of North America and Latin America, Apple Pay and Mercado Pago have established a regional lead, respectively. Apple Pay's launch in late 2014 attracted a lot of attention and was accompanied by a big-splash marketing campaign and partnerships with top banks to promote consumer sign up. The user base grew quickly, but sustained usage lagged, and it was not until more recently, with the help of greater in-store and online acceptance from top merchants, that we see a stronger use within its installed base. Inversely, Mercado Pago joined the fray late and without any partnerships with top banks. Instead, it leveraged its vast network of small merchants to launch its QR Code solution, which was cheaper and easier for merchants to integrate than NFC technology (which requires a new and expensive POS/MPOS system). To top their strategy, they added referral campaigns and merchant incentives.
Top Three Mobile Contactless Payment Tools by User Penetration

Asia Pacific looks quite different, with a varied set of top players in each country. In Japan, recent government incentives and aggressive marketing by PayPay and Rakuten Pay have resulted in increased adoption of mobile contactless tools. In order to compete more effectively against these giants, the newly formed Mobile Payment Alliance (MPA), which includes Line Pay, is consolidating the smaller mobile contactless options to ease merchant integration. In India, local players PayTM and PhonePe show a strong performance, although that has been changing recently. Google, after trying out several iterations of its tool (including Google Wallet, Android Pay and Tez), finally landed on the Google Pay solution, which is gaining traction in the market. In Australia, Apple Pay has had long negotiations with local banks to enter the market and now competes head-to-head with Visa and Mastercard's mobile contactless solutions.
Finally, dominance in Europe is still up for grabs. Apple Pay and Google Pay are going head-to-head among EU5 countries, with Samsung Pay showing up among the top 3 tools in Italy and Spain. This is a tough market to compete in, as strong regulation keeps interchange fees low, and therefore, leaves less wiggle room to offer strong consumer and merchant incentives. Plus, strong local merchants and long-standing consumer preferences for local payment options serve as additional barriers to entry.
What will happen to mobile contactless payments going forward?
Mobile contactless payments providers are in for turbulent times in the coming months as COVID-19 related impacts continue. However, though adoption rates in the short term may slow, mobile wallets need to focus on the current trends. The current environment is forcing consumers to shop online, which is an opportunity for mobile wallets to expand their consumer base and to establish a trusting relationship with consumers by showcasing their ease of use, security features and convenience. These new users can then be eased into using mobile contactless payments once restrictions are lifted; helping this new tech come back under more favorable conditions. Additionally, even after the COVID-19 pandemic ends, consumer concerns around sanitary best practices could provide a boost to contactless payment preferences.
This blog post draws insights from Comscore's new Global Digital Payments Tracker, which analyzes both multi-platform survey data and passively observed consumer behavior data from Comscore's worldwide panels. This robust multi-source approach allows Comscore to most accurately examine consumers' multi-platform payment behavior across the globe. To learn more insights about mobile contactless payments, contact us.
For more information about the related global mobile payments landscape, download our Global Mobile Payments Outlook for 2020 report. This report analyzes the state of digital audiences using mobile devices, share of online mobile transactions across regions, and the adoption of mobile wallets around the world.
Comscore Mobile Metrix® captures total mobile audience behavior on browsers and apps across smartphones and tablets.