- August 24, 2016
Pokémon GO Captures 55 Million Mobile Users in July, Ranking 13th Among All Apps
Unless you've been living under a Poké Ball the last several weeks, you've undoubtedly heard of the new app-based game and overnight sensation Pokémon GO. As one of the first location-based augmented reality games, Pokémon GO mimics your actual "real world" surroundings using a Google Maps-like interface as you seek to find and capture Pokémon characters.
The app was released in early July, and in its first full month of reporting, data from Comscore Mobile Metrix® showed that it ranked as the 13th largest mobile app with 55 million unique visitors across smartphone and tablet. This represents more than 30% of the total mobile app population, even edging out a couple of social media heavyweights for the month.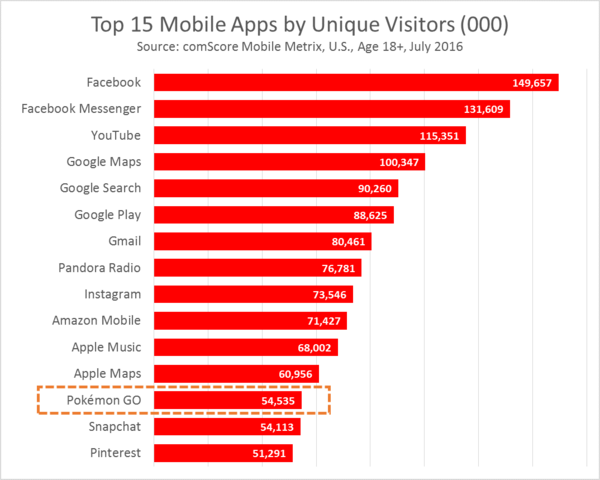 For as long as Comscore has been measuring digital audiences, there really isn't even a remotely comparable instance of a website or app capturing such a large audience in such a short period of time. The closest any other app comes to this sort of jump is when Walmart incorporated its Savings Catcher feature during back-to-school season in 2014 and grew from 4 million app users in July to more than 24 million by November. That took four months to grow by an incremental 20 million users, which is very impressive, but Walmart also had the benefit of building off a massive existing customer base.
Perhaps even more impressive for Pokémon GO is the high level of engagement it's seeing. In its first month, the app also ranked 4th in total app time spent, behind only Facebook, Pandora and YouTube. In addition, well over a third of its user base visited on a daily basis, suggesting that its audience was highly engaged with the app throughout the month and doesn't just represent a bunch of curious lurkers.
Pokémon GO is just the latest app to capture the public's attention in what remains a very vibrant ecosystem. For more insights on the digital media landscape and a deeper dive into mobile app behavior, check out The 2016 U.S. Mobile App Report today.