- November 11, 2016
The Seasonality of Sports Explored Through Digital Audience Ratings
Every sports league runs on a different schedule and hosts its season openers, playoffs and championships at different times of the year. The NFL hosts the Super Bowl in late January or early February; the NCAA kicks-off college football in September and closes out the college basketball season with March Madness; Major League Baseball opens with Spring Training and hosts the World Series in October; and the NBA and NHL run roughly in parallel throughout the winter and hold their playoffs just before summer.
Not surprisingly, we see that Sports as a digital content category has some of the most pronounced seasonality effects, and this is especially true for the individual professional sports league properties. To show just how much our interest in the various sports fluctuates according to the major events held throughout the year, we used Comscore Media Metrix® Multi-Platform data to illustrate the two-year trend in digital audience ratings for these properties, which account for visitation to any of their respective websites and apps across desktop and mobile platforms at least once over the course of a month.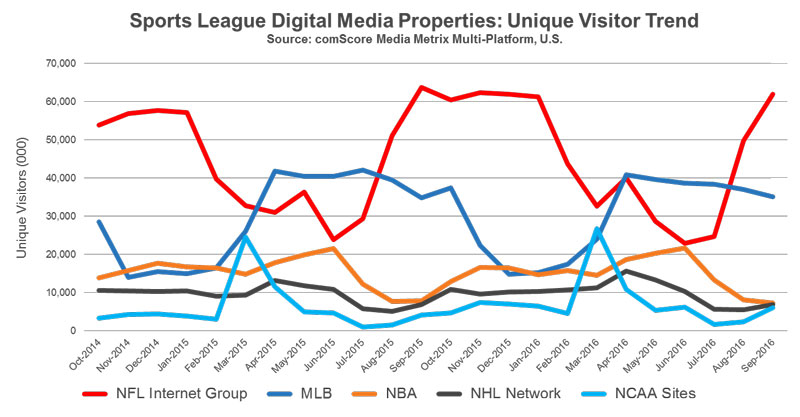 We can also visualize this seasonality using a heat map to draw a contrast between the highest and lowest rated months for each league property. (A cell that is darker green represents a month with high visitation relative to the rest of the league property's 24-month trend, whereas a cell that is darker red represents a month with low visitation relative to other months). We can quickly see that the green shading consistently aligns with the major sporting events in each league, while the red shading generally aligns with the offseason. It's also clear that the periods of April-June mark high competition for digital viewers across many of the league properties measured in this table (MLB, NBA, NHL Network, NCAA Sites).
Source: Comscore Media Metrix Multi-Platform, U.S.
A seasonality index of 100 indicates that the monthly audience for that digital media property is equal to its average number of unique visitors during the 24-month trend from October 2014-September 2016. An index above 100 indicates a higher-than-average monthly rating, and an index below 100 indicates a lower-than-average monthly rating.
Seasonality isn't just something that is exclusive to sports. Digital audience ratings can tell you a great deal about the seasonality of other content categories as well, such as retail during the holiday season, taxes in March and April, and e-cards just before Valentine's Day and Mother's Day.
For more information about digital audience ratings for these categories and others, we welcome you to explore our new home for digital insights here.
Understand audiences and their media consumption across TV, digital, and cross-platform.
Learn More