- April 30, 2012
Web TV Shows Promise, But Lack of Paid Search Strategy is Puzzling
The online video market has been predominantly characterized by two fundamentally different types of content: user generated content (UGC) and professionally-produced premium content. The former has incredible reach, but due to a variety of factors such as potentially unsafe brand environments and lower production values it does not command the same high CPMs as the latter. Premium video content, which more closely resembles the TV environment, offers a more premium ad placement and CPM.
The past couple of years, however, have given rise to a third form of online video: "Web TV". This hybrid form of video content bridges the gap between these two ends of the spectrum by combining shorter form content more typical of UGC and higher production values that more closely resemble premium/TV.
Perhaps the best examples of Web TV can be found on YouTube's partner channel program, which features higher quality programming in safer brand environments. Brands such as Machinima and Maker Studios are attracting tens of millions of viewers per month, along with very high engagement. Because if offers both the scale and quality of experience delivered, there is clearly a sizeable – and growing – opportunity for monetization.
In order to attract the eyeballs that will deliver on Web TV's potential as a sizeable advertising market, publishers should be making use of search for acquisition. However, Comscore data shows that while search is being leveraged by the major premium video channels like Hulu, the same cannot be said of Web TV.
Different Ways of Attracting Eyeballs
Hulu invests heavily in paid search to help attract eyeballs, with 16 percent of their 10 million search clicks in March coming via SEM. YouTube, in contrast, has less than 1 percent of its 366 million search clicks coming from paid search.
While both sites have ramped up their spend over the past year, Hulu has made particularly notable jumps in paid traffic during that time, while YouTube has increased more steadily. It's clear that both sites understand the value of this investment, though Hulu is chasing those ad dollars a bit harder at the moment – which makes sense given the premium CPMs it's after.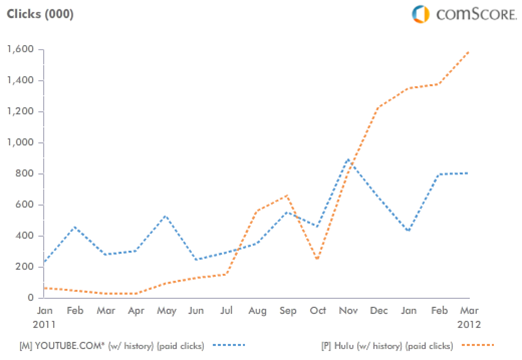 Beyond an increase in paid search as a whole, it is also important to think about what terms they are bidding on. (Obviously, being owned by Google means that YouTube isn't in the same paid search "investment" position as Hulu, but it still bids on other engines, and incurs the opportunity cost of premium ad space on Google SERPs). Both websites are bidding on their own brand terms, but branded paid search only makes up about 25 percent of YouTube's SEM traffic, as opposed to Hulu, where over 50 percent of their SEM traffic is branded.
Outside of its own branded terms, Hulu focuses almost exclusively on the names of shows in its library. There is the occasional bid on "watch free TV online" and related items, but Hulu generally does not concern itself with generic "watching video" type of searching. Premium content is Hulu's bread and butter, and its search investment reflects its adherence to that monetization strategy.
YouTube relies more heavily on generic term to push their UGC library via paid search, with some top terms including "science videos, science videos for kids, free movies, free movies online" and other related terms. Although YouTube does have some premium content, and a wealth of aforementioned Web TV content, neither form of content currently appears to be a significant focus of its paid search efforts.
As YouTube ramps up its partner channel program worldwide, it may be wise to think about a paid brand search strategy with larger partners. If Web TV is ever to command similar CPMs to premium content videos, then driving title recognition with the viewers out there will be as important as the upgraded content itself.
Too Early to Tell, But SEM Will Deliver
Online video still has a lot of runway left before it reaches maturity. Smartphone and tablet adoption, the wealth of streaming service options through your set top box or video game console, licensing agreements for content, vertical integration, and net neutrality only scratch the surface as to what we will see in the coming years.
Video marketers should prepare themselves for the Web TV boom and figure out how to make the best use of search for viewer acquisition. With its ability to deliver both scale and attractive CPMs, the future of Web TV looks bright. For those who want to take advantage of its promise, a modest search investment now has the ability to deliver significant long-term value.
This post contains excerpts from Eli's original story published at SearchEngineWatch on 4/23/2012