- June 8, 2016
Germany: The Rise and Growth of App Usage
App usage on Smartphones drives a growing share of user time, but brands must overcome the hurdle of users' download habits to capitalize.
There are over 49 million Smartphones owned by 13+ year old Germans (51% of men and 49% of women). App usage has continued to grow on these devices, with 86.9% of users having used an app in the 3 months leading up to April 2016, compared to 85.5% the same time last year. The challenge for brands and app developers is persuading users to download, with audiences growing increasingly discerning about the number of apps on their devices. In the same time period in 2015, 34.8% of people downloaded one or more apps, falling to 33.9% this year. A very small proportion download 2 or more in any given 3-month period. Social media properties prove highly popular, with 24% of German smartphone users accessing social properties via apps.
Highlights:
12.1% downloaded one app compared to 9.4% who downloaded two apps, with far lower percentages beyond this point. Interestingly, a small but highly active group of consumers (1.4%) downloaded eight or more apps, more than those downloading 6 or 7.
The top social properties accessed via apps on smartphones in Germany are Facebook (25%), Instagram (7%), Google (5%), Twitter (4%), Xing (2%).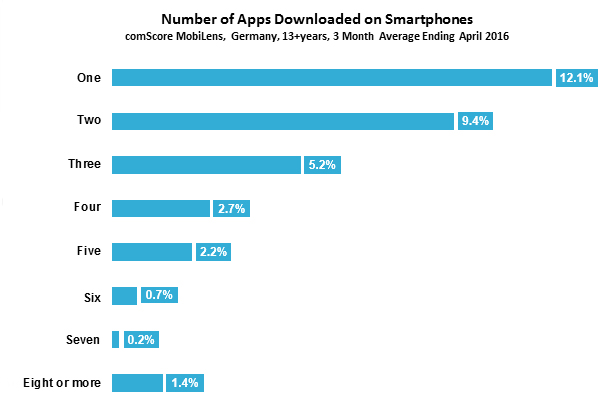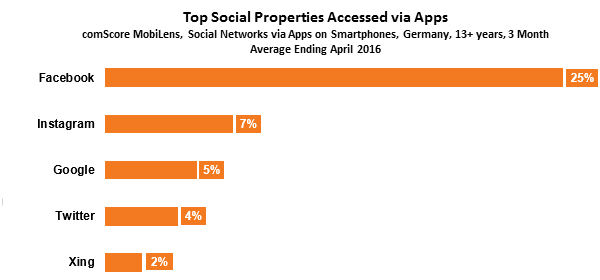 To find out more about Comscore MobiLens, please contact us.