June 3, 2015
7 Out of 10 iPhone and Android Users are Loyal to Their Platform on Tablet
The number of Americans who own tablets recently surpassed 100 million for the first time ever, a remarkable milestone given that the product category didn't exist more than five years ago. In a market this large and with penetration growth still in the double digits, understanding the factors that influence a consumer's decision to purchase one of these devices can be invaluable. One strong indicator of owning a tablet that we know of, not surprisingly, is a consumer's smartphone profile.
With the recent launch of comScore MobiLens® Plus, it is possible to examine how consumers' smartphone and tablet device preferences, usage trends, and demographics intersect with one another. By utilizing this enhanced market research tool and analyzing the data, we were able to gain insight into which types of phone users own which types of tablets.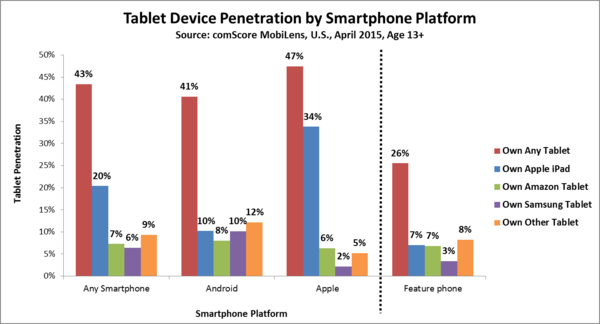 To summarize this analysis, the findings reinforce what many probably hypothesized. Broadly speaking, smartphone users have much greater tablet penetration (43%) than users of feature phones (26%), likely due to their higher income and tendency to be savvier with technology. Furthermore, iPhone users (i.e. the higher end of the smartphone market) are slightly more likely to own a tablet than Android users (47% vs. 41%). However, it's worth noting that 71% of iPhone users who own a tablet are brand loyal and own an iPad, while Android phone users show a similar degree of loyalty with 73% of its tablet owners opting to stick with Google's operating system.
For more information about MobiLens Plus and behaviors across all smartphone and tablet devices, please reach out to your comScore representative or: contact us online
Related Products
comScore MobiLens® Plus is a market research tool that provides insights into consumers' smartphone and tablet device preferences, usage trends, and demographics. Matching...
Learn More