- February 6, 2020
Let's Go to the Movies: Analyzing the Box Office Draw for Best Picture Nominees
Even in this new era of content consumption defined by a record number of streaming services, audiences are still flocking to theaters to see this year's Best Picture nominees. But why? We look at what drove moviegoers to see the 2020 contenders on the big screen.
Moviegoers & Streamers: Not Mutually Exclusive
The global box office reached a record-high $42.5 billion in 2019. Despite all the talk pitting the small screen (streaming) against the big screen (movie theater), Comscore PostTrak, which provides real-time theatrical exit polling, shows that an average of 40 percent of the patrons who saw the seven Best Picture-nominated films reporting theatrical grosses considered themselves to be "a person who regularly streams TV shows/movies."It turns out that, while film buffs and movie lovers may enjoy watching content via streaming platforms, they also value the traditional movie theater experience. This is particularly true when it comes to Oscar-caliber films, as this year's seven nominees with theatrical grosses were all more likely to draw in regular streamers vs. the norm for all movies in 2019. In fact, two of the nine nominees are films produced and distributed by a streaming channel: "The Irishman" and "Marriage Story".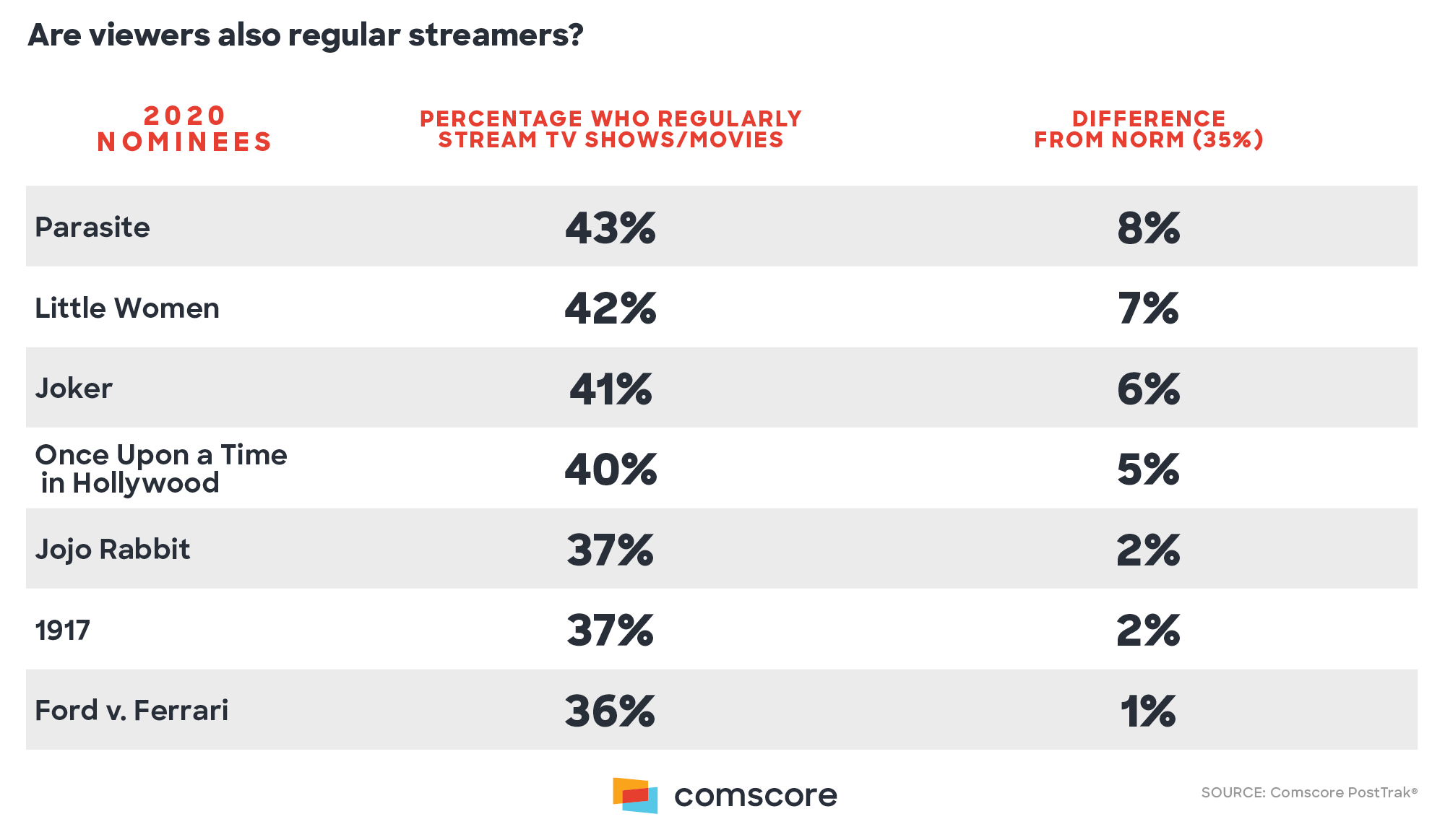 These data also reverse the common narrative that smaller-budget films suffer more at the hands of streaming than blockbusters. Those who saw the two lowest-grossing nominees ("Jojo Rabbit" and "Parasite"), on average, were more likely to consider themselves regular streamers than those who saw the three highest-grossing films ("Joker," "Once Upon a Time in Hollywood" and "1917").
The Greater Influence - Friends & Family or Critics?
Best Picture nominees are, by nature, critical darlings. But just how aligned is the critical consensus compared to word-of-mouth praise? And which is the bigger influence in drawing moviegoers to theaters to see the Oscar-nominated films? Last year, we looked at the relationship between audience sentiment and box office dollars and noted a correlation between both word-of-mouth and critical praise.
This year, for all films, moviegoers are about 14 percent more likely to be swayed by praise from friends and family than by critics' reviews. Among best picture nominees, we see two interesting trends: the influence of family and friends remains dominant, outweighing critics' reviews by 10 percent, yet both variables show increases when compared to the average film.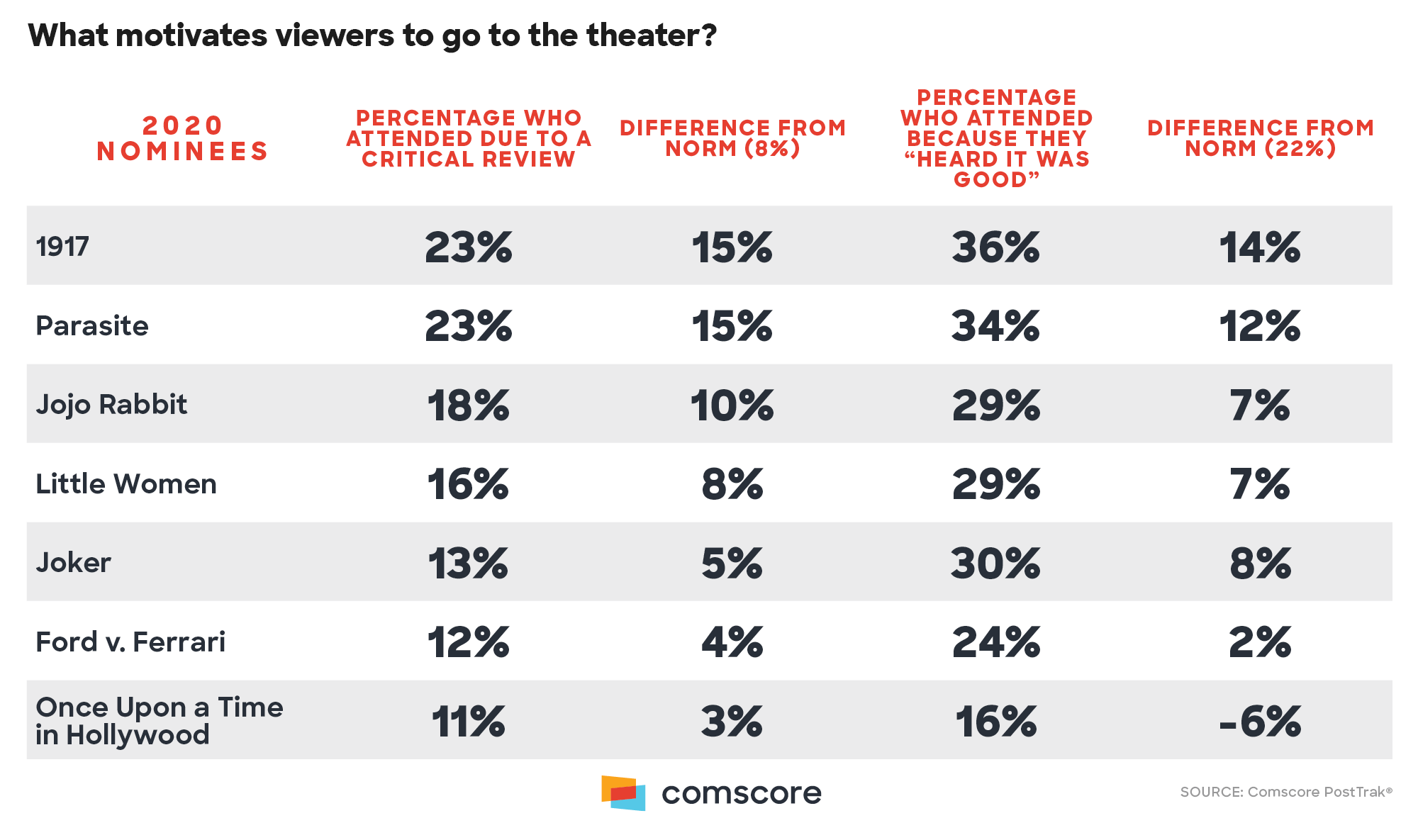 Looking at the anomaly of the data for the box office success of "Once Upon a Time in Hollywood," we must consider the possible effect of other influential factors. The presence of buzz and praise for this movie became overshadowed by the elements of celebrity, with a record-breaking 43 percent of the audience choosing to see the film because of the director and 34 percent citing the overall cast as their reason for choosing to see the film.
Oscar Films & Social Media
If praise from friends and family is the most influential factor in drawing people to theaters, then what's the most powerful tool for sharing that praise? And are Best Picture film viewers more or less likely to use social media as their tool of choice? For all films, an impressive 58 percent of moviegoers plan to use some form of social media to tell others about the film. The use of social media for the Best Picture nominees, for the most part, hovers rather close to this average, if not slightly less likely to benefit from social media buzz.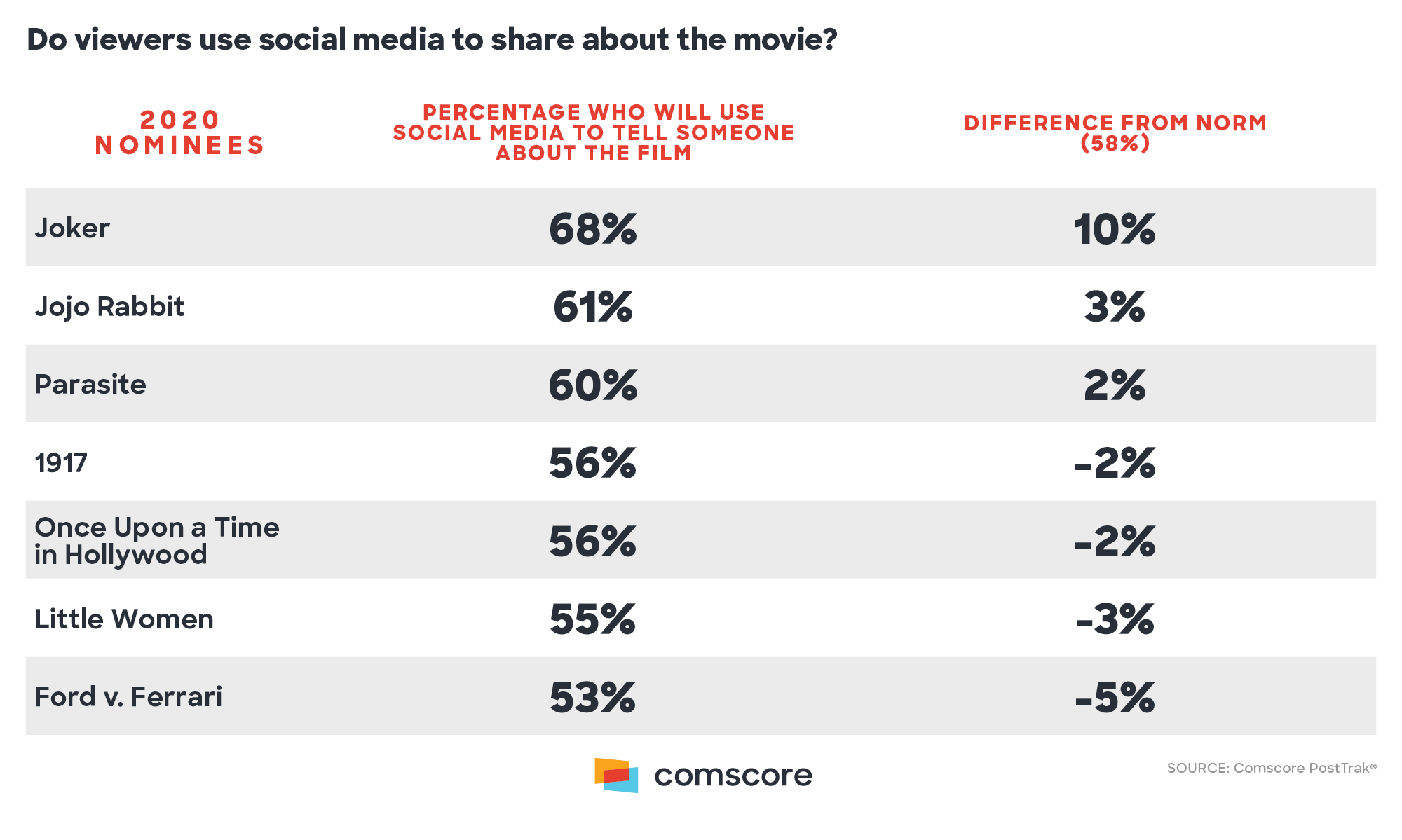 "Joker" is, by far, the largest outlier of the bunch, with a staggering two-thirds of viewers sharing about it on social media, putting it 10 percentage points over the average of all films. This is no surprise; "Joker" was also the highest grossing of all the nominees and benefitted from, arguably, the most buzz of all nominated films and a superhero genre categorization that always draws lots of attention.
The rest of the Best Picture nominees were, on average, less likely to be shared by viewers on social media. We could possibly attribute the slight downtick to slightly older audiences who are less likely to be social media users overall. Despite this, over half of all viewers for every nominee still intend to share about it with others on social media, proving that social media remains one of the most powerful tools for sharing movie praise with others, no matter the demographic makeup of the audience.
Just as we explored last year, Comscore PostTrak gives us interesting insights when looking at Best Picture nominees' audience attributes and intentions. As for which Best Picture nominee will earn the prized golden statue on Sunday – for that, you'll have to tune in and see for yourself.