- May 5, 2020
Automaker Responses to COVID-19
As much of the country continued to practice social distancing during the third week of April 2020, automotive shopping demand continued to track below 2019 levels. But as the demand decline appeared to level off in April, automakers and their dealer networks have launched a flurry of assistance programs to entice consumers.
Comscore's In-Market New Vehicle Demand Indicator has been tracking consumer demand since the beginning of the coronavirus pandemic. This data is an early indicator of industry health and provides insight into what is on the horizon for the auto industry. It is measured via engagement with lower funnel shopping KPIs across 40+ third party automotive shopping sites, such as KBB, CarGurus and Edmunds.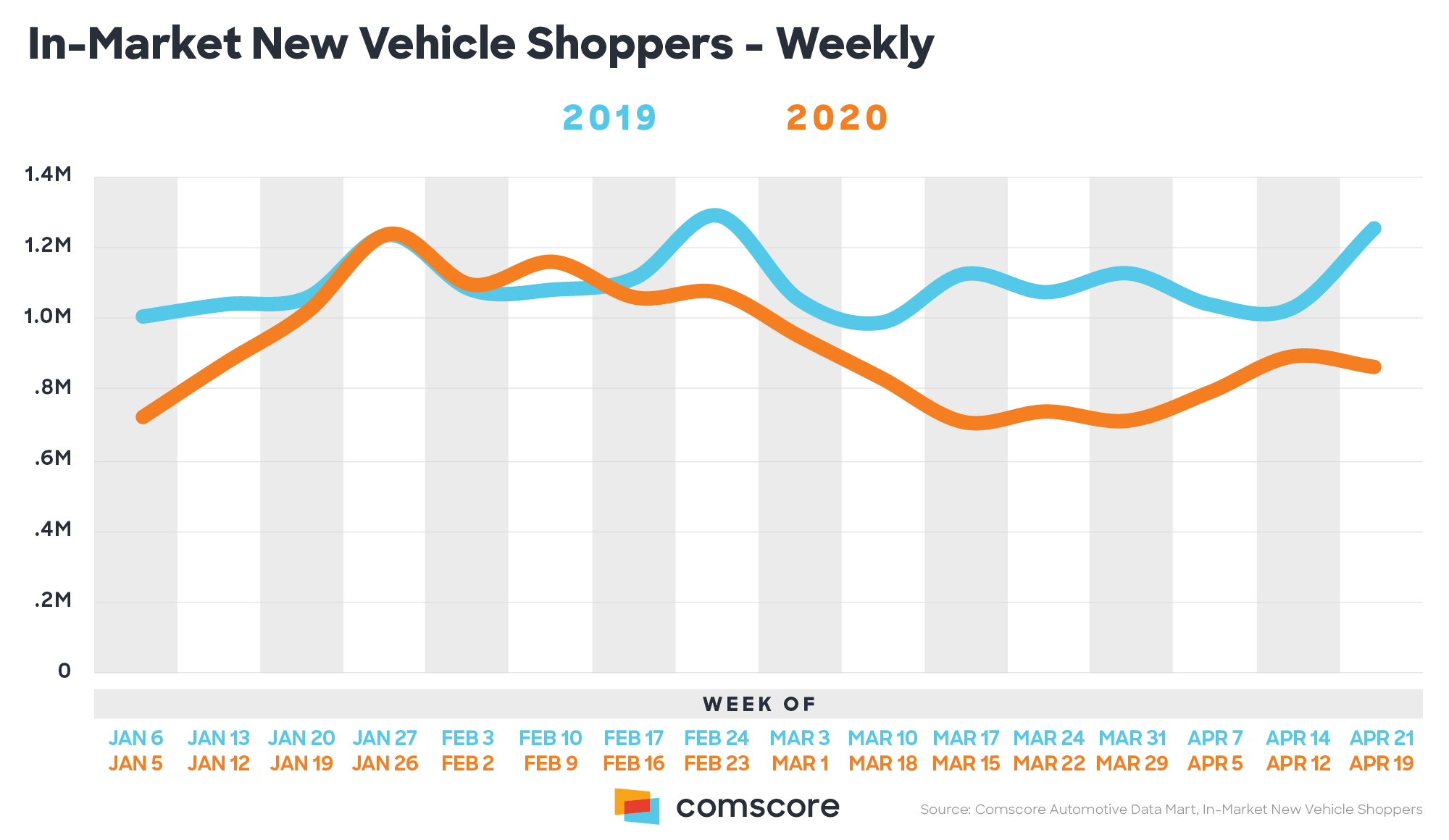 Shopping behavior in the week of April 19, 2020 continued to improve from March 2020, and while it remained about 32 percent lower year over year, the continued improvement in April from last month's lows is a positive indicator of some stabilization in the market.
Automakers and their dealer networks have been steadily launching new support measures for consumers – summarized below – which could be contributing to some steadying of demand, at least from the deep declines earlier in the crisis. Ford, for example, is offering up to six months of payment relief on new vehicles – three months of deferral and three months covered by Ford. Fiat-Chrysler (FCA) brands are offering zero percent financing for up to 84 months on select models. Further, new opportunities to shop completely online are emerging with brands like Ford and FCA launching initiatives that allow shopping, financing, and buying from home, followed by home delivery from participating dealers.
The unknowns surrounding the length of the pandemic and rising levels of unemployment are strong dampeners on demand, but for now automakers may have been able to stem some of the sharper declines in shopper interest that started in February of this year. That stabilization won't necessarily translate into sales just yet – April 2020 sales are forecast to come in at 40-year lows – but it is a good sign that, for now, potential automotive buyers aren't completely abandoning their interest in a future purchase.
As we head into the month of May, Comscore will continue to watch how demand and sales fare.



Coronavirus Insights
Read our ongoing updates on shifting consumption trends and the resulting impact on the advertising and media industries on comscore.com/Coronavirus.
Sign up to be notified when new insights or data become available.
Sign Up
Comscore Media Metrix® Multi-Platform provides an unduplicated view of total audience behavior across desktops, smartphones and tablets.