- June 4, 2020
COVID-19 and the evolution of online consumer behaviour in India
For consumers in India who have been confined at home since March 24, 2020 due to stay-at-home restrictions, the internet has become their main channel to work, socialise, entertain, and explore the world. So how have online behaviours evolved since the lockdown, and how have consumers in India been spreading their time across different content and service categories?
In fact, the shift from offline to online activity has been significant: as the chart below shows, time spent per visitor per month jumped during the month of March 2020, compared with the previous month – an 18% increase. It then went on to breach the 3400 minutes per visitor per month mark during the month of April 2020, which was previously the highest level ever recorded since we started measuring digital audiences in India. By the end of April 2020, consumers had spent an average of more than 3,600 minutes per visitor per month – or more than two hours per day per visitor.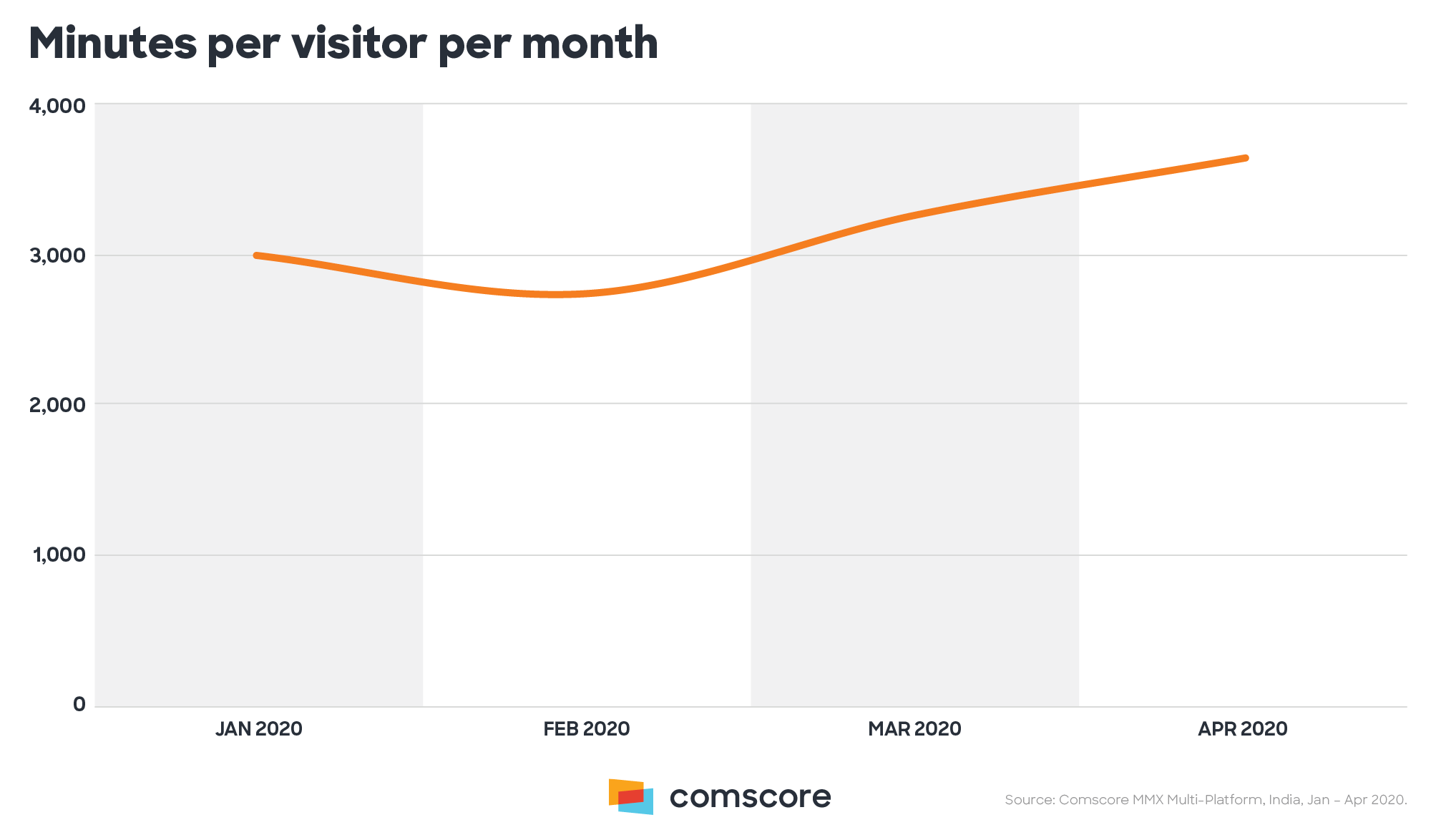 Most of the time spent online was spent on a handful of digital categories, namely Entertainment, Social Networks, Services (includes email services), Instant Messengers, Games, News, and Retail. A detailed description of these categories, along with the share of time spent for a typical internet user is shown in the table below.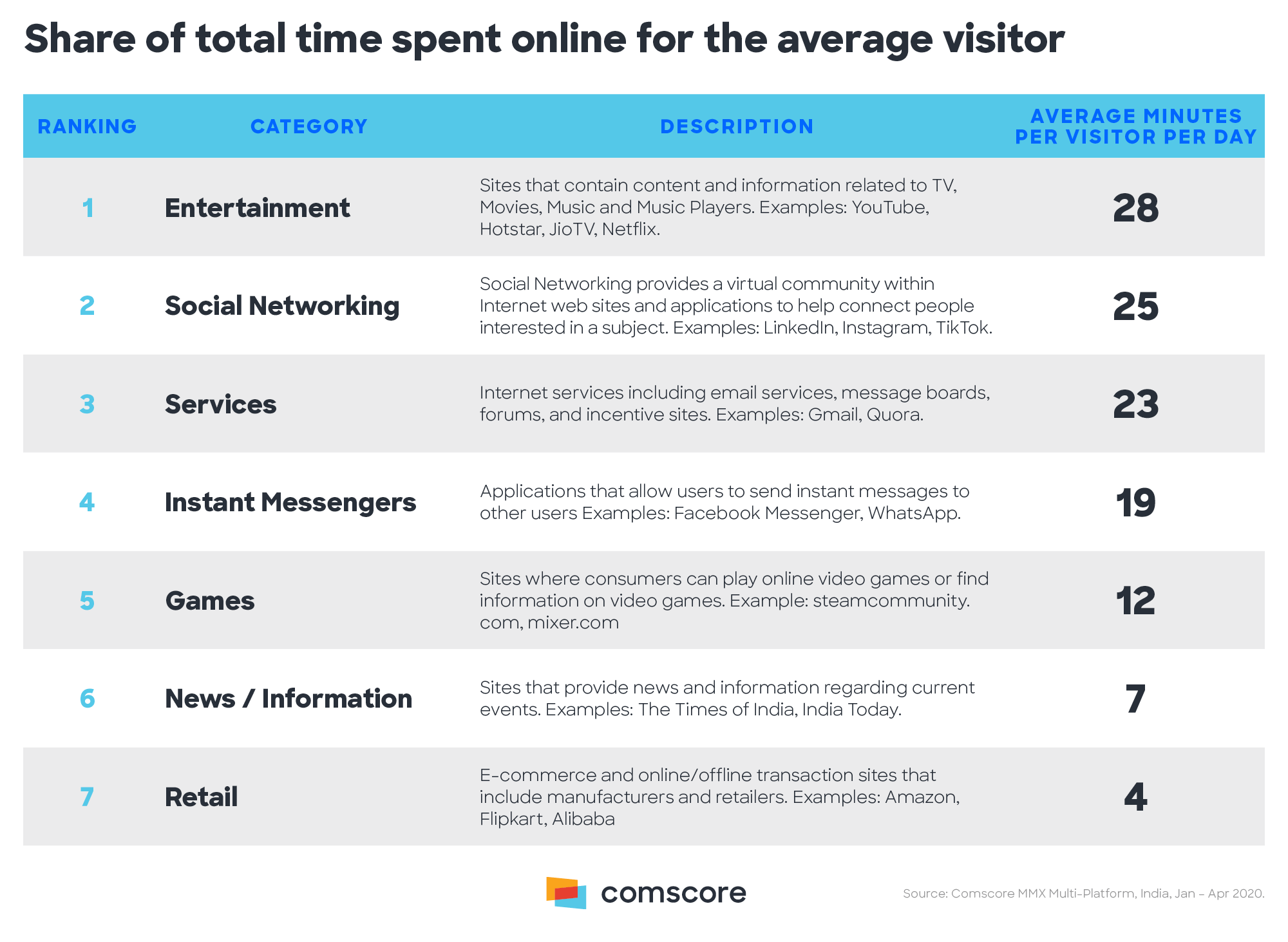 This begs the question: which digital categories benefited most from the lockdown? As the table below shows, Games, Social Networking, and Instant Messengers sites were among the digital categories that increased the most: by 62%, 35%, and 33%, respectively, which is considerable, given how deeply engrained into our lives these categories already were prior to the coronavirus pandemic.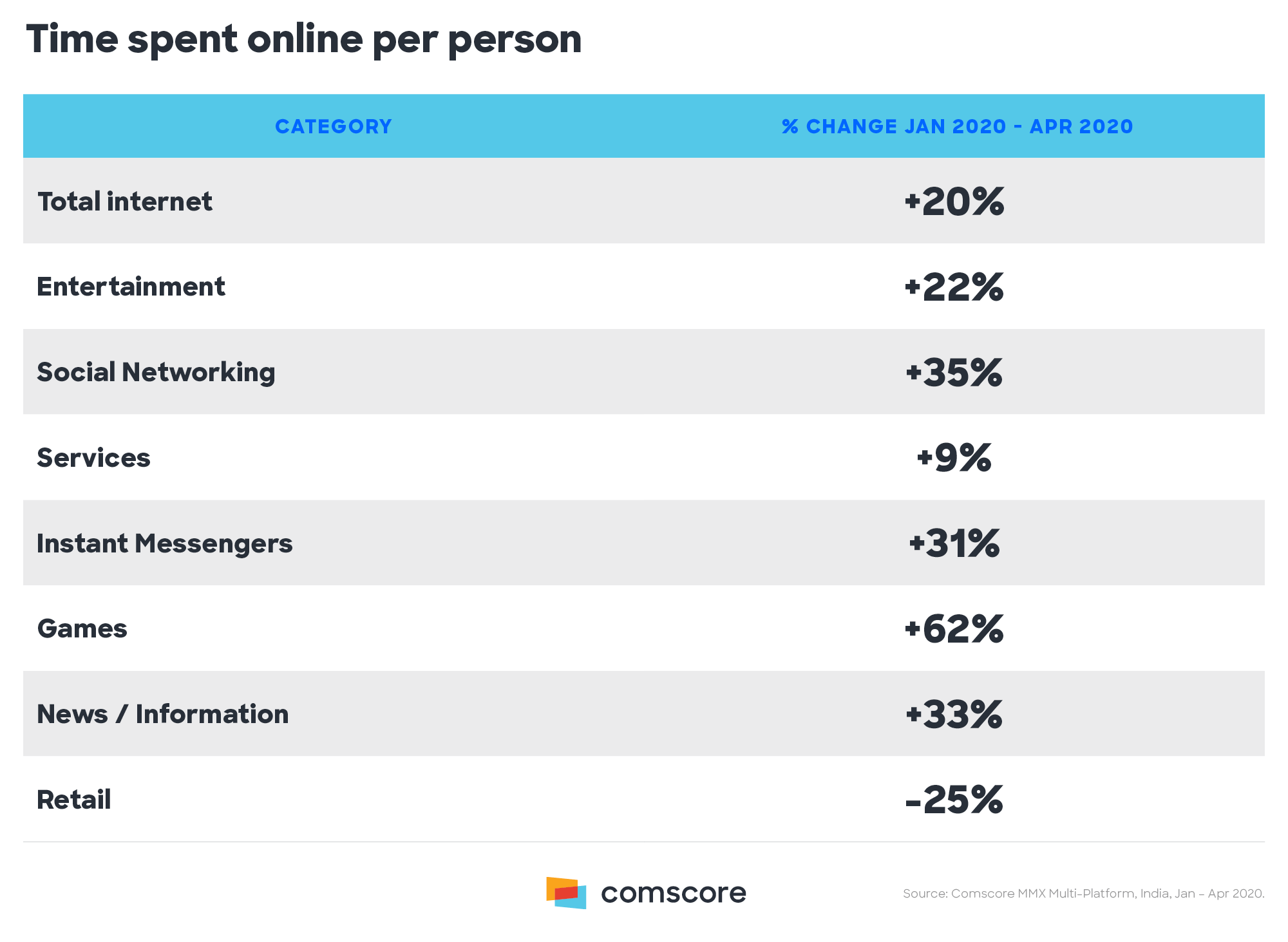 Are these behavioural changes temporary? Or do they augur a lasting change? It is, of course, too soon to tell. Stay-at-home restrictions are gradually being lifted, and it is possible that some of these digital trends will revert to pre-pandemic patterns, but others may become permanent new habits.
Join us for the second Coffee with Comscore webinar on 17 June 2020 and find out more.
Coronavirus Insights
Read our ongoing updates on shifting consumption trends and the resulting impact on the advertising and media industries on comscore.com/Coronavirus.
Sign up to be notified when new insights or data become available.
Sign Up
Comscore Media Metrix® Multi-Platform provides an unduplicated view of total audience behavior across desktops, smartphones and tablets.
Learn More