- March 5, 2015
From GSMA MMM to Mobile Metrix: The Evolution of UK Mobile Media Measurement
Earlier this week Comscore launched Mobile Metrix in the United Kingdom, which applies Comscore's unified approach to mobile measurement through the combination of mobile panels and census-based tagging.
The data we published comes from a change in our methodology and reveals gains in the momentum of usage of mobile platforms since they were first and most recently measured by our now retired mobile measurement service, GSMA Mobile Media Metrics. The Mobile Metrix service has several key benefits that are critical for accurately measuring mobile usage in today's environment; a deep dive into which is available to download here.
Uniform measurement of both on and off-network (Wi-Fi) activity
GSMA MMM had a high dependency on the anonymized user log data provided from the mobile operators. For wifi traffic, there was a dependency on increased tagging and SDK installation from publishers in addition to modelling of data. Mobile Metrix works independent of source of traffic channel as the panels operate either on-network or via wifi. This mirrors the benefits inherent in our legacy MMX service.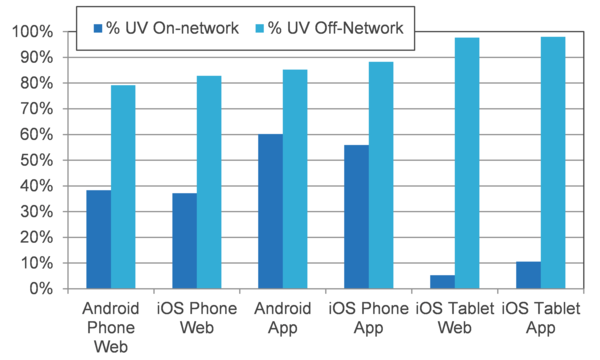 Mobile Metrix UK Beta Data December 2014
Measurement of secure HTTPS traffic
Central to the GSMA MMM service was the collection and provision of anonymized user activity from "on-network" web browsers that was provided to Comscore from the UK's mobile operators. A condition of the provision, however, was that user activity via https domains was not provided. Increasing use of https by media owners signified that for several sites their reported coverage was not complete. The meters now installed on opt-in panelists' mobile devices now give us complete visibility of their activity and enable us to make projections in a similar way to MMX, our service for measuring desktop and laptop computers.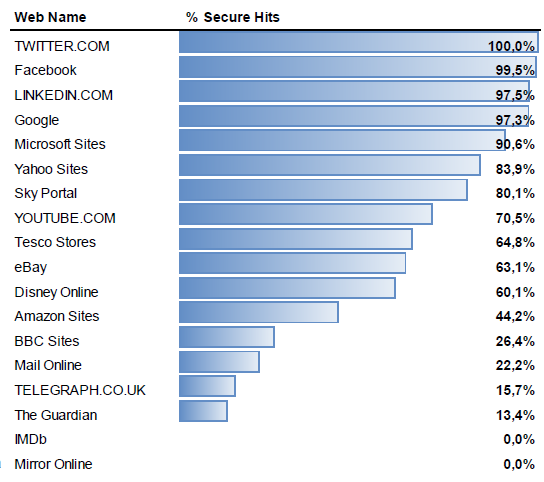 Mobile Metrix UK Beta data December 2014
A stronger approach to demographic attribution
Mobile Metrix will give Comscore more flexibility and latitude with demographic data reported for mobile audiences. The previous GSMA MMM service included a dependency on applying user demographic data from mobile operators. The new model aligns with demographic data capture processes inbuilt with MMX to enable a scaling up of demographics to be reported as the mobile panels build. Presently we report age and gender but have agreed with UKOM to an expansion of demos in the near future.
Comprehensive measurement across app and browser usage
Mobile Metrix employs UDM – or Unified Digital Measurement – in a similar way to our legacy MMX service for desktop and laptop computers. This means that data collected from meters on panelists' devices, which represents passive observation of their activity on smartphones and tablets, is unified with census data from tagged websites or applications that have Comscore's SDK installed. This enables measurement of major sites that have not tagged to be measured and reported and enables granular level reporting of media that has added tags to be reported in the longer tail. For the first phase of Mobile Metrix Comscore has deployed panels for iPhones and Android phones and for iPads. We continue to observe the development of Android tablets' impact on total content consumption before deploying a panel, however, content consumed via these devices continues to be measured via census data.
Tagging remains an important ingredient in the measurement mix
Unified Digital Measurement leverages data from both panel and census tags and SDKs. Tags placed on websites provided additional signals that allow for increased measures. For example in the case of browsers embedded within applications (eg Facebook / LinkedIn), a site that is tagged and serving content through such an application will ensure its traffic can be measured. Without tags in place only the host application can be measured. Publishers should consult with their technical teams to ensure that their tagging policy is optimized.
Streamlined production processes to support faster delivery of data
Removing a dependency of a core set of data being provided from third parties –mobile operators – ensures that Comscore production of mobile measurement data will be more streamlined into our core processing workflows and so time to market of our data will accelerate. This will mean that the production and publication of MMX MP (multi-platform) will accelerate also.
Consistent methodology towards a global standard for mobile and multi-platform data
Comscore's measurement approach is built upon a vision of a scalable technology platform that provides uniformity in both input and output on a multi-country level. This is important for organizations working both on a global level as well as local as we pursue a fast innovation roadmap for the measurement of multi-platform users. The arrival of MoMX in UK signifies a tighter integration into the platform for the measurement of UK audiences and aligns now with a platform configuration in production in USA and Canada and in development in Spain and Brazil. The other 39 markets for which Comscore currently produces digital audience data are also on the path towards multi-platform measurement in a multi-phased programme.
Industry Accreditation – UKOM "Development Endorsement"
Technical research developments such as Mobile Metrix are ongoing and by their nature highly iterative. Change can be disruptive and sometimes unsettling of course, but innovation must never stop as what is right today will not be right tomorrow given digital's momentum and evolving dynamics.
Comscore has worked with UKOM in 2014 preparing for the rollout of Mobile Metrix and the wind down of the GSMA MMM project to ensure that continuity and confidence in the new mobile measurement service remains. The UKOM Technical Group, composed of selected industry peers from member companies of the UKOM stakeholders (AOP, IAB, IPA, ISBA) have reviewed the Mobile Metrix methodology and initial beta data sets and the UKOM Board have agreed to grant the service with a "Development Endorsement" stamp. We continue to work with UKOM closely to review panel and technical development and anticipate to have a fuller "UKOM Approval" stamp in early 2015 as the new data's acceptance, reliability and stability is confirmed.
Please follow updates via UKOM's website http://www.ukom.uk.net/ for more information.
To read the full article, From GSMA MMM to Mobile Metrix: The Evolution of UK Mobile Media Measurement, please download your copy here.