- July 22, 2011
Google+ Off to a Fast Start with 20 Million Visitors in 21 Days
To get a better understanding of how Google+ is performing to date and who is using it, Comscore pulled together some figures based on the first 21 days of its public existence (June 29, 2011 – July 19, 2011). Importantly, these data are based on unique visitors (which is different than "users" in that people who never sign up may visit Google+ pages) from home and work computers (which excludes usage via mobile devices). In addition, Comscore is measuring behavior from people who visit plus.google.com pages, which may not include usage that occurs through the Google+ bar at the top of most Google pages.
With those parameters in mind, let's take a look at the tape…
As of July 19, Comscore showed Google+ at just about 20 million visitors worldwide, an extraordinary number in just its first three weeks. That number represents an increase of 82% from the previous week and 561% vs. two weeks prior. The U.S. audience recently surpassed 5 million visitors, up 81% from the previous week and 723% from two weeks earlier.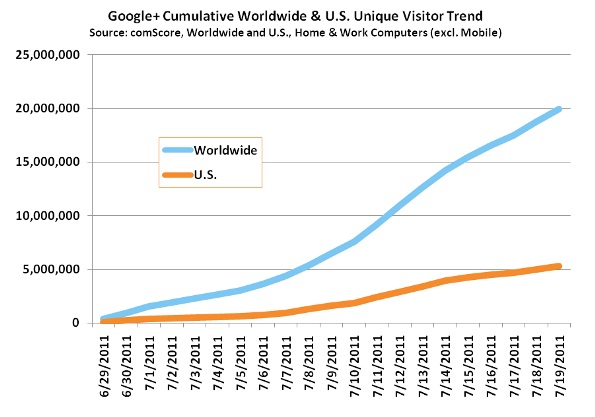 It would be difficult to think of many sites that reached such a large number in such a short period of time. That said, Google does have a built-in visitor base of more than 1 billion to work with, so there is clearly potential to convert a high number of users to its new social tool – even if it is still invite-only.
What is also interesting about the rapid growth of Google+ is its proliferation on a global basis. While the U.S. leads in Google+ audience, it currently accounts for 27% of the total worldwide audience. Interestingly, India holds a strong #2 position with 2.8 million visitors. The UK (867,000 visitors), Canada (859,000 visitors) and Germany (706,000 visitors) round out the top five.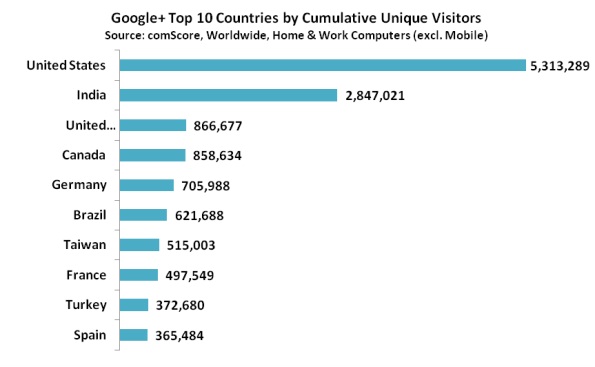 U.S. Demographic Analysis Reveals Strong Early Adopter Profile
Though Google+ is already a global phenomenon, there are some interesting user dynamics within the U.S. that help us understand the profile of early adoprter. Some initial reports speculated that 9 out of 10 Google+ users were male, and while this sort of skew might have been possible in the first couple of days we are seeing a much less pronounced gender gap after three weeks, with males accounting for 63% of visitors to 37% females. In addition, 58% of the total Google+ audience is between the ages of 18-34, with 25-34 year olds representing more than 1/3rd of the total.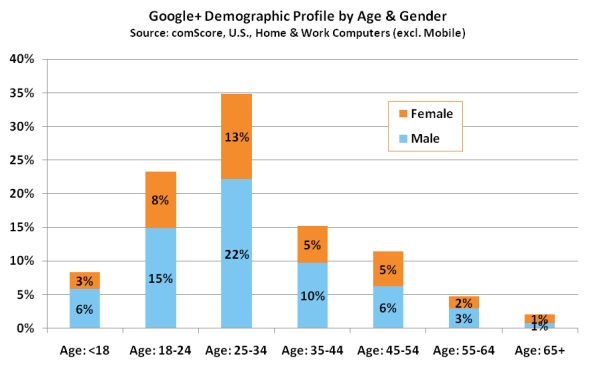 One final usage dynamic underscoring the early adopter profile of Google+ is how usage skews by local market. Two of the most tech-savvy markets in the U.S. – Austin, TX and San Francisco-Oakland-San Jose, CA – are approximately three times as likely to be represented (i.e. Index of 300) among the population of Google+ visitors as might be expected given their percentage of the total Internet population. Other markets that index on the higher side include Minneapolis-St. Paul, MN, Pittsburgh, PA and Washington, DC.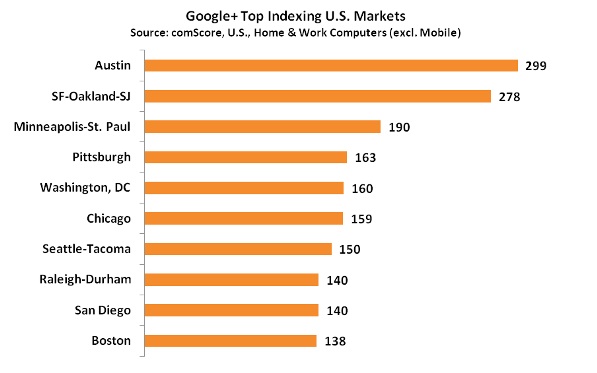 Strong Network Effect Spells Future Success
The evidence shows that Google+ is off to a strong start in its first few weeks with a global audience of 20 million visitors. It has clearly captured the attention of the technorati and as usage incubates among this crowd it will likely continue to proliferate to a more general audience.
As we've seen in the social networking market before, success often hinges on a strong network effect, which says that the more people in the network the more useful it becomes to others and the more incentive there is to participate. Early interest in Google+ is certainly important, but it will also need to attract regular participation among users to cultivate such an effect. In the past week, we have seen the number of average usage days via home and work computers increase by more than 30%, an early indication that the network effect just might be beginning taking hold.
Time will ultimately tell if Google+ can leverage its early momentum to reach critical mass among users and capture a firm foothold in the well-established social networking market.