- November 20, 2015
Q3 2015 E-Commerce Jumps 15% Y/Y to $69.7 Billion in Sales
With Thanksgiving in less than a week, Americans are not only gearing up for their annual feast with family and friends, but they're also preparing for the official kick-off to the holiday shopping season in the days immediately following. While Comscore plans to release its official holiday season online spending forecast on our State of Online Retail in Q3 2015 webinar on Tuesday, Nov. 24, today we wanted to provide an update on how much consumers have spent on both desktop and mobile in the third quarter, an important indicator for what to expect this upcoming holiday season.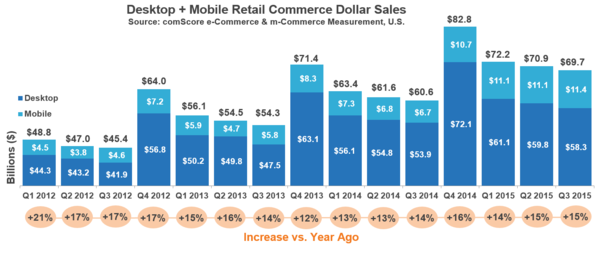 In Q3 2015, Comscore estimates reveal that total digital commerce sales in the U.S. reached $69.7 billion, an increase of 15 percent year-over-year from $60.6 billion in Q3 2014. The majority of online sales came via desktop, with $58.3 billion in sales on the platform, which accounted for 84 percent of the digital dollars spent. Mobile commerce contributed the remaining 16 percent, or $11.4 billion in the quarter while achieving strong year-over-year growth at 70 percent (as compared to just 8 percent from desktop). After 17 consecutive quarters of double-digit e-commerce growth on desktop, Q3 2015 was the third straight quarter in which the growth rate dipped below 10 percent amidst a more pronounced channel shift from desktop to mobile spending in the wake of the 2014 holiday season.
We'll keep you informed on holiday e-commerce spending progress with regular updates throughout the season. Sign-up to receive these updates by joining our email list here.
For retailers interested in accessing daily and weekly holiday data on shopping and buying behavior, and to see how your performance stacks up against the competition, please talk to your Comscore representative about the Comscore Holiday Tracker® or contact us today.