- November 14, 2016
Q3 2016 Digital Commerce Hits $84.3 Billion, as M-Commerce Accounts for 20% of Sales for 1st Time
With Thanksgiving right around the corner, Americans are gearing up for their favorite seasonal pastimes: feasting with family and friends, watching football, and holiday shopping for their loved ones. While Comscore plans to release its holiday season online spending forecast on our State of Online Retail in Q3 2016 webinar on Wednesday, Nov. 16, today we wanted to provide an update on how much consumers spent online during the third quarter and how much of it is coming from mobile.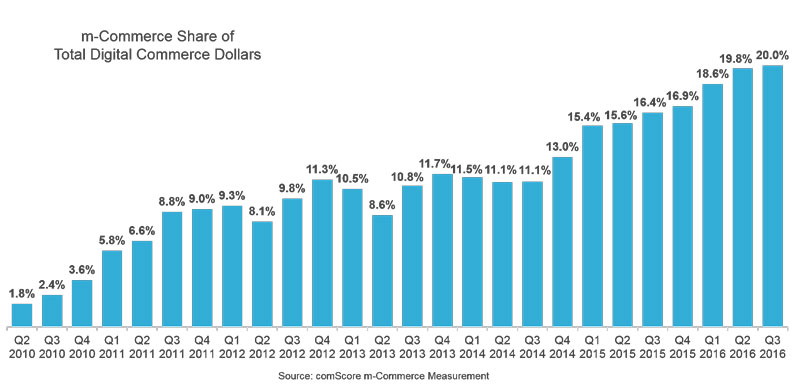 Comscore estimates that Q3 2016 total digital commerce sales in the U.S. was $84.3 billion, with sales from smartphones and tablets accounting for 20.0 percent of that total – the first time mobile commerce has reached this milestone. While we're still experiencing a pronounced channel shift from desktop to mobile spending, spending on both platforms has been strong throughout 2016, which generally bodes well for the upcoming season.
We'll keep you informed on holiday e-commerce spending progress with regular updates throughout the season. Sign-up to receive these updates by joining our email list here.
For retailers interested in accessing daily and weekly holiday data on shopping and buying behavior, and to see how your performance stacks up against the competition, please talk to your Comscore representative about the Comscore Holiday Tracker® or contact us today.