- December 14, 2015
Story of the 2015 Holiday Season: Mobile is Eating Brick-And-Mortar Retail
We're now in the thick of the 2015 online holiday shopping season, and the shopping dynamics this year are as interesting as ever. And while I could pontificate on any number of fascinating storylines, I keep coming back to one overarching theme:
Mobile is Eating Brick-and-Mortar Retail.
Allow me to explain what I mean…
When we typically think of the channel shifts occurring in retail, we think first of e-commerce eating into traditional brick-and-mortar. And with mobile having recently emerged, we also think about m-commerce eating into traditional e-commerce.
But I would contend that we must think beyond this convenient parallel structure of the emerging channel cannibalizing its parent channel. What we're really seeing is the offline cannibalization leapfrogging traditional e-commerce and coming directly from what's happening on mobile.
How do we know this? Let's consider first what's happening in offline to understand how the largest buying channel – which still accounts for about 85% of consumer discretionary purchase – has fared during the season-to-date. ShopperTrak reported a 10-percent decline in brick-and-mortar retail sales on Thanksgiving weekend.
At the same time, what have we been seeing happening in the online sector? Desktop retail traffic has been seeing modest gains in the single-digits, not much different than what you would expect given overall growth in the online population. But mobile traffic is a different story altogether, with growth rates on the key shopping dates running anywhere from 40%-80% year-over-year. That is a massive influx of mobile traffic, and given the magnitude of these gains one can easily see how several large retailers experienced server outages on their sites on the big shopping days.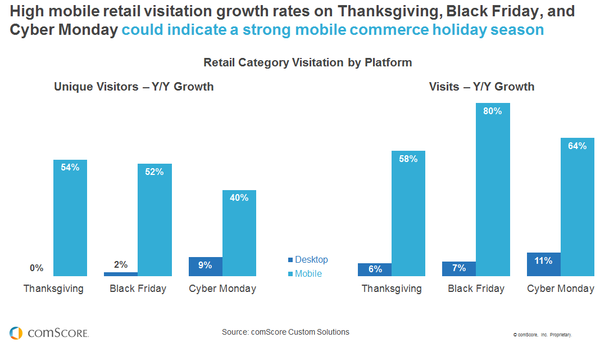 Of particular interest are the retail traffic trends as we move through the season. The graphic below shows the number of daily desktop, mobile and multi-platform visits to the retail category. There are a handful of key takeaways here:
Mobile traffic significantly outpaces desktop traffic every single day, including Cyber Monday.
Mobile traffic peaks on Black Friday, while desktop traffic peaks on Cyber Monday.
Cyber Monday is the peak day for overall multi-platform web traffic, but Black Friday is not far behind.
Desktop traffic has a distinct weekly pattern with troughs occurring during the weekends, while mobile traffic is much more consistent across different days of the week.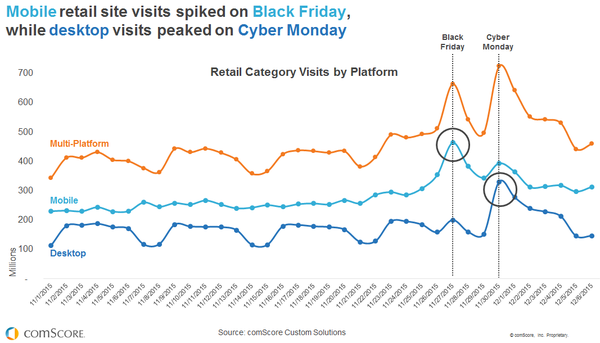 Taking all of these trends together, it's plain to see that mobile has exploded as a shopping channel – likely much more so than retailers had anticipated. And with the continued softness in brick-and-mortar traffic, it's only reasonable to conclude that mobile is finally eating into that channel in a meaningful way. And not just from the standpoint of traffic, but also in terms of dollars and dollar growth. In fact, if you take the expected overall growth in spending for the holiday season of 4.3 percentage points, the growth contribution breaks down evenly between brick-and-mortar and e-commerce at just over 2 percentage points apiece. And the e-commerce component is a roughly even split between desktop and mobile, with each contributing a little more than one percentage point.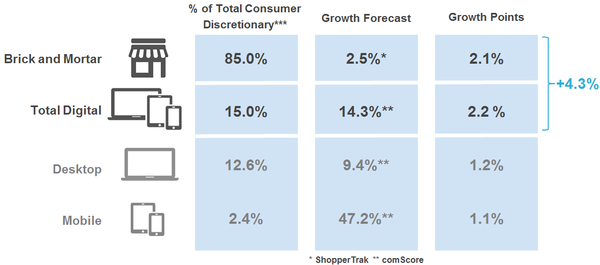 So while total spend breaks down to approximately 85% brick-and-mortar, 13% desktop and 2% mobile, the growth contribution is approximately half from offline, with a quarter from desktop e-commerce and a quarter from mobile commerce. When looking at it in those terms, it's easy to see how mobile is eating brick-and-mortar.
As we head into the final weeks of the holiday shopping season, let's keep in mind the importance of mobile. The negative headlines around brick-and-mortar are a clear sign of changing behaviors, but not necessarily a sign of weak consumer demand. There's a channel shift in full effect, and it is very rapidly moving in the direction of mobile.