- August 30, 2011
Tumblr Defies its Name as User Growth Accelerates
With so much attention given to social networking goliath Facebook, along with strong secondary players in the market like Twitter and Linkedin (and now Google+), it's no wonder that scrappy upstart Tumblr often gets overlooked. But recent Comscore data suggest that maybe it's about time to start paying closer attention. Tumblr, a multimedia-focused microblogging platform, has emerged as one of the fastest growing consumer-oriented Internet sites over the past year, with its audience surging from 4.2 million visitors in July 2010 to 13.4 million visitors in July 2011 (up 218%!).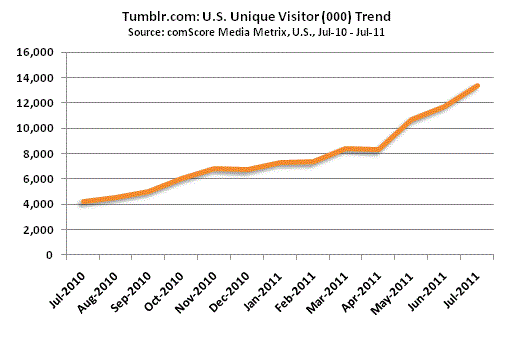 As I've mentioned in previous blog posts, with social media sites a critical component of success is realizing the benefits of the network effect. The network effect is predicated on the idea that the more users that are part of the system, the more valuable the system becomes to users, which creates a virtuous cycle that pulls more users into the system and gives existing users more incentive to participate. This concept is an important reason why we often see that once social networks achieve critical mass, the network effect takes hold and adoption tends to accelerate.
If we look at the past few months, we are seeing evidence of the network effect occurring at Tumblr, with the number of visitors accelerating from April through July. In just three months, the number of visitors has jumped 5 million for a gain of 61%.
These statistics are certainly impressive, but some of you may still be wondering what Tumblr is and why you haven't heard of it. If that's the case, you are not alone – and there is an explanation. To date, Tumblr's popularity has been strongest among the teen and college-aged user segments. In fact, 50% of Tumblr's visitor base is under the age of 25. Teenagers age 12-17 are about twice as likely as the average Internet user to visit Tumblr, while 18-24 year olds are nearly 2.5x as likely.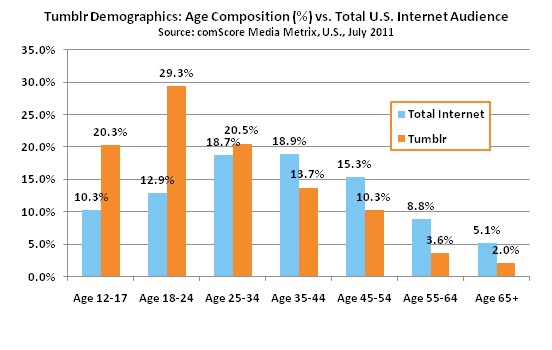 Of course we often see that younger users tend to be early adopters, particularly with social media technologies. So it's not surprising that the under 25 crowd is currently driving a lot of the site's popularity. The question now is whether Tumblr can emerge beyond its core demographics and enter into the internet mainstream. If the past few months are indication, it won't be long before Tumblr is a household name.