August 17, 2017
Which Global Content Categories are 'Mobile First'?
Mobile devices account for around 7 of every 10 digital minutes in the 14 markets analysed, but smartphone and tablet share within particular content categories exhibits variances that advertisers and content owners can benefit from understanding.
Mobile share of total digital minutes (with cross-market average)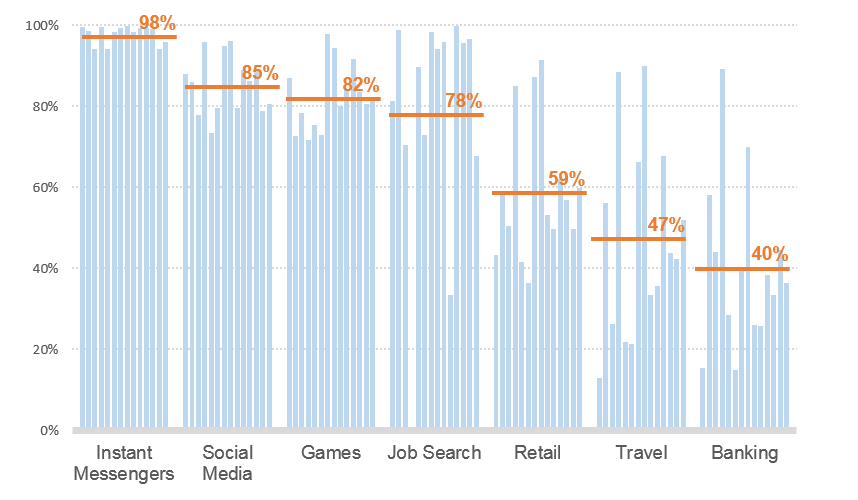 An analysis of 14 global markets (shown in order of their bars above: Argentina, Brazil, Canada, China, France, Germany, India, Indonesia, Italy, Mexico, Malaysia, Spain, UK and USA) demonstrates the aggregate levels of 'mobile firstness' among selected content categories, as well as the significant and non-uniform variance between markets.

Key findings include:
Instant Messaging and Social lean the most toward mobile, as users across markets consistently rely on portable devices for always-on communication media.
Gaming has a natural home on mobile platforms. As well as accounting for a significant share of mobile minutes overall, more than 8 out of 10 minutes in this category occur via mobile devices.
Transactional categories exhibit significant variance between markets, with retail, travel and banking highlighting how comfort with transaction security on mobile, coupled with varying quality of user experience on these devices is potentially hampering growth in these categories in some regions.
Cross-market analysis of audiences offers useful benchmarks for how category audiences are migrating to mobile around the world. These data lead to insights for understanding what's motivating 'mobile first' behaviours and the potential factors driving these changes.
---
Related Products
comScore Media Metrix® Multi-Platform provides the industry's first comprehensive view of the consumption habits of your digital audience and your competitive set, along...

Learn More

comScore Mobile Metrix® captures total mobile audience behavior on browsers and apps across smartphones and tablets. With Mobile Metrix, publishers can demonstrate the value...

Learn More