- August 16, 2016
Dutch Engage 2x More with Airbnb Sites vs. Hotels Category Average
As the summer kicks off in the Netherlands, a peaking interest in travel affects how digital audiences engage with this type of online content. With an audience of 8 million unique visitors in the country, travel websites reached 60% of the Dutch audience in June 2016, and more than 57 million visits occurred across all sites in the category. Mobile consumption also played a key role in the country, as 1.3 million unique visitors accessed this content through their tablets and smartphones during the first month of the European summer.
Some of the key findings:
While the travel category in the Netherlands remained flat in the first half of the year on desktop, its mobile unique visitors increased 15% during this same period.
Travel websites reached 60% of the Dutch audience in June 2016, with 8 million people accessing the category an average of 7 times per month.
With 235% more unique visitors in June 2016 compared to January, car rental websites had the largest increase in total unique visitors among the travel subcategories.
On mobile, TripAdvisor is by far the biggest travel website in total unique visitors in June 2016, with 7 times more unique visitors than the second biggest player in the Dutch ranking.
Broadly speaking, 60.5% of the Dutch digital audience in this category doesn't have children and 52.3% lives alone or with only one other person.
The Dutch have the second highest engagement on Airbnb Sites across Europe, spending on average 13.6 minutes per visit on the website, which is 2.3 times more than the hotels category average in June 2016.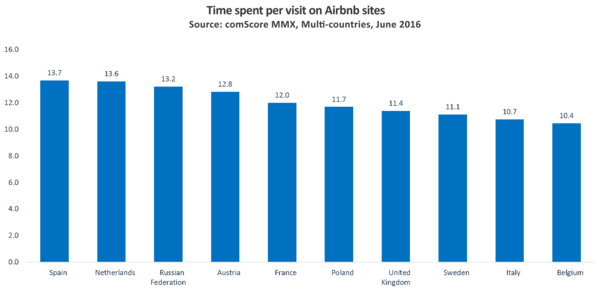 Media Metrix and Mobile Metrix can help you understand your target audience and their level of engagement. These metrics can be used to understand how your audience is consuming content, and how that compares to your competitors.
To find out more about Media Metrix or Mobile Metrix: contact us