February 29, 2012
VEVO and Spotify Go Head to Head in the Nordics
Popular music video site VEVO currently leads the Entertainment-Music category with 5.2 million unique visitors during January 2012 in the Nordic countries (Denmark, Finland, Iceland, Norway, and Sweden). However, the music streaming property Spotify isn't far behind, ranking second with over 4.9 million unique visitors to the site and its desktop application. Over the past year, VEVO has seen an increase of 18 percent by unique visitors while Spotify has seen a slower growth rate of 1 percent. VEVO's videos were largely consumed via their YouTube channel.
Below is a demographic analysis showing how likely a particular group is to use VEVO or Spotify for consuming music when compared to the average internet user in the Nordics. The younger age groups (15-24, 25-34 and 35-44) were more likely to visit VEVO to watch music videos than they were to use Spotify to stream music, while the older age groups (44-54 and 55+) were most likely to use Spotify – showing disparate preferences for audio or visual entertainment. When looking at the gender split, males were 5 percent more likely (index of 105) to use Spotify than the average internet user while females were 5 percent less likely (index of 95) to use the music streaming property. For VEVO, the pattern was similar with males being more likely to visit the music video site. Interestingly, females indexed higher for VEVO (index of 97) than they did for Spotify (index of 95) showing, not unlike the younger age groups, a preference for watching music videos over simply streaming music.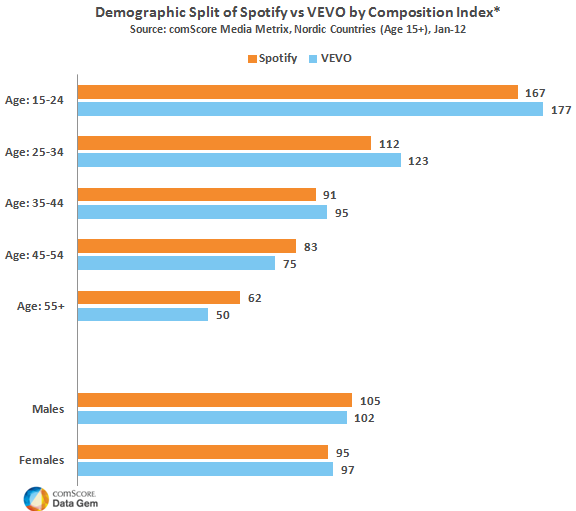 *Composition Index = % of Visitors to Site/% of Total Internet Users to Site x 100; Index of 100 indicates average representation.