-
December 13, 2012
Brave New Digital World - A Manifesto for the Future of Digital Media Measurement & Analytics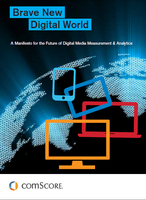 We are entering the dawn of a brave new digital world.
Media fragmentation is occurring at light-speed in today's multi-platform environment, which features not only TVs and computers, but smartphones, tablets, gaming platforms and a seemingly ever-increasing number of emerging devices. This new paradigm offers consumers a seamless digital experience that can easily traverse platforms, locations and temporal constraints so that content can be experienced anytime and anyplace. And as the average consumer's screen time expands to fill in many of these available gaps throughout the day, there are more opportunities than ever before for marketers to reach and engage with their customers. But, if this brave new digital world is one so rich with opportunity, why are so many marketers greeting it with anxiety and despair?
For many, change is often uncomfortable and can be disruptive to established practices. In order for businesses to navigate change effectively and emerge not only unscathed but also better positioned for the future, they must embrace the key trends affecting the consumer landscape, understand the opportunities, and overcome the challenges that stand in their path. In this manifesto on the future of digital measurement and analytics, Comscore intends to assist on each of these fronts and help digital businesses ease their transition into this new paradigm.
Comscore Media Metrix® Multi-Platform provides an unduplicated view of total audience behavior across desktops, smartphones and tablets.