-
August 22, 2012
Improving the Online Customer Shopping Experience
With so many factors affecting the pre- and post-purchase experience for online shoppers, it has never been more important for online retailers to understand what drives consumers to abandon their transactions, return items, and ultimately continue shopping with particular retailers.
Did you know:
More than 60 percent of online shoppers said they looked at a retailer's return policy before making a purchase
2 in 5 customers reported abandoning their shopping carts because of delivery estimates
Nearly half of online shoppers were not willing to wait more than 5 days for packages to be delivered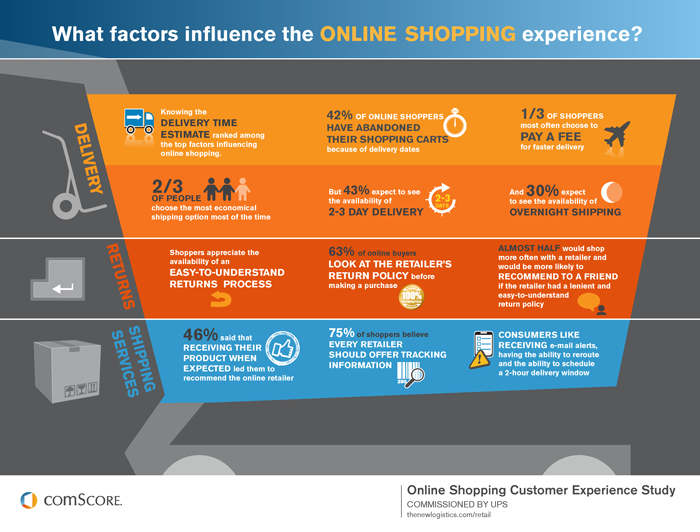 Comscore infographic
Comscore and UPS explore consumer online shopping behaviors and preferences pertaining to their online shopping experience. Drawing from the recently-released study, this presenation provides retailers with the insights needed to improve the impact of the online shopping factors that lead to customer loyalty and growth.
In this presentation, the following key questions are answered:
What is important to consumers during the shipping selection and check-out process?
What are consumers' returns experiences and what aspects are important in a returns process?
How do all of the services offered during and after the online purchasing experience impact the overall impression of that retailer?
About the Presenters:
Susan Kleinman is a Senior Director at Comscore specializing in consumer online behavior, from search and display advertising response to e-commerce activity.
David Sisco is a Marketing Director at UPS specializing in retail and e-commerce thought leadership.