-
March 4, 2013
2013 Canada Digital Future in Focus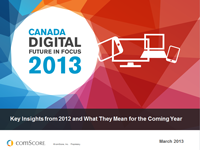 Comscore presents the 2013 Canada Digital Future in Focus, its annual report on how the prevailing trends in web usage, online video, digital advertising, mobile, social media and e-commerce are defining the current Canadian marketplace and what these trends mean for the year ahead.
Key insights from the 2013 Canada Digital Future in Focus (#FutureinFocus) report include:
Canada continues to be a leader in engagement, with users spending more than 41 hours per month online on their desktop computers, representing the 2nd highest engagement across the globe. Canada ranks 1st in terms of monthly pages and visits per visitor.
Online video is of growing importance to the digital ecosystem as long-form viewing and premium programming migrates online. Canadians rank 2nd worldwide in terms of monthly hours of video viewing (25) and number of videos per viewer (291). The Entertainment category saw the largest growth in number of videos viewed versus year ago.
The digital ad market is healthy and growing in Canada, with 724 billion display ad impressions in 2012, up 17 percent year-over-year. Social Media, Entertainment and Portal sites continue to account for the highest share of impressions.
The rapid adoption of internet-enabled devices is contributing to a more fragmented digital media landscape. Smartphone subscribers grew by 17 percent in 2012, with Google Android now accounting for 40 percent of the market. Subscribers watching video on their mobile phones has increased 21 points in the last year, while search is the fastest-growing mobile content category.
Social Media players are increasing their visitor base and engagement, while Facebook maintains its strong lead in the category. There are several rising stars to watch in 2013 – Twitter, LinkedIn, Tumblr, Pinterest and Instagram are all seeing strong visitor growth rates.
Major industry verticals are experiencing growth in digital channels. Retail e-commerce reached $22.3 billion dollars in Canada in 2012, up 10 percent versus year ago. Banking and Automotive content consumption and digital advertising are also experiencing gains across both desktop and mobile channels.
Webinar - Canada Digital Future in Focus 2013: Trends Every Marketer Needs to Know
Join Darrick Li, Manager, Media Metrix Canada, on Tuesday March 19th at 2 PM ET, as he shares key insights from the 2013 Canada Digital Future in Focus and discusses what these trends mean for the year ahead. For more information and to register, please visit: www.comscore.com/Insights/Events_and_Webinars/Webinar/2013/2013_Canada_Digital_Future_in_Focus
Comscore Media Metrix® Multi-Platform provides an unduplicated view of total audience behavior across desktops, smartphones and tablets.