March 24, 2015 - comScore Whitepaper
Visa Checkout: The Right Choice for Online Retailers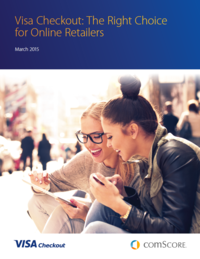 Visa Checkout worked with comScore to discover what consumers want when it comes to their online checkout experience. Thanks to changing cross-channel dynamics, the checkout experience is shifting as well.
This paper highlights three core components of a successful checkout experience, as discovered through research conducted by comScore:
Fast and easy checkout
A seamless experience
Having checkout options from a trusted brand
Related Products
comScore Benchmarking Studies empower marketers by capturing a holistic view of customers' online advertising media consumption, detailed website visitation trends and other...
Learn More