Final Shopping Weekend before Christmas Sees Growth of 17 Percent to Push U.S. Online Holiday Season Spending Past $28 Billion
Spending Nears 2009 Holiday Season Total of $29.1 Billion with Nearly Two Weeks Remaining in Season
RESTON, VA, December 22, 2010 – Comscore (NASDAQ : SCOR), a leader in measuring the digital world, today reported holiday season retail e-commerce spending for the first 49 days of the November – December 2010 holiday season. For the holiday season-to-date, $28.36 billion has been spent online, marking a 12-percent increase versus the corresponding days last year. The most recent week (week ending Dec. 19) reached $5.5 billion in spending, an increase of 14 percent versus the corresponding week last year. The final shopping weekend before Christmas reached $900 million in retail e-commerce spending, representing a strong 17-percent growth rate versus last year.
2010 Holiday Season To Date vs. Corresponding Days* in 2009
Non-Travel (Retail) Spending
Excludes Auctions and Large Corporate Purchases
Total U.S. – Home/Work/University Locations
Source: Comscore, Inc.

Millions ($)
2009
2010
Percent Change
November 1 – December 19
$25,270
$28,360
12%
Thanksgiving Day (Nov. 25)
$318
$407
28%
Black Friday (Nov. 26)
$595
$648
9%
Cyber Monday (Nov. 29)
$887
$1,028
16%
Green Monday (Dec. 13)
$854
$954
12%
Free Shipping Day (Dec. 17)
$586
$942
61%
Final Shopping Weekend (Dec. 18-19)
$767
$900
17%
Week Ending Dec. 19 (Dec. 13-19)
$4,803
$5,499
14%
*Corresponding days based on corresponding shopping days
(November 2 thru December 20, 2009)
"Spending growth has remained strong right through the final shopping weekend of the holiday season," said Comscore chairman Gian Fulgoni. "The growth rate of 17 percent witnessed during the final weekend capped off the heaviest online spending week of all time at $5.5 billion. Although there are still nearly two weeks remaining before the end of the year, holiday spending is inching very close to the total for the entire 2009 holiday season, a sign of just how much the online retail landscape has improved in the past year."
Weekly Online Holiday Retail Sales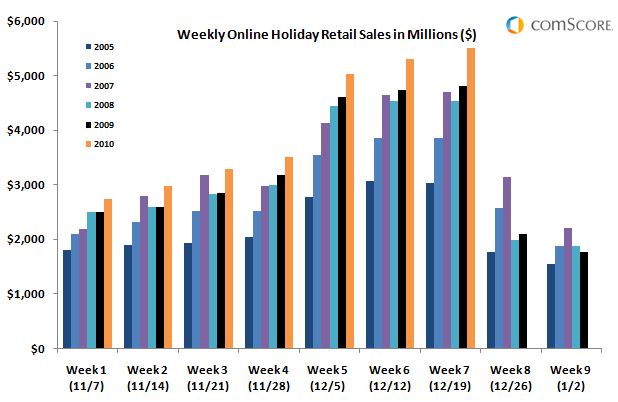 About Comscore
Comscore, Inc. (NASDAQ: SCOR) is a global leader in measuring the digital world and preferred source of digital business analytics. For more information, please visit www.comscore.com/companyinfo.
Contact:
Andrew Lipsman
Comscore, Inc.
+1 312 775 6510
press@comscore.com
Follow @Comscore