Social Media Engagement Flourishes in Latin America, Growing 127 Percent Year over Year
Comscore and Shareblee Partnership in Latin America Allows Brands, Publishers and Agencies to Better Understand What Drives Audience Engagement with Competitors' Social Channels
Santiago, Chile, November 05, 2014 – Comscore, Inc. (NASDAQ: SCOR), a leader in measuring the digital world, today released social media data specific to Latin America from Shareablee. Shareablee is the leading authority on audience intelligence, competitive benchmarking and actionable insights for social media. The company helps marketers maximize the value of their social media audiences with insights about how consumers are engaging with their brands and competitive brands on Facebook, Twitter, Instagram, Google Plus and Tumblr. Comscore partners with Shareablee to provide Comscore clients with social media benchmarking and competitive intelligence insights. The platform is complementary to digital benchmarking tools such as Comscore Media Metrix™ as well as social listening and publishing tools.
Shareablee's analysis of social media engagement in Latin America for the month of July 2014 showed 127 percent year over year increase in engagement across Facebook, Twitter and Instagram, with 455.3 million total actions.[1] Facebook accounted for 94.6 percent of those actions, followed by Instagram with 3.1 percent and Twitter with 2.3 percent. Mexico ranked #2 by total actions while ranking fourth overall based on audience size, indicating a highly engaged audience. For the number of average unique people engaged by each brand, Brasil led with 218,000, followed by Argentina with 89,000, Colombia with 62,000 and Mexico with 60,000. Twitter had the highest penetration in Argentina and Chile, while Instagram was strongest in Brasil and Colombia.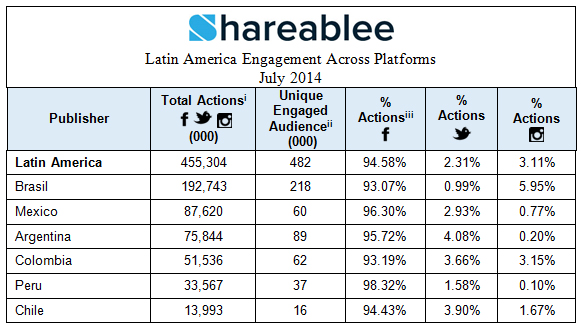 i) The total actions metric includes post-level likes, shares, favorites, retweets and comments.
Ii) Unique engaged audience is the number of people who took an action with a page's content on Facebook.
iii) The % actions metric notes the portion of actions (likes, shares, favorites, retweets and comments) attributable to the specified social media platform.
"Consumers in Latin America are highly engaged social media users, providing a unique opportunity to marketers in this region to connect with consumers in a personal yet scalable manner," said Alejandro Fosk, SVP Latin America at Comscore. "But like most other media, measurement and analytics play a critical role in enabling optimization of reach, engagement and fostering long-term loyalty through CRM. Understanding your own brand's performance is key, but competitive insights can give brands a huge advantage in social media marketing, and that's why Comscore partners with Shareablee for a robust set of social media metrics."
"We're excited to see the maturation of the social media ecosystem in Latin America. The ability to accurately measure engagement and understand audiences across platforms brings with it opportunities to effectively monetize social media audiences. Much like how Comscore supported the development of digital media monetization by establishing credible metrics, our data provides an independent verification of such metrics for social media. Our insights equip marketers and content producers with the information they need to propel their social audience and choose the best partners for high impact buys and partnerships," added Tania Yuki, CEO of Shareablee.
The Comscore - Shareablee partnership empowers clients to:
Measure performance across multiple social channels in a single view;
Learn best practices for increasing social engagement and traffic customized to the audience;
Reveal what audiences care about based on their social behaviors;
Understand how competitors' channels are performing.
"At Azteca Internet, we chose Shareablee to understand the engagement of our social channels because it's a simple, yet powerful tool. Shareablee has helped our decision-making process and the creation of effective social strategies", Gustavo Herrera Data Analytics Manager at Azteca Internet.
For more information about Comscore's partnership with Shareablee or to request a product demo, please contact us at learnmore@comscore.com.
About Comscore
Comscore, Inc. (NASDAQ: SCOR) is a global leader in digital measurement and analytics, delivering insights on web, mobile and TV consumer behavior that enable clients to maximize the value of their digital investments. For more information, please visit www.comscore.com/companyinfo.
About Shareablee
Launched in 2013, Shareablee Inc ( http://www.shareablee.com) is the leading authority on audience intelligence, competitive benchmarking and actionable insights for social media. Shareablee measures a census of global properties and collects brand audience and engagement data across Facebook, Twitter, Instagram, Google+, Tumblr, LinkedIn, YouTube and Pinterest.
[1] Actions are post-level likes, shares, favorites, retweets and comments across Facebook, Twitter and Instagram.
Contact:
Rodrigo Ceron
Marketing Director LATAM & Canada
Comscore, Inc.
+52(55)8525-0703
prensa@comscore.com
Follow @Comscore