- August 24, 2017
5 Interesting Facts About Millennials' Mobile App Usage from "The 2017 U.S. Mobile App Report"
We just released our 2017 U.S. Mobile App Report, and of the many new and interesting findings contained in the report, what jumped out to me was how much Millennials drive the market. They're the most engaged, adept and opinionated app users of any demographic, which you might expect from a generation of digital natives for whom smartphone usage is second nature.
But Millennials have some interesting app usage tendencies that are somewhat surprising or even counterintuitive. Here are five facts about Millennials' app behavior that might make you think differently about this important cohort.
1. The #1 Mobile App Millennials Can't Live Without is….. Amazon
We've all heard the narrative many times over about how Millennials are social media addicts who can't go five minutes without checking Facebook, Instagram, Snapchat or whatever else. And while all of this is true, it might be surprising to know that the one app they consider most essential – above all else – is Amazon.
When asked to select which three apps are their most essential and would be most difficult to go without, the two most commonly selected responses would be considered more of utilities than social or entertainment apps. At the top of the list was Amazon, with 35% of 18-34 year-olds selecting that app, followed by Gmail (30%) and Facebook (29%). Nearly half of all Millennials have their Amazon app accessible on their home screen.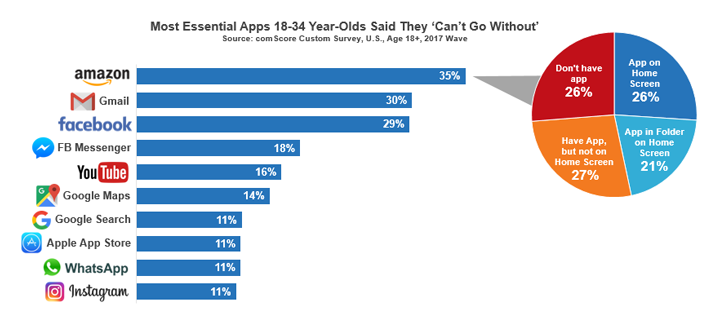 2. Millennials are Experts in Home Screen Curation
Millennials generally show more savvy and sophistication in using their smartphones. They are the most comfortable using their devices one-handed, in part because they know the tricks of the trade to keep their apps within reach. Millennials are much more aware of and likely to use the 'reachability' feature on their phones so they can access apps positioned furthest away from their thumbs. And they are much more likely to put their apps in folders, which helps with organization and first-screen accessibility. Because they make better use of folders, more than half of 18-34 year-olds have all their apps accessible within the first two screens of the phone.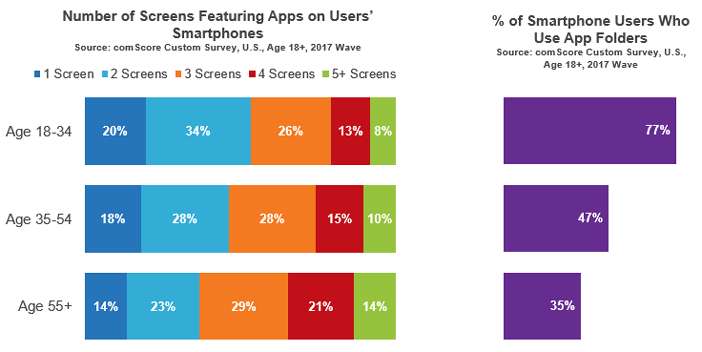 3. Millennials Hate Push Notifications, but Have Only Themselves to Blame
Across the board we found that Millennials were more likely to claim signs of app addiction. So it should not come as a surprise, then, that 63% of Millennials always or often agree to accept an app's push notification request – far more likely than their older counterparts. And yet, they also have the highest percentage – 71% – registering annoyance with notifications. What leads them to be so permissive of an action that tends to annoy them? Is it fear of missing out (FOMO) at what might be happening within their apps while they're not looking? Whatever it is, they have only themselves to blame for their annoyance.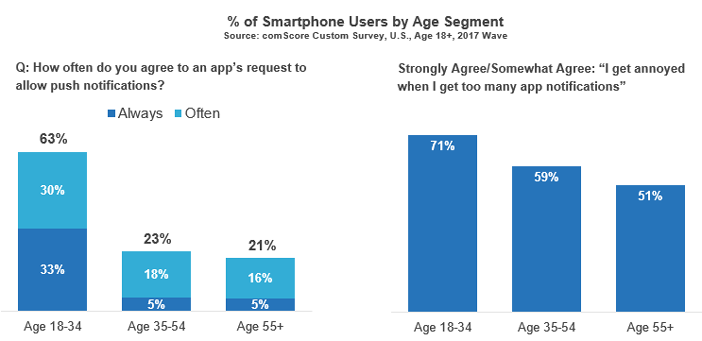 4. Millennials Don't Mind Shelling Out Money for Apps
Millennials aren't generally known for having deep pockets, yet they appear to be by far the most comfortable spending money to buy apps. 64% of 18-34 year-olds have paid to download an app in the past year, and nearly 1 out of 5 paid to download an average of at least one app every month.
This is an age group that is not only very comfortable paying at least a few dollars for digital content, but are even willing to shell out more than nominal payments. 46% of Millennials had spent at least $5 on an app in the past year, compared to 25% among 35-54 year-olds and 15% among 55+ year-olds. And 17% of Millennials had spent at least $20 on an app, compared to just a few percent amongst the older age segments.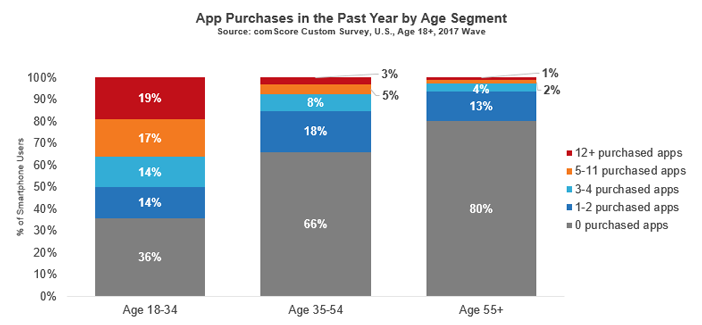 5. Millennials Will Delete an App if Its Logo is Ugly
We wanted to know which factors might cause people to delete their apps, and we were surprised to hear more than a few participants say they deleted apps because they didn't like the look of their logos on the home screen. What was interesting about this response was that it was almost exclusively a factor amongst Millennials. As we think about the value of brand identity among today's younger adults, it's important to remember that brand extends to something as simple as a logo and how good (or bad) it looks on someone's smartphone screen. Any app that doesn't meet this bar could get relegated to the trash bin by Millennials.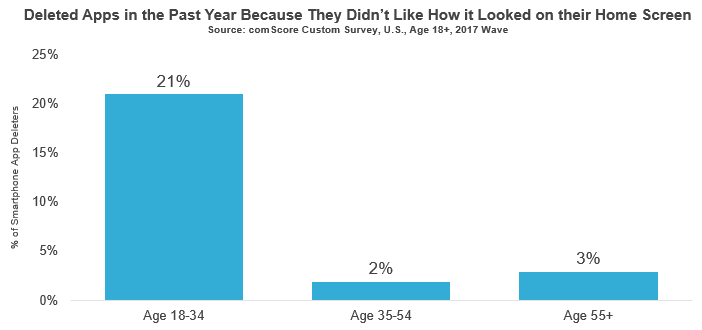 As Millennials continue to drive the digital media market forward, understanding the behaviors that differentiate them is the key to understanding where the market is headed. For these and other insights on Millennials' mobile app behavior, please download The 2017 U.S. Mobile App Report today.
Comscore Media Metrix® Multi-Platform provides an unduplicated view of total audience behavior across desktops, smartphones and tablets.