- July 20, 2015
AOL Proves Audience is 3x Larger After Accounting for International and Mobile Traffic
One of today's biggest challenges for publishers is conveying the value of their digital audience to advertisers. While an audience's value depends on many factors, its sheer size (measured in unique visitors) is a major component. It turns out, however, that accurately measuring an audience's true reach is a trickier task than one might initially assume. In the current digital landscape, audiences come from a variety of international markets in addition to a multitude of devices, all of which need to be accounted for and then 'deduplicated' to ensure that the same person visiting via multiple channels isn't counted more than once.
The task isn't easy, but Comscore is helping publishers solve for this issue, as showcased in our recently released Global Mobile Report, where we examined the total global audience of leading digital media publisher AOL.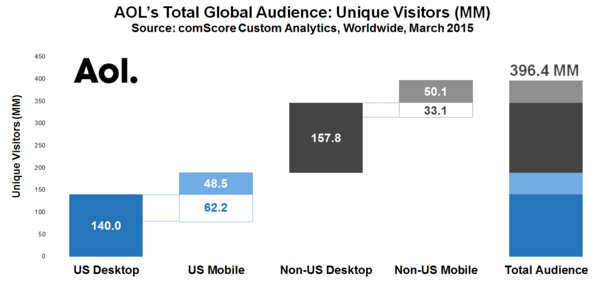 In our analysis, we broke out AOL's traffic by geographical market and platform. Each additional layer of measurement that Comscore applied to its audience unveils a previously unseen segment of unique visitors which incrementally boosts the media property's total reach. The first layer of measurement is for US desktop traffic only (AOL is a US-based media company), which indicated the media property had 140 million unique visitors in March. The next measurement layer accounts for mobile (i.e. smartphone and tablet, including web browser and app), which adds 48.5 million previously uncounted unique visitors to AOL's US audience.
For a view of the publisher's worldwide audience, the next step is measuring for desktop traffic across all global markets, which unveils another 157.8 million unique visitors originating from outside the US. And finally, for a complete understanding of a publisher's audience, you must measure all mobile traffic outside of the US and deduplicate those visitors who access via multiple platforms. Applying this final measurement layer to AOL gives them 50.1 million new visitors to the property, all of whom were previously undetected and unaccounted for. In total, AOL's audience in March proved to be 396.4 million people, nearly 3x greater than the number of US desktop visitors originally reported before adding in the additional layers of measurement. This translates to a gain of 256 million unique visitors. [1]
A key learning from this analysis is that in our increasingly connected world, with more platforms for accessing online content than ever before, it's become imperative that publishers understand their total global audience reach, as each incremental visitor is a missed revenue opportunity.
To find out more about how publishers should be thinking about their multi-platform audiences, across both screens and geographies:
Understand audiences and their media consumption across TV, digital, and cross-platform.
Learn More