- June 20, 2014
Amazon's First Try at the Smartphone Market Doesn't Mean it's New to Mobile
Amazon announced its foray into the smartphone market on Wednesday when it unveiled its highly anticipated Fire Phone. In what many would consider a bold strategic move, the online retail giant has opted to compete for consumers' affections in an already crowded market. Apple and Samsung currently lead all original equipment manufacturers (OEMs) with 41 percent and 28 percent market share, respectively, while the next largest competitors LG, Motorola and HTC all have between 5 and 7 percent market share, according to Comscore MobiLens.
The Fire Phone is packed with unique, exciting features, including 3-D screen effects, a Mayday button that allows you to video chat with customer support, free unlimited photo storage, and one free year of Amazon Prime membership. Assuming consumers like the phone, establishing itself as a legitimate third player in the OEM market appears to be a very attainable goal for Amazon.
But why is Amazon trying its hand with smartphone hardware, a market where other tech titans have struggled to make and sustain an impact? At first glance, it might seem like a risky endeavor for Amazon to enter a new space instead of focusing on its core online retail business. However, upon closer examination, it's clear that selling its own smartphone fits perfectly into Amazon's long-term strategy.
Amazon is no novice in the mobile hardware market, having first launched its Kindle Fire tablet in 2011. The device has since obtained 22 percent share of the tablet market according to Comscore TabLens, trailing only Apple's iPad product line. In addition to its existing hardware, Amazon is currently the market leader in mobile shopping and mobile buying, a position it hopes to further exploit through adoption of the Fire Phone.
Amazon Stands to Benefit from Acceleration of M-Commerce
While mobile commerce, or m-commerce, makes up only 12 percent of total online spending, it is growing at twice the rate of desktop e-commerce. The m-commerce market hit $25 billion in 2013, and currently Amazon has a strong leadership position, along with eBay. Amazon already owns the attention of mobile shoppers, leading all retail properties with a 64-percent reach among mobile shoppers and a 24-percent share of total mobile shopping time spent.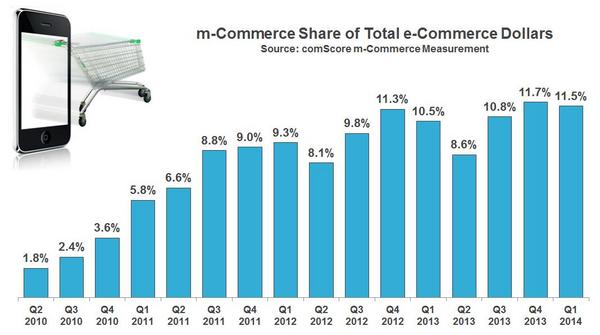 But mobile shopping is still in the early phases of converting into mobile buying behavior. Considering the current disequilibrium between attention (mobile currently accounts for 52 percent of time spent in the Retail category) and dollars (12 percent), we expect that m-commerce spending will follow the eyeballs and accelerate over the near term.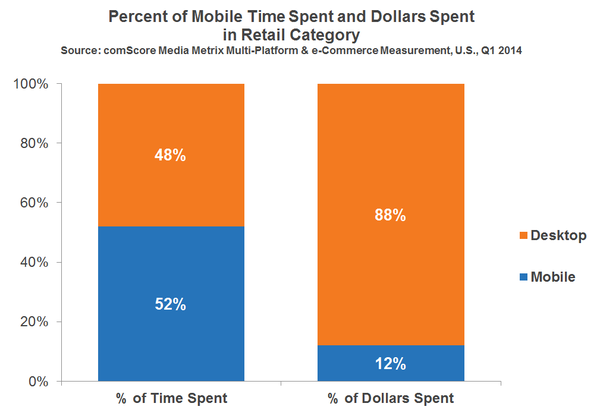 Amazon understandably sees an opportunity to leverage the Fire Phone to help accelerate growth in mobile commerce. One of the reasons m-commerce spending has lagged overall usage of phones is that there remains a great deal of friction in buying on smartphones, a hurdle that Amazon intends to overcome through several new features to facilitate and incentivize mobile buying.
Amazon aims to reduce this buying friction starting with the Fire Phone's pre-installed apps, which Comscore research has shown tend to be among the most heavily used apps on a given platform. It's little surprise, then, that Amazon has followed suit with several pre-installed apps that facilitate mobile commerce for both physical products and digital content, including Amazon's core Shop app, Kindle Books, Amazon Music , Audiobooks and Amazon Appstore. Furthermore, the free 12-month offering of Amazon Prime seems intended to hook members for the long-term and convert them to becoming heavier Amazon shoppers.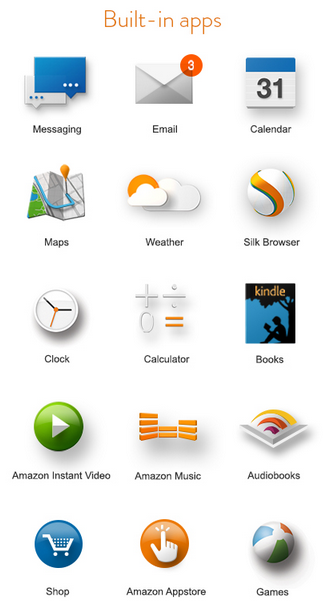 Fire Phone Also Promotes Showrooming, Stands to Pull More Dollars from Brick-and-Mortar
Amazon also introduced a notable feature called Firefly, which by using the camera can recognize real-world objects, TV shows, music, etc., and can then direct consumers to purchase that item or digital content from Amazon's store. Amazon's seamless integration of the shopping experience into our everyday lives makes it easier to purchase directly from that device.
Between its Prime Membership offering, Firefly feature and the trust its brand has earned from customers over time, Amazon is aiming to make consumers more comfortable making purchases on their smartphone, and is trying to ingrain that behavior as a habit by reinforcing it with nearly every aspect of the Fire Phone. Not only should Amazon boost its mobile commerce sales as a result, but it would hope to pull from the more than $3 trillion brick-and-mortar retail sector, now that the Firefly feature has made showrooming easier than ever.
Only time will tell if the Fire Phone will be a hit among consumers, but we know that Amazon has always been one of the most forward-thinking companies in the world and has succeeded in nearly every market it has entered (e.g. online commerce, e-readers, tablets, instant streaming, web services, payment services, etc.). As long as Amazon's unique smartphone offerings resonate with consumers, we should have a serious new player in the mobile market for the foreseeable future.
Well, not entirely new.
Comscore Media Metrix® Multi-Platform provides an unduplicated view of total audience behavior across desktops, smartphones and tablets.