- July 14, 2020
As Work-From-Home Numbers Rise Due to the Coronavirus Pandemic, Collaboration Tools See Spikes in Usage
With Covid-19 changing the ways in which U.S. audiences are using online tools for socialization and work, we are also seeing large shifts in engagement with conferencing and collaboration tools. This blog post examines trends in collaboration platforms to find insights for the industry.
It is estimated that American workers typically spend 220 million minutes1 per month just in meetings. Comscore's data shows that, comparatively, U.S. audiences spent a total of six billion minutes using top collaboration tools* in May 2020. In addition to the time spent on work, some of these minutes could have been spent by consumers on collaboration tools outside of the workplace, to continue to keep social interactions among personal networks.
During the month of May 2020 there were 109 million users engaging with these select collaboration platforms, which reached 41% of the total U.S. internet audience in May 2020, compared to a reach of 9.9% in May 2019, representing a 322% increase year-over-year.
As businesses adapt to the need to expand technology and communications for an increasingly remote work force, two providers are skyrocketing to the top of the pack. Unique visitors for Zoom.us and Microsoft Teams, respectively, have increased by 813% and 943% in unique visitors year-over-year (May 2019 vs. May 2020).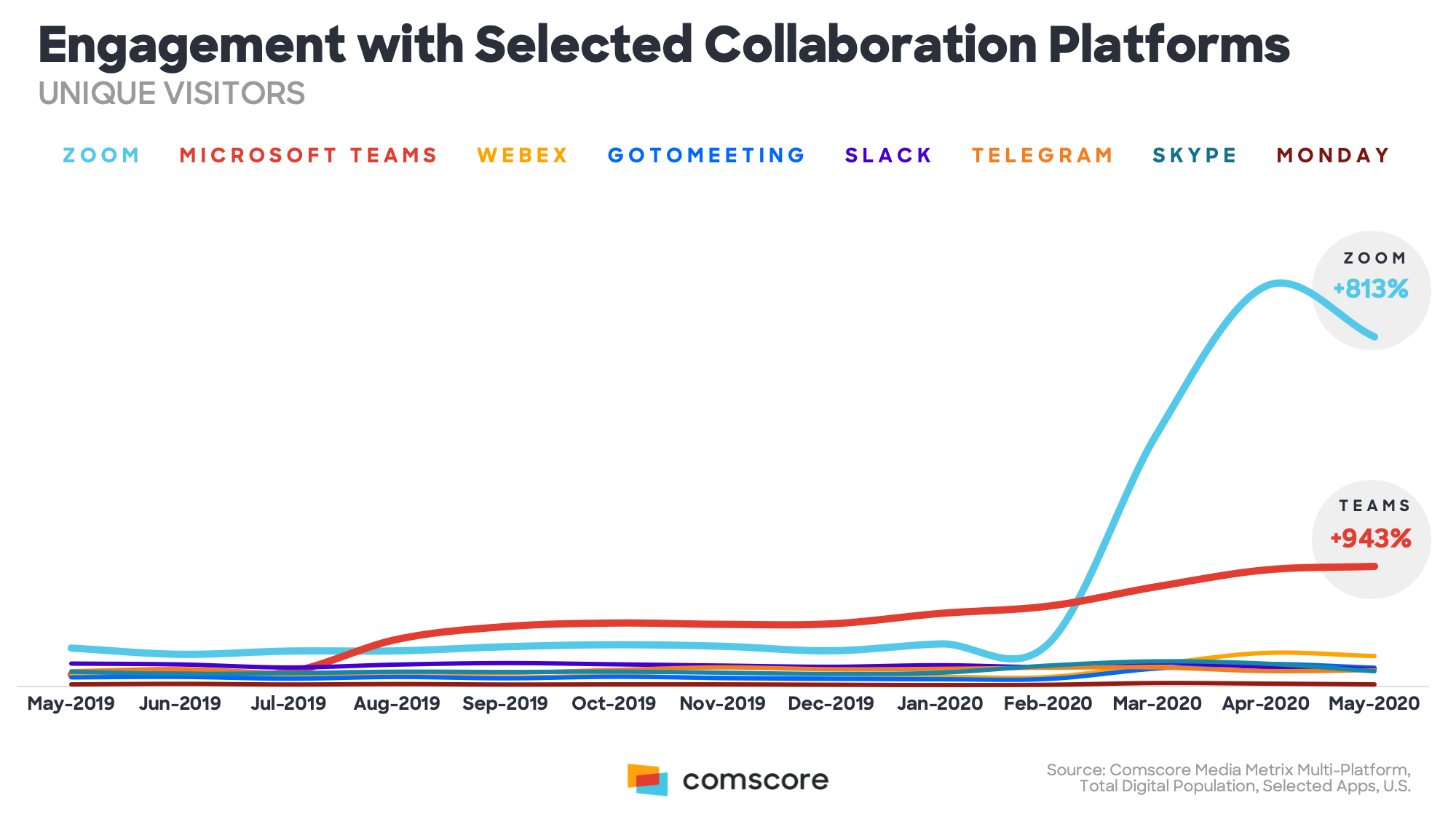 It is interesting to note that Microsoft Teams users heavily favor desktop usage, as 90% of desktop users are using Microsoft Teams exclusively on their desktop devices. This may in part be because there are features within the Microsoft Teams tool that allow users within an organization to chat, make video calls, and focus on project collaboration.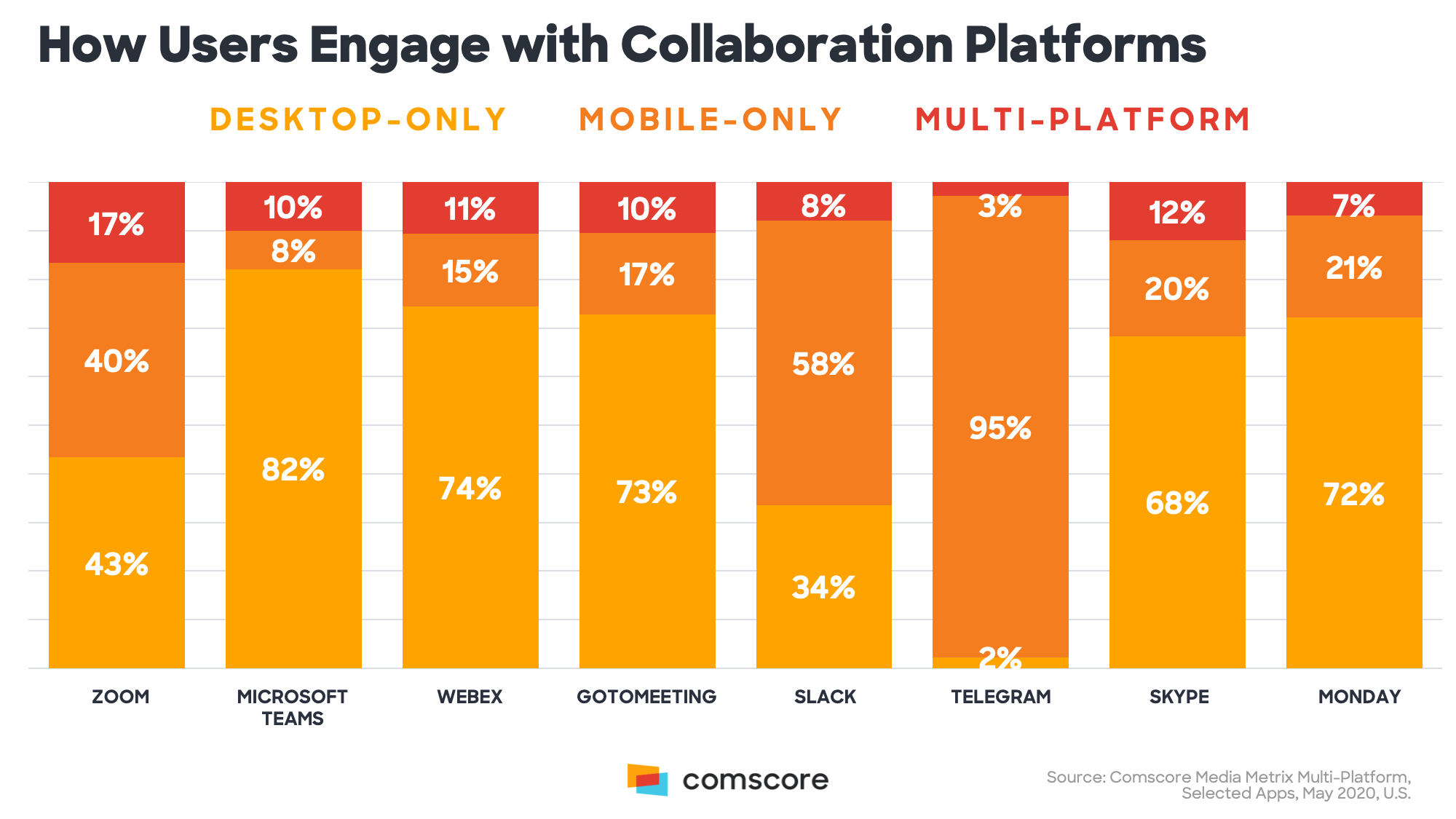 In comparison, Zoom tends to focus its product features on elevating the conference call and web conferencing experience, so users are more likely to take their communications on-the-go via their mobile apps – 70% of Zoom.us mobile usage coming from mobile-only users.
Though Zoom and Microsoft Teams hold the deepest user penetration of collaboration platforms in the U.S., it is notable that there is room for many apps to co-exist in this space. In May 2020, 40% of Microsoft Teams users also used Zoom.us. This is likely because both platforms provide a distinct user experience leading to heavy cross-over between the two platforms. For example, some organizations may use Teams for its chat and collaboration functions, while also accessing expanded conference call and webinar features available through Zoom, Webex, or other apps. As more companies are announcing permanent remote working environments, the need for all-around collaboration solutions that can encompass messaging, file sharing, video and voice calls will continue to rise. Not surprisingly, we are seeing new partnerships form in efforts to combine these features and create the best user experience. In early June 2020, for example, Slack announced a partnership with Amazon2 to incorporate Amazon Web Services' Chime infrastructure for voice and video3 into Slack's product. Marrying these services together could produce another strong player for the collaboration category targeted at both consumer and commercial uses.
Coronavirus Insights
Read our ongoing updates on shifting consumption trends and the resulting impact on the advertising and media industries on comscore.com/Coronavirus.
Sign up to be notified when new insights or data become available.
Sign Up
Comscore Media Metrix® Multi-Platform provides an unduplicated view of total audience behavior across desktops, smartphones and tablets.