December 2, 2016
Billion-Dollar Shopping Days Become the New Norm
A billion dollars in daily online spending used to be a rare achievement in e-commerce and the sign of a truly banner day. But online shopping has gotten so popular in recent years that with each holiday season the once elusive "billion dollar day" is increasingly becoming the new normal. Already through Cyber Monday we have seen 13 days exceed $1 billion in online spending via desktop computers. Last year at this point in the season there were only five – those being the five days from Thanksgiving through Cyber Monday.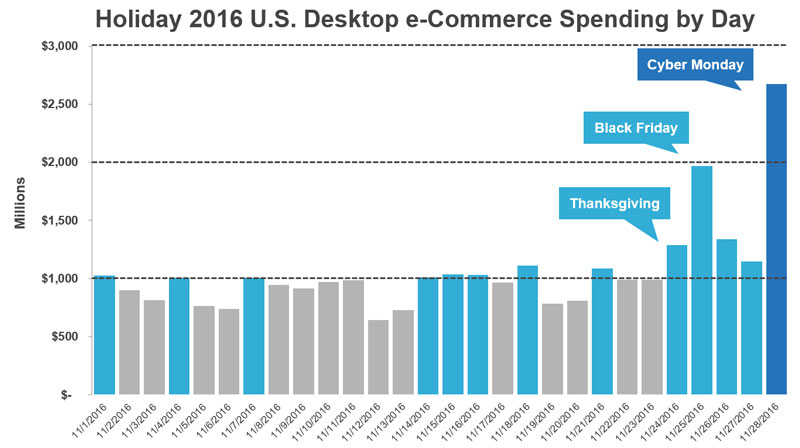 Source: comScore e-Commerce Measurement
For more context as to just how prolific the billion-dollar online shopping day has become this season, we are only three short of the 16 we had the entire November-December 2015 holiday season, and we already eclipsed the 10 we had three years ago in the 2013 holiday season. Cyber Monday 2010 was the first day to ever achieve the billion-dollar milestone in e-commerce, and five years later on Cyber Monday 2015 we witnessed the first day to ever reach $2 billion spent online. This year's Cyber Monday hit a new high for desktop online spending at $2.7 billion and also became the first day to record $1 billion in mobile spending.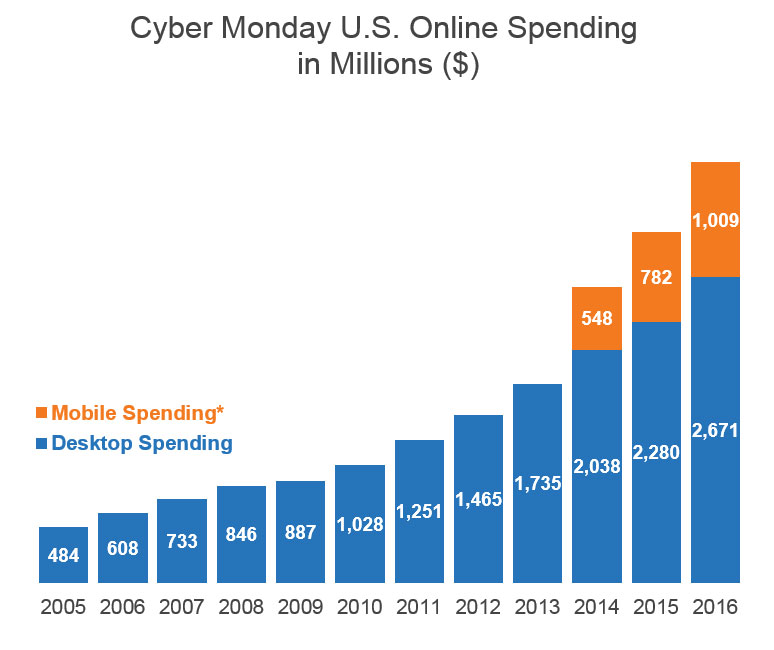 Source: comScore e-Commerce Measurement & m-Commerce Measurement
*Prior to 2014, comScore did not calculate m-commerce dollars specifically for Cyber Monday
With online buying now common practice among consumers, we can expect to see plenty more billion-dollar online shopping days from desktop computers this season, plus a growing share of spending coming directly from smartphone and tablet devices. It's certainly a great time to be an online retailer.
For more online retail insights from the 2016 holiday season, visit our comScore blog or check out our most recent press releases.
Related Products
comScore e-Commerce Measurement is the industry standard, providing the most accurate, timely and comprehensive view of consumers' online shopping and spending behaviors....
Learn More