- December 2, 2016
Cyber Monday Becomes First Ever $1 Billion Shopping Day on Mobile
For the first time ever this holiday season, $1 billion was spent in a single day on mobile devices alone. Cyber Monday was the day to achieve this feat, as it turned out to once again be the biggest online shopping day of all-time for the seventh straight year, reaching nearly $3.7 billion in total digital sales for an annual growth rate of 20 percent. Both desktop and mobile saw healthy growth rates, with mobile at 29 percent vs. desktop at 17 percent. Thanksgiving and Black Friday also had a strong showing this year, combining for approximately $4.7 billion, up 23 percent year-over-year.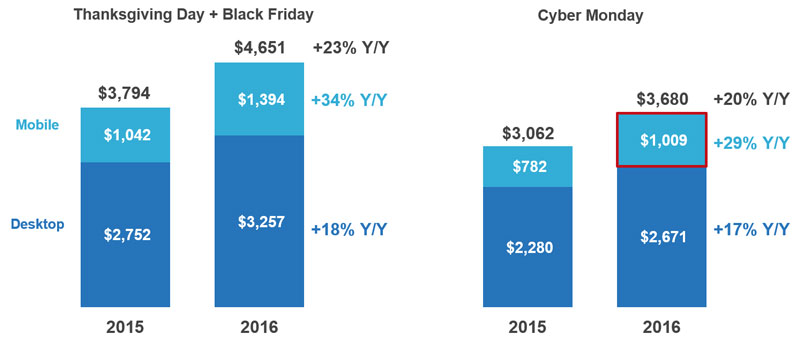 Source: Comscore e-Commerce Measurement & m-Commerce Measurement
For more online retail insights from the 2016 holiday season, visit our Comscore blog or check out our most recent press releases.