- September 19, 2016
OpenTable, Nike+ and United Airlines Top List of Highest Indexing Apps Among Affluent Users
In conducting research for the The 2016 U.S. Mobile App Report, it became apparent that the audience composition of an app can widely differ from one to another. With this in mind, we decided to take a look at apps that skew heaviest among users in the higher income brackets, as this can be a particularly valuable demographic segment for marketers. For the purposes of this research, we defined high-income households as those with an annual income greater than $100,000. Using Comscore Mobile Metrix®, we found that affluent individuals are more likely to use fitness, dining and travel apps than average.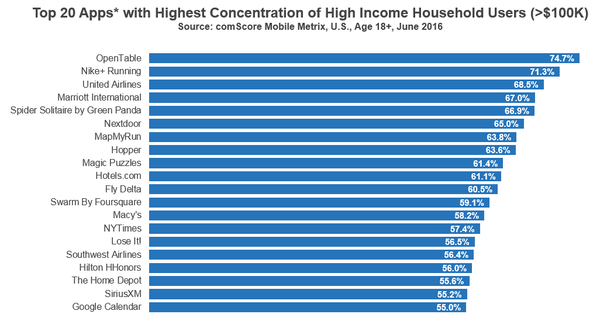 *Based on apps with >1 million users in that income bracket.
The top app on the list with three-quarters of its audience in the high-income bracket was OpenTable, an online real-time restaurant reservation service. As one might expect, hotel, airline and dinner reservation apps were among those skewing most heavily to affluent households, given that these services tend to come at higher price points. We also found three fitness apps cracking the Top 20 list – Nike+ Running, MapMyRun and Lose It! – indicating that perhaps there is a correlation between higher income and health-consciousness. Retailers Macy's and Home Depot also made the list, as did the New York Times app.
For more insights on the mobile app landscape and how mobile app behavior differs by audience type, download The 2016 U.S. Mobile App Report here.