- August 27, 2020
Parenting in the Pandemic
The coronavirus pandemic has brought about significant change across the world, in every aspect of people's lives, from work to home. For parent's specifically, the pandemic brought about new challenges as they worked out home schooling strategies and found ways to keep children entertained in lockdown, often while working from home. In this article we consider the online behaviour of parents during the pandemic to see how that behaviour evolved during this period in the UK.
Changing Online Interests
Looking at the behaviour of parents across the internet from January to June 2020 reveals a few areas of great change. Politics had the most significant variation in interest. When indexed against January 2020 we see a jump of almost 70% in visits to news sites and apps related to politics in March 2020 when the lockdown began in the UK. Interest then began to drop but picked back up again in June 2020, ending the period 35% higher than it started. Government sites also saw an increase in interest during the period, notably Gov.UK the main site for all coronavirus advice, travel advice, universal credit etc. It is likely that parents turned to political news and government sites to understand restrictions around the pandemic and implication on holiday and education.
Other notable areas of change were visits to sites and apps related to "Family & Youth Education", which consists of sites such as MyMaths.co.uk and ClassDojo.com. In the same vein, the number of visitors also grew to sites in the "Training & Higher Advancement" category, which consists of sites such as Study.com and NewSkillsAcademy.co.uk. Visits to both categories peaked in April 2020 at 43% increase and 27% increase respectively, this can very much be correlated to the shutting of schools which lead to parent's taking an even more active role in their children's education during this time. Visits to such sites and apps tailed off towards the end of the period as the summer holidays approached. These sites tackled education but how did parents keep children entertained once the home-schooling day was finished?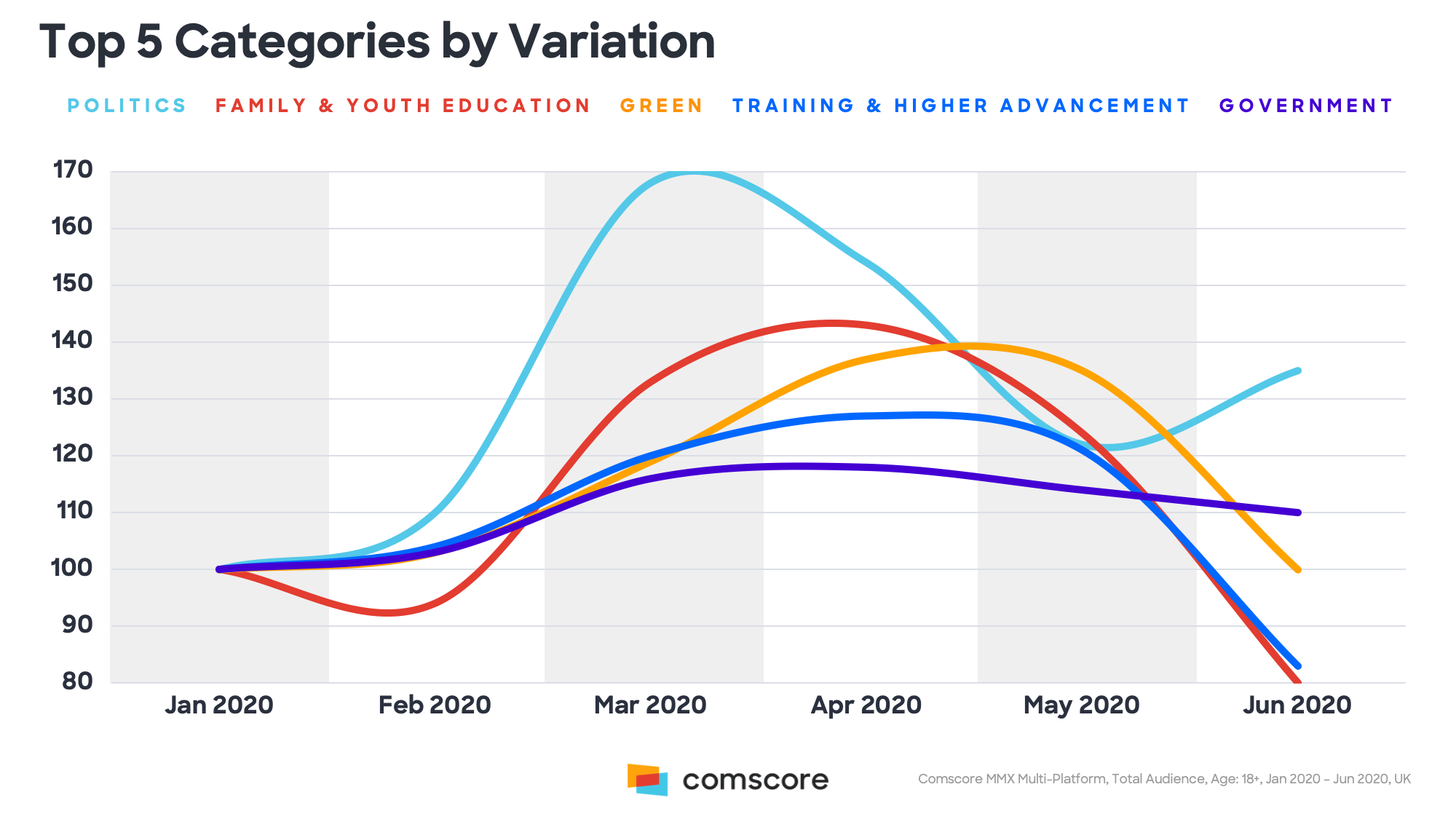 Keeping Children Entertained
To answer this question, we went one step further and carried out a semantic analysis of the content viewed by parents in the UK. This analysis allows us to assign one of over 700 labels to each piece of content, as defined by the IAB taxonomy. It turns out that the majority of children-related content is children's Games and Toys. With the exception of a large spike in visits to content around children's Clothing in March 2020, possibly related to buying a summer wardrobe, Games and Toys content is being consumed as a much higher level. This could be linked to the need to keep children entertained during this difficult time.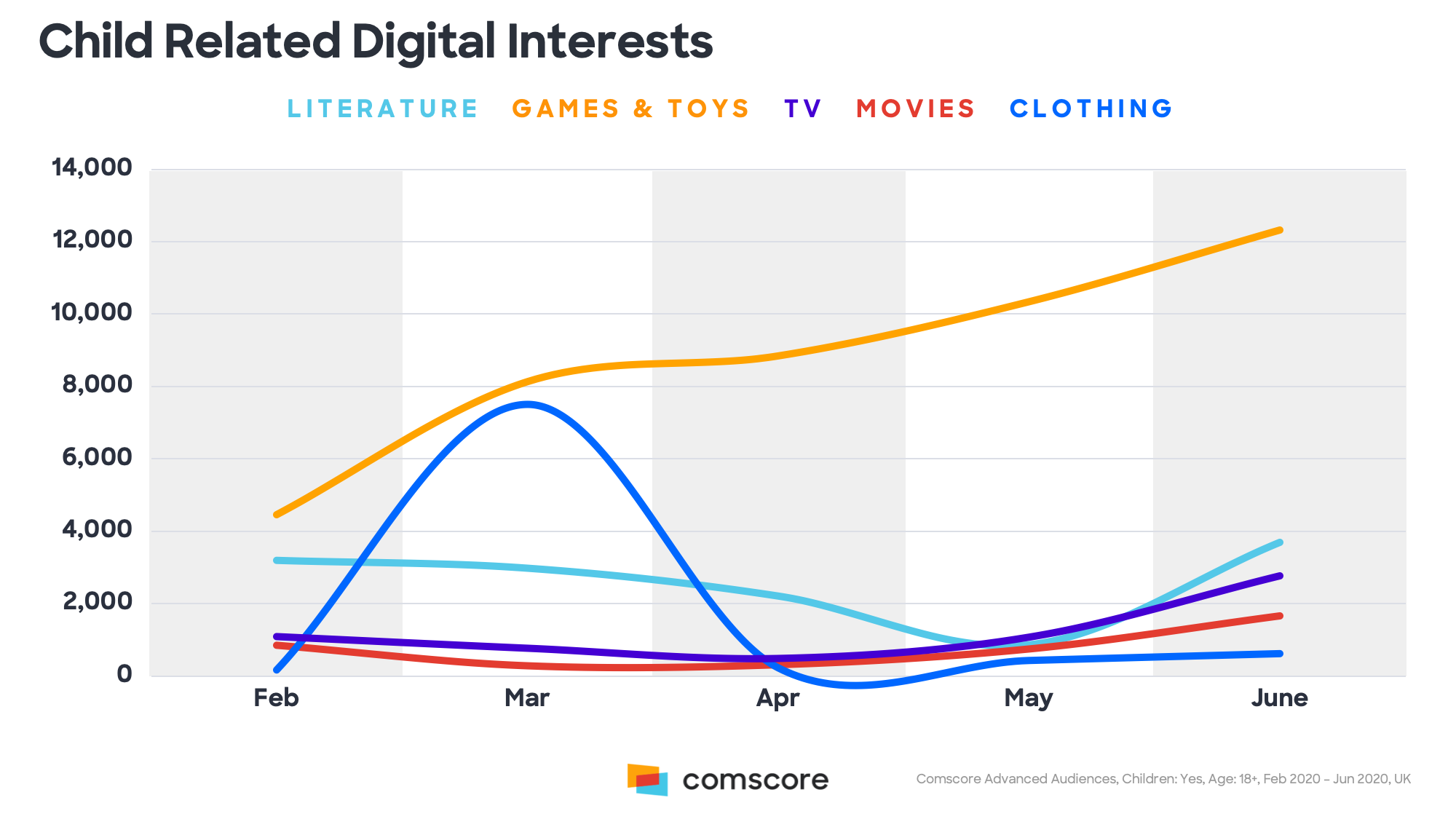 Looking specifically at the Toys subcategory in Comscore's MMX Multi-Platform, we see that there was a peak in online interest in toys during April 2020. With the UK lockdown in full swing consumers looked online for ways to keep children entertained, and visits at the Toys subcategory were up by an impressive 24% YoY. By June 2020 we see that the level of visits came back down, although they still remained above January 2020 levels.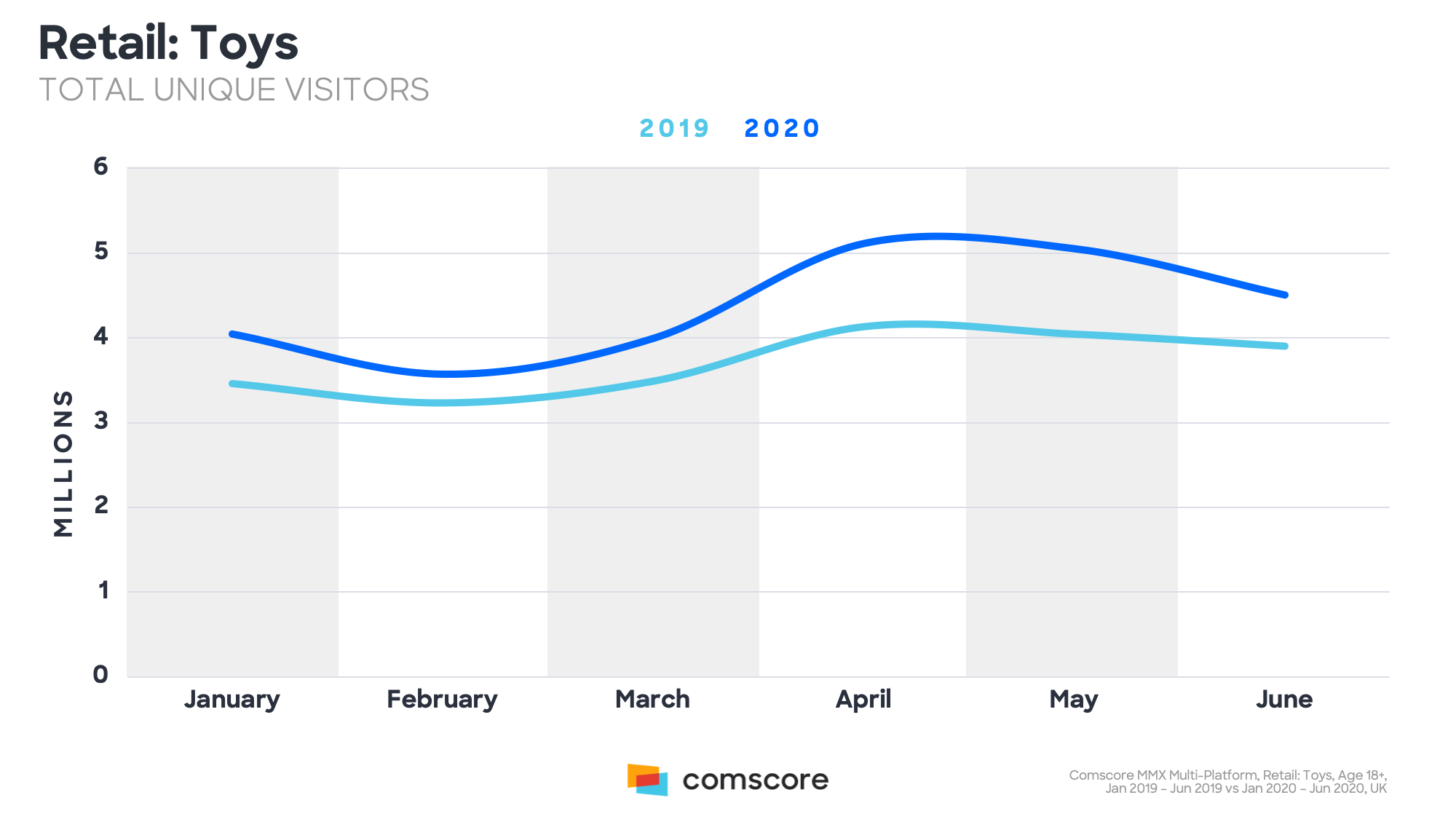 Engaging with Parents
So far, we have addressed how parents have used the digital space to support themselves through the pandemic when it comes to parenting, but now we consider how parents spent their personal time online compared to non-parents. One thing that jumps out when we focus on parent's online behaviour is that we find that the more interactive, the better. These five sites had higher reach among parents than among non-parents, notably all interactive, video or streaming sites. Parents appear to be video first, so putting video and streaming services at the heart of advertising strategy is wise for those trying to reach this audience.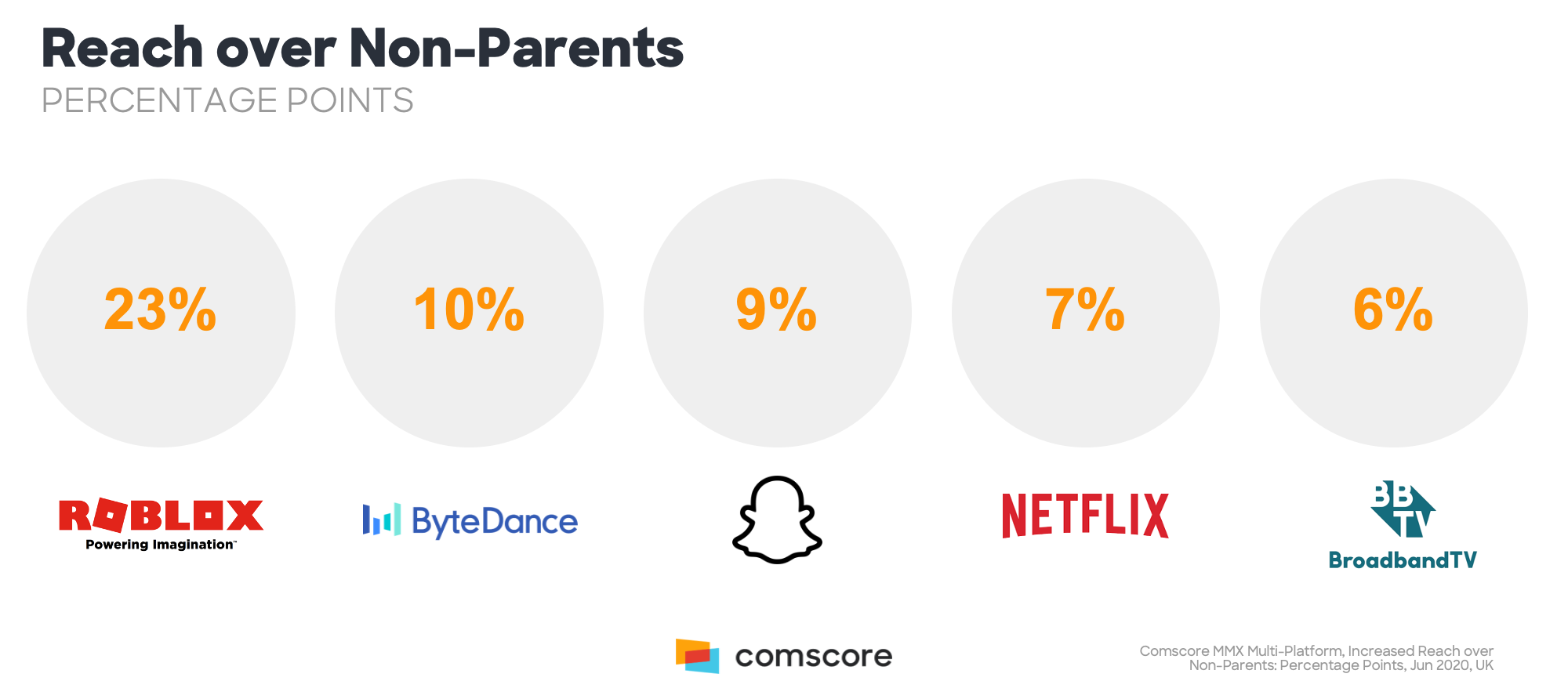 The pandemic has been a challenging time for everyone, particularly parents. Their online behaviour reveals a search for information and support in their new roles as educators and full-time entertainers. As we continue through the summer holidays and into a back-to-school season like none before it will be important to use the data available to understand the continually evolving behaviour of parents.
Coronavirus Insights
Read our ongoing updates on shifting consumption trends and the resulting impact on the advertising and media industries on comscore.com/Coronavirus.
Sign up to be notified when new insights or data become available.
Sign Up
Comscore Plan Metrix® Multi-Platform combines consumers' desktop and mobile behavior with detailed information about their lifestyles, interests, attitudes, demographics...

Comscore Media Metrix® Multi-Platform provides an unduplicated view of total audience behavior across desktops, smartphones and tablets.