- April 8, 2020
Video on Demand Transactions Increase in Month of March
In reaction to the unprecedented coronavirus pandemic, many studios began to shift what would have been in-theatre movie runs to traditional Video on Demand (VOD) and other OTT streaming platforms.
Looking at all set-top box-based VOD (including Free on Demand, Subscription Video on Demand, Transactional on Demand and Electronic Sell-Through), the month of March saw nearly 30% increase in average transactions per household that subscribes to VOD year-over-year – with the average subscribing household accessing, purchasing or renting 16 titles of VOD content over the course of the month. That's nearly four more transactions per VOD subscribing household than in March 2019.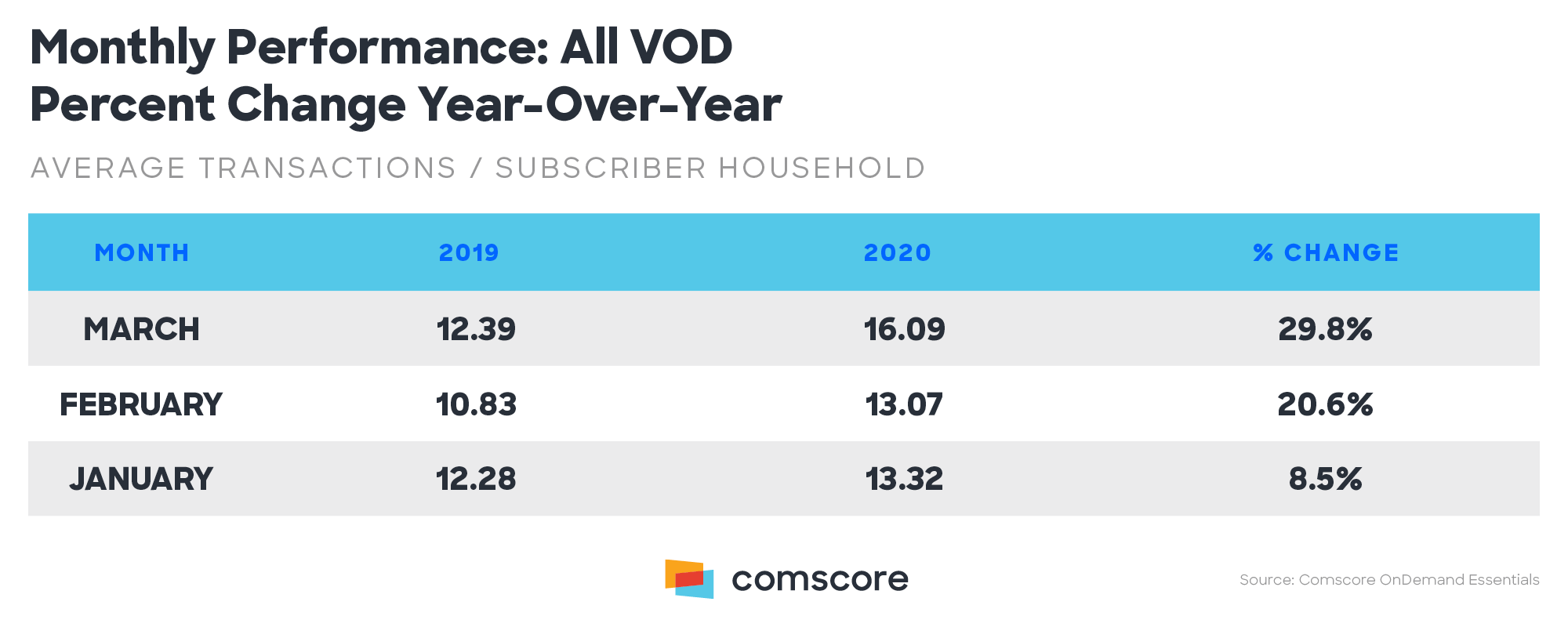 Of the VOD subcategories, Subscription Video on Demand (SVOD) had the highest growth, with a 53% increase in average transactions per subscribing household from March 2019 vs. March 2020. Free on Demand (FOD) was next with a 21% increase for the same time period.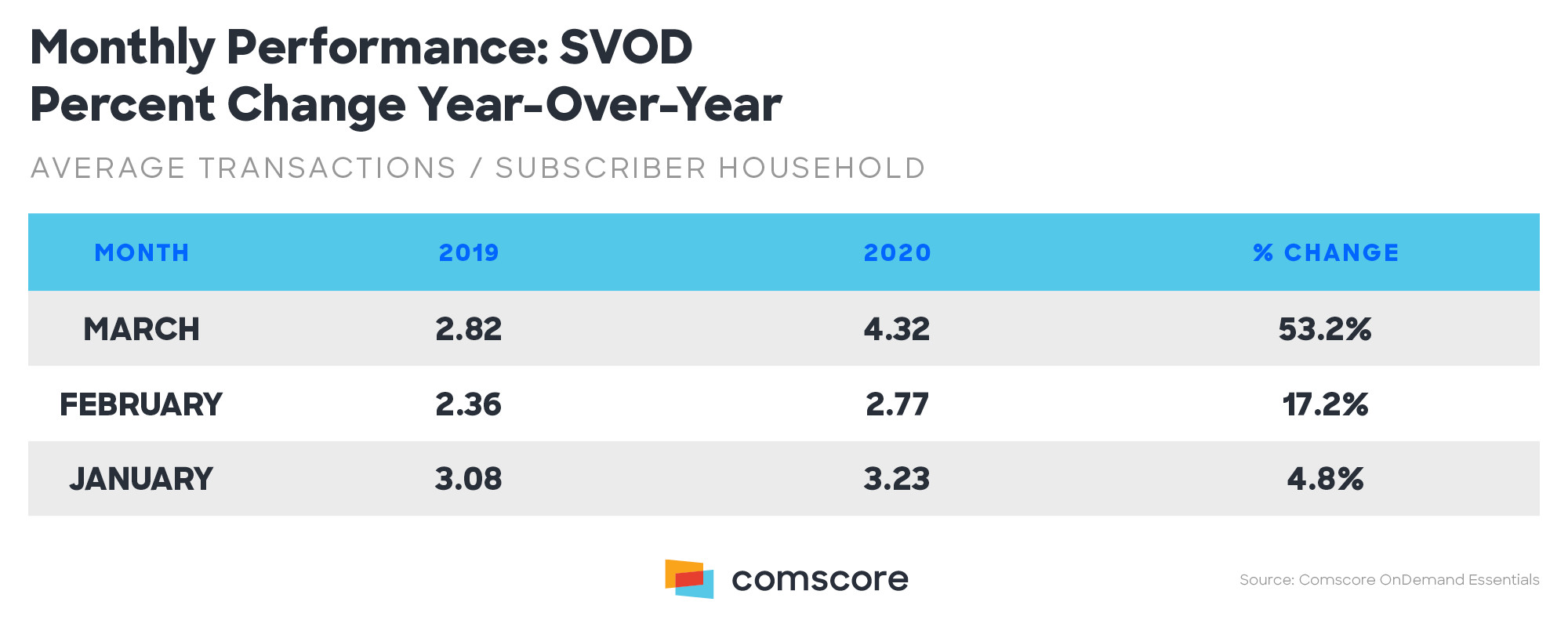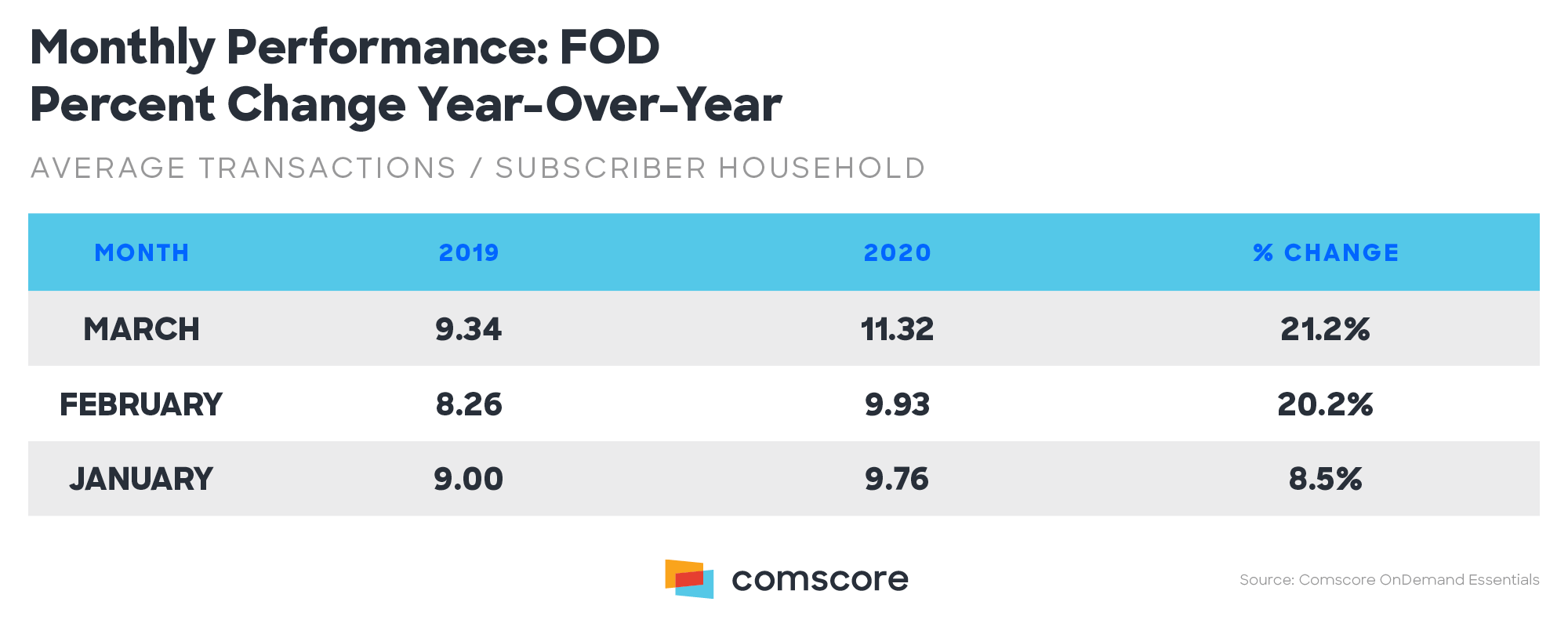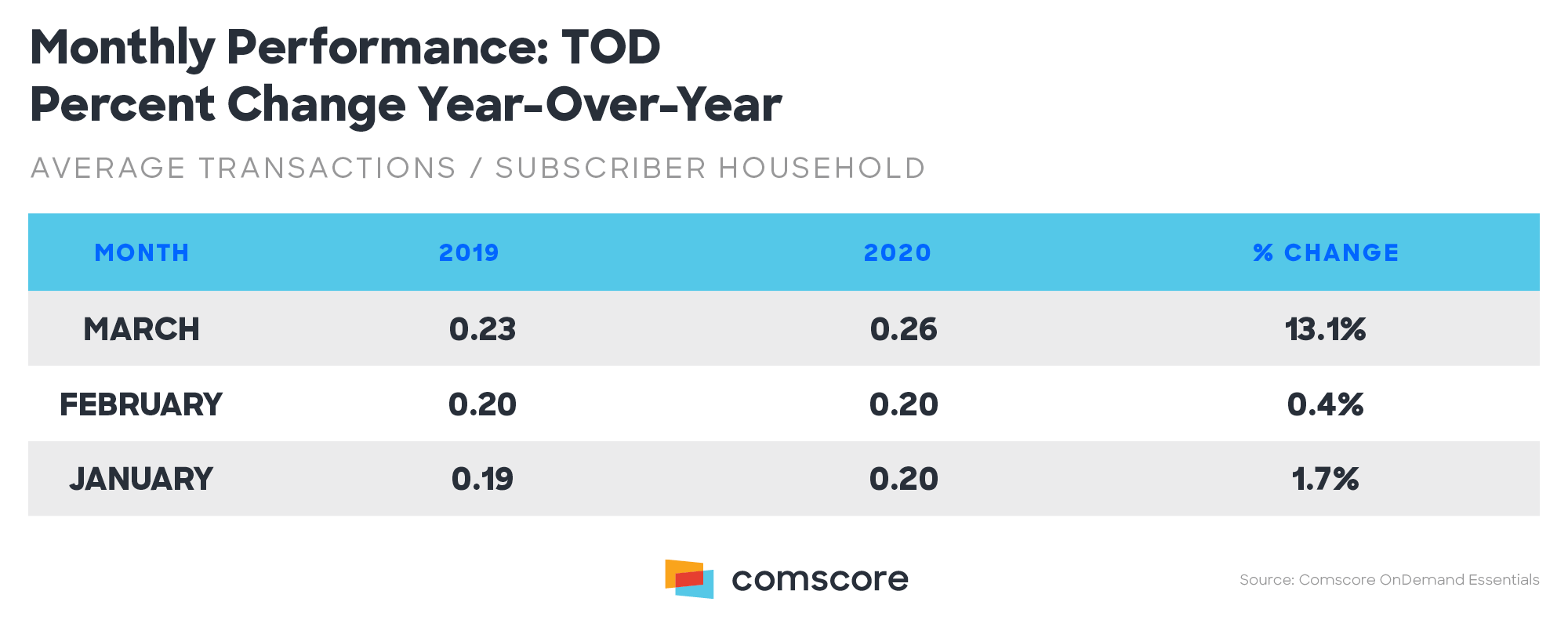 When we look week-by-week, we see a steady upward climb for VOD in general with the week of March 29, 2020 having the highest growth for 2020 thus far at +57% vs. the same week in 2019. Of the subcategories, SVOD was the standout. SVOD saw an 116% the week of March 29 from the same week in 2019, while FOD and TOD saw 38% and nearly 41% increases, respectively.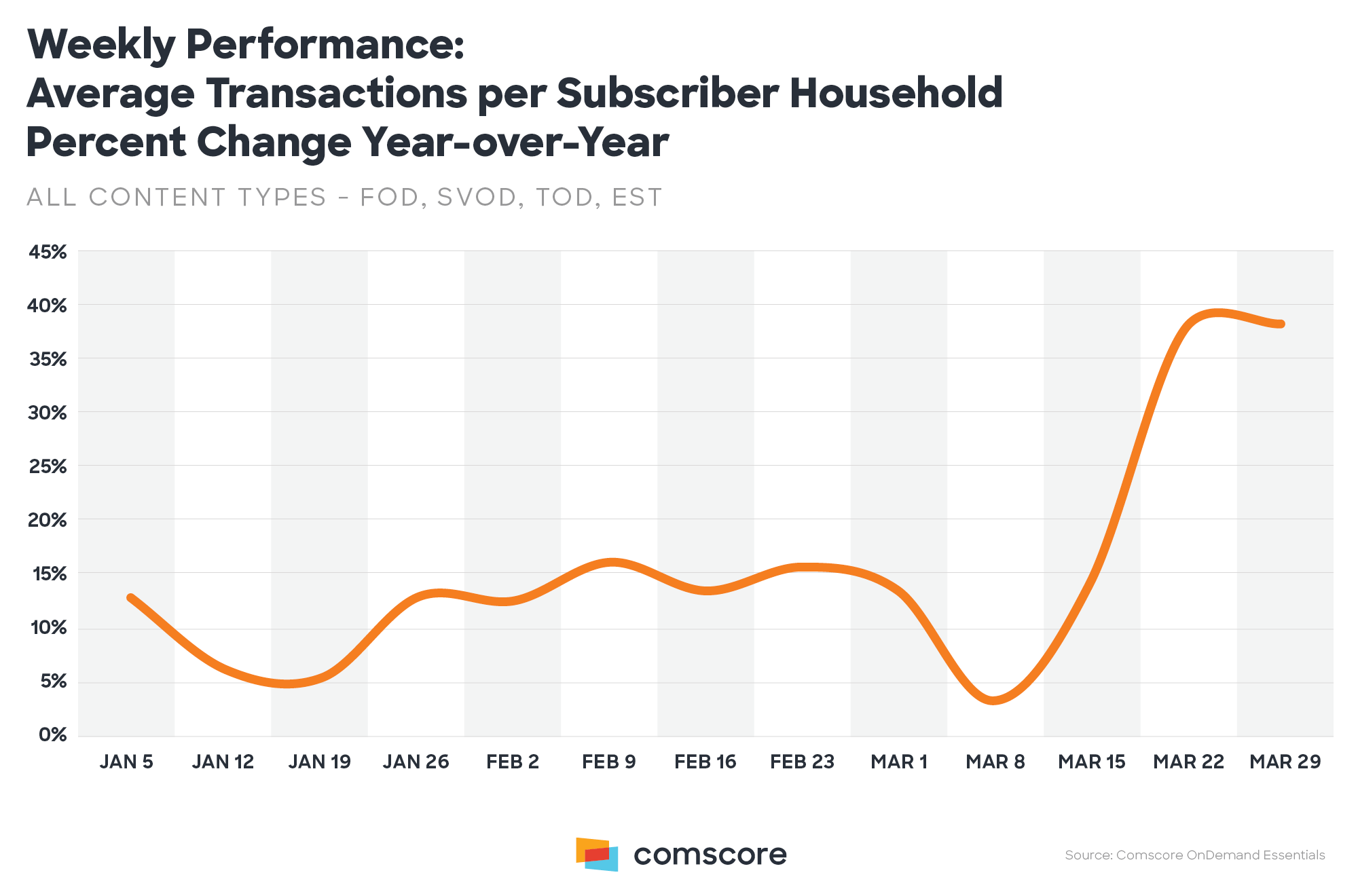 When we focus in on key genres within set top VOD, we see the largest increase for transactions in March 2020 vs. March 2019 in "Fitness" (+147%), "Life and Home" (+64%), "Premium" (+54%) (e.g., HBO, Showtime, and Starz content). Meanwhile, "Music" is down 10% for the same time period comparison.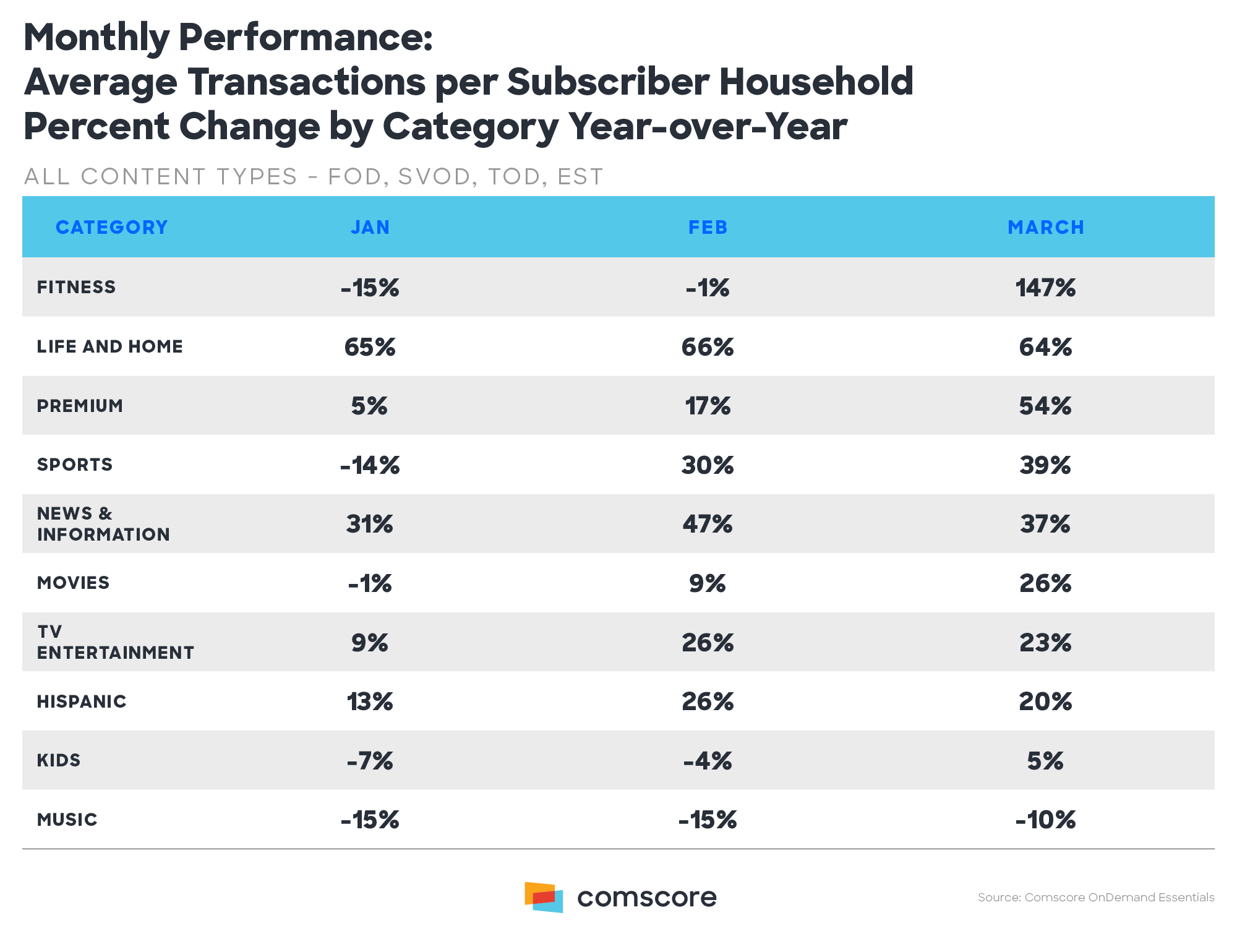 Want to better understand trends in Video on Demand viewing? Click here to learn more.
Helpful Definitions:
Video on Demand (VOD): A video media distribution platform that allows viewers to access video entertainment when they like without the constraint of a typical static broadcast schedule. For the purposes of this blog, we are looking at VOD content accessed via set-top boxes.
Free on Demand (FOD): Ad-supported content made available for free on an on-demand basis for streaming to end users.
Subscription Video on Demand (SVOD): Content available for a fixed, recurring fee, that gives subscribers unlimited streaming access to a licensed catalog of content for the duration of their active subscription term (e.g. HBO, Showtime, Starz, etc.).
Transactional on Demand (TOD): The temporary license (i.e., a rental) of a program for a limited and pre-determined viewing period (such as 24 or 48 hours) for on-demand viewing by an end-user.
Electronic Sell-Through (EST): Electronic sell-through is the model whereby a consumer purchases or perpetually licenses a digital reproduction. This licensed reproduction could be in the form of a file downloaded to the consumer's internet-connected device or local hard drive, or via access to the content in a virtual storage locker or cloud-based service for streaming on demand to the end-user.
Coronavirus Insights
Read our ongoing updates on shifting consumption trends and the resulting impact on the advertising and media industries on comscore.com/Coronavirus.
Sign up to be notified when new insights or data become available.
Sign Up
Seize the potential of video on demand with the census-level measurement of OnDemand Essentials®.