- May 9, 2017
Which global internet markets are the most 'mobile first'?
In our recent report, Mobile's Hierarchy of Needs, we revealed that mobile devices (smartphones and tablets) represent over 60% of digital time in all markets studied, but it was more than 90% in Indonesia. Clearly the extent to which a market can be deemed 'mobile first' varies considerably around the globe.
Time is not the only metric, however, with mobile audiences also stacking up differently to their desktop equivalents (although it is important to consider the amount of overlap between these users).
If we compare mobile time and audiences against desktop for the regions included in the report (and add newly-released data from India), we can build a picture of how all the markets stack up.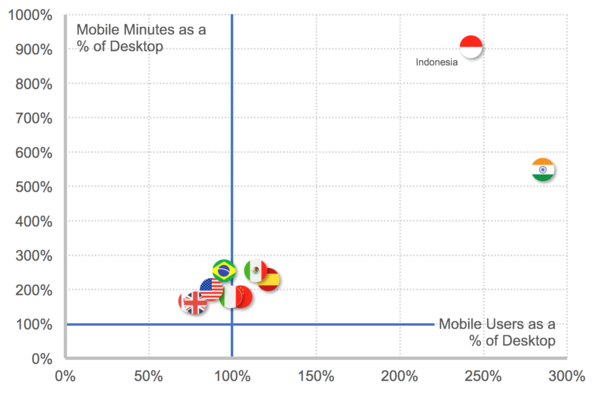 India and Indonesia are massive outliers, with time and audiences on mobile devices far surpassing desktop.
The remaining markets cluster much closer together, and whilst all see mobile minutes exceed that of desktop, they straddle the fence for audiences. Mobile devices may dominate time, but there are still larger audiences on desktop in several markets.
If we exclude India and Indonesia to zoom in on the clustered markets, we get a better picture of the market dynamics: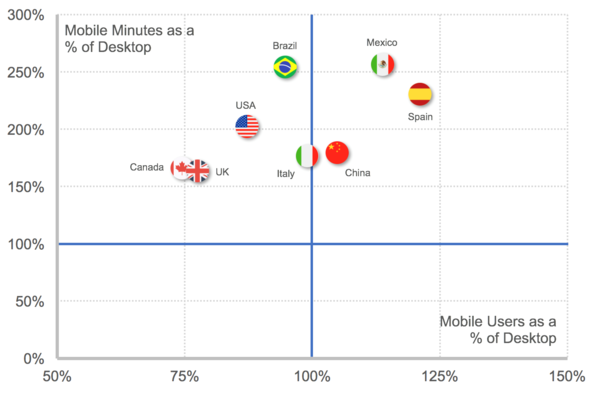 Mexico and Spain could be considered the most 'mobile first' of the remaining markets, leading the way in the relative dominance of their mobile audiences and total engagement.
Canada and UK are, relative to the other markets, the most reliant on desktop usage.
Brazil and USA have particularly engaged mobile audiences that, despite being smaller than their desktop user volumes, deliver 2x the number of minutes on mobile versus desktop.
This global view clearly highlights significant market differences in platform adoption between markets. The wide contrasts in time and audience scale underlines the need for granular and local measurement for publishers, advertisers and agencies as they plan content and commercial activities in a multi-platform world.

To learn more about how you can succeed in a mobile-first world, please visit our resource page or contact us .
All data source: Comscore MMX Multi-Platform February 2017. Mobile includes smartphone & tablet devices for users aged 18+.
Understand audiences and their media consumption across TV, digital, and cross-platform.
Learn More