- December 1, 2017
Why Smart Speakers are Ready for Primetime this Holiday Season
One of the most interesting, and perhaps unexpected, tech product categories to emerge in recent years has been smart speakers (i.e. wireless speakers with integrated voice assistants). When Amazon first made the Echo widely available in 2015, many weren't sure what to make of the product. Was it just a gimmick, or did it actually have potential as a new consumer tech category?
As it turns out, consumers who bought the device liked it. And they found more use cases for it, from listening to music and news, to setting reminders and timers, to answering basic questions. Last year Amazon introduced the Echo Dot as a more affordable, entry-level device that quickly amassed interest and proved there was a market for this product category. Since then, Amazon has rapidly expanded and diversified its smart speaker offering to the Echo Look, Echo Show, Echo Plus and more. Other tech titans have also since entered the category, with Google Home garnering positive reviews and Apple getting ready to enter the market with the forthcoming HomePod.
Now amidst the busiest shopping period of the 2017 holiday season, it's clear the smart speaker category has not only arrived – it's ready for primetime.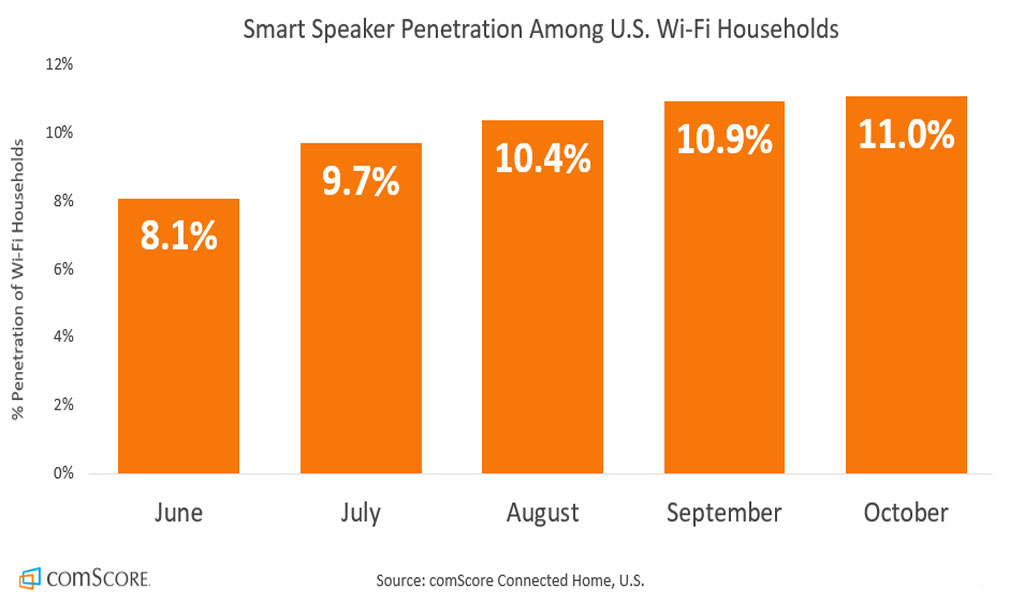 The most obvious reason this category is ready to go mainstream is that it's already hit a critical adoption threshold. When Amazon slashed the price of the Echo in half and dropped the Echo Dot price to $35 on Prime Day (July 11, 2017), it provided an additional jolt for the already ascendant smart speaker category, which quickly surpassed 10% penetration of U.S. connected households. It has since ticked up past 11% adoption, and with attractive Black Friday and Cyber Monday deals sure to move product through November and December, it seems likely to hit 15% adoption by early next year.
15% market penetration often represents a critical mass at which technology adoption can really accelerate. We've seen this mark an inflection point for adoption of smartphones and leading social networks in recent years, so we could be on the cusp of the same occurring for smart speakers.
But it's not just the smart speaker market that's on the verge of breaking out. It's really the clearest sign we have that the 'smart home' may also be beginning to materialize. For many consumers, the smart speaker is the gateway device to enabling a smart home, and recent data suggests smart speakers are complementary to an array of other smart home devices.
In fact, smart speaker households are several times more likely to use a variety of 'smart devices', most notably smart thermostats (2.8x as likely), smart hubs (3.4x) and especially smart light systems (6.3x). The light system affinity is interesting: are we witnessing the emergence of the modern-day version of "The Clapper"?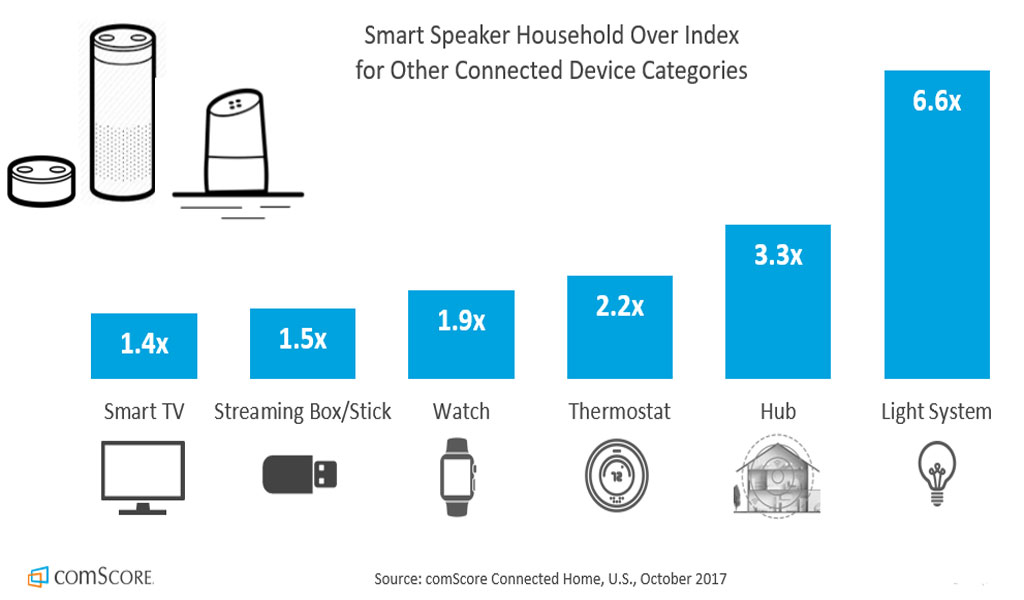 This holiday season feels like a new trend is finally emerging, and it's one that will likely shape the consumer technology market in a profound way over the next few years. As more smart home devices enter the home and connect to each other, the way we behave inside our own homes will likely change along with it.
And if you're interested in learning more about smart speakers and the emergence of voice technology, please join us for our upcoming webinar "The Future of Voice" on December 12, 2017 at 2PM ET.