- September 21, 2012
iPhone 5 Reaches Same Level of Online Sales in First 3 Days that iPhone 4S Reached in First Month
Today, crowds of eager consumers will get their hands on the iPhone 5 as Apple's latest smartphone officially hits stores and mailboxes across the U.S. It's been just over a week since CEO Tim Cook and marketing chief Phil Schiller took the stage and unveiled the much-anticipated device on September 12, and already it's proving to be the company's most promising phone to date.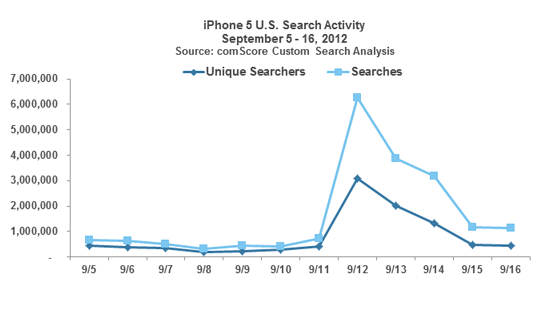 According to Apple, iPhone 5 pre-orders have shattered the previous record set by the iPhone 4S during its October 2011 release. Data from Comscore underscores this point even further. In just its first three days of availability, iPhone 5 U.S. online pre-orders reached 96 percent of the number of iPhone 4S online sales during the entire first month of its release! To say the iPhone 5 was heavily anticipated by Apple fans would be an understatement.

So what's behind the record-breaking iPhone 5 sales? There seem to be a few factors at play. First, smartphone migration has meant that there are more people in the market for a smartphone than ever before – whether they are a first-time smartphone owner or upgrading from their previous smartphone. In fact, 24 more million Americans owned a smartphone in July 2012 compared to October 2011 when the iPhone 4S was released, according to Comscore MobiLens.
Another potential explanation is that a substantial group of consumers held out for the iPhone 5. Looking at Comscore e-commerce data on handset purchases, post-holiday Q1 traditionally sees the weakest sales of new devices with Q2 bouncing back. However, in 2012 handset purchases actually declined from Q1 to Q2. It's highly possible that those people eligible for upgrades held out buying a new device in anticipation of the fall release of the iPhone 5.
AT&T Strongly Leads in Early Sales Among iPhone Carriers
that the iPhone 5 was the fastest-selling iPhone the company has ever offered. A deeper dive into Comscore data revealed that AT&T accounted for 68 percent of total U.S. online sales in the first three days of the phone's release (including carrier sales happening on Apple.com). As the original carrier of the iPhone and the exclusive carrier for several years, it is a safe assumption that AT&T is home to the highest share of iPhone enthusiasts. Further, owners of the iPhone 4 (which was released in June 2010) are now eligible for upgrades, providing an eager base of consumers ready and willing to purchase the iPhone 5 as soon as it was released. On the other hand, the iPhone 4 debuted on Verizon in February 2011 so these consumers are still several months away from their two-year contract upgrade.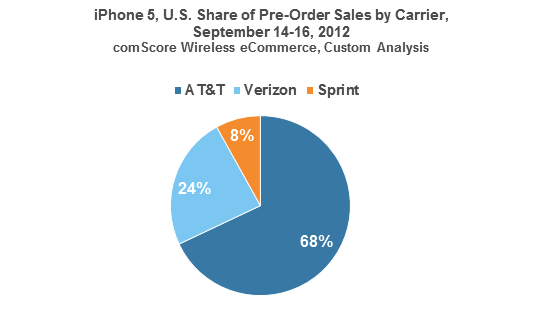 But if history is any indication, the carrier share of iPhone sales is subject to change. If we look back at the launch of the iPhone 4S, AT&T led with 48 percent of online sales among the three carriers in the first three days. Verizon represented 35 percent of online sales while Sprint, which joined Verizon and AT&T as an official iPhone carrier with the release of the 4S, captured 17 percent. But by the end of the month the story had shifted, with Verizon driving 45 percent of online sales, followed closely by AT&T at 43 percent and Sprint accounting for the remaining 12 percent.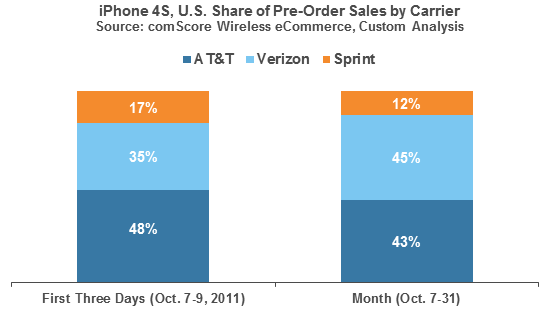 Heavy iPhone Searching Reveals Intense Consumer Interest in New Release
Consumers' search activity also indicates strong interest in the iPhone 5 from Verizon and Sprint subscribers. An in-depth look at searches for the term "iPhone 5" in conjunction with a specific carrier name revealed that AT&T had the most carrier-specific searchers on the day of the release, but Verizon accounted for the majority of carrier specific searches and searchers from the launch date through the weekend (September 12-16). In total, iPhone 5 and Verizon searches reached 284,596 in total from September 12-16 compared to 172,610 searches for iPhone 5 and AT&T and 122,554 searches for iPhone 5 and Sprint. We would expect to see more Verizon and Sprint searchers to convert into purchasers in the coming weeks.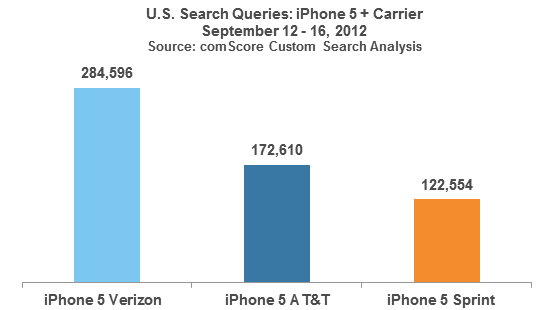 Regardless of carrier-specific queries, the iPhone 5 announcement caused a flurry of online search activity as Apple once again proved its expertise in pulling off product launches recognized in the mainstream. On September 12, 3 million people in the U.S. conducted searches on the term "iPhone 5" amassing a total of 6.3 million searches on the term. The following day saw search levels decline but still manage to exceed 4 million queries.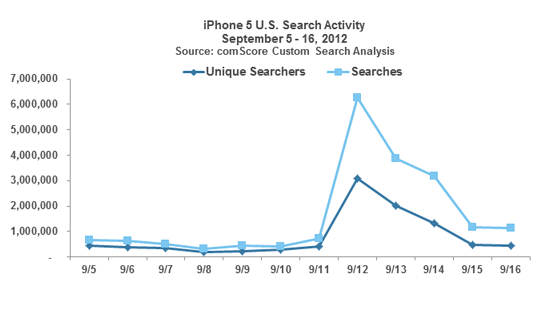 The iPhone 5 marks another milestone in Apple's history of innovation and demonstrates just how cherished these tiny computing machines have become for consumers across the country and around the world. As fans get ready to line up, the story of the iPhone 5 is only just beginning.