- March 22, 2016
iPhone 6 Series Now Represents Majority of U.S. iPhone Installed Base
The graphic below comes from Comscore's soon-to-be-released 2016 U.S. Cross-Platform Future in Focus report, showing a marked shift in iPhone device ownership in just 12 months' time. It's clear that the past year saw huge gains of more than 30 million new iPhone 6 and 6 Plus users, who now constitute a majority of the iPhone's U.S. installed base. Most of these new users upgraded from older iPhone models, but there were also 7.5 million incremental iPhone owners overall versus a year ago, which means Apple is still experiencing growth in its foremost line of products. The iPhone 6/6S models, in particular, have been growing rapidly on their way to surpassing the installed base of iPhone 5/5S/5C users.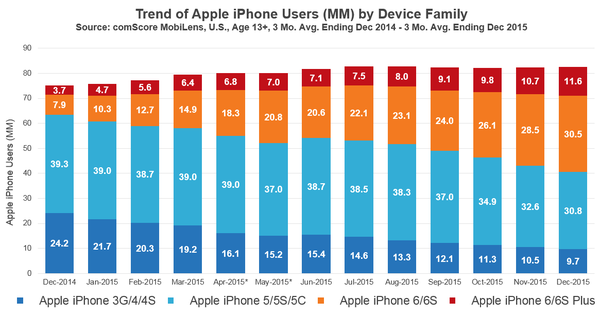 Time will tell how the introduction of the iPhone SE will affect the market dynamics. Given that it features a smaller, 4-inch screen in line with the iPhone 5 series along with a lower price point than the iPhone 6 series, the phone is positioned both as an upgrade for current iPhone 5 users and a way to attract first-time iPhone users. Such an entry to the market stands to both add to that topline number of nearly 83 million U.S. iPhone owners and present an upgrade option for existing iPhone 5 owners who prefer a smaller device.
For more insights on Apple and the smartphone market, as well as other key trends in mobile, TV and cross-platform, download our 2016 U.S. Cross-Platform Future in Focus report today.
If you have any questions: