-
February 2, 2012
2011 State of Online and Mobile Banking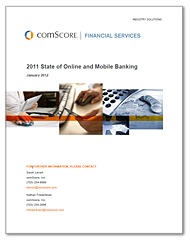 In 2011, online and mobile banking in the U.S. experienced substantial growth as adoption of these channels grew alongside investments made by financial institutions to develop their presence on these digital platforms. Online banking volumes across the top 10 banks grew to more than 65 million liquid deposit account (LDA) customers, which include users of checking, savings, and money market accounts (excluding certificates of deposit). In Q2 2011, 16 percent of mobile users reported using their devices to access financial information – a percentage that is only likely to grow as consumers become more accustomed to incorporating the use of their mobile and tablet devices to perform banking transactions.
This report analyzes the state of online and mobile banking activity in the U.S. in early 2011, providing key insights into customer behaviors, attitudes, satisfaction, service usage, and mobile adoption.
How extensive is consumer usage of online banking and how has this grown in recent years?
Which key online customer service features are driving greater engagement among customers?
How has the usage of services such as Bill Pay and Personal Financial Management changed over time?
What role does social media play in many financial institutions' digital strategies?
What is the current rate of mobile financial services usage in the U.S. and where is this headed?