-
June 12, 2012
The Power of Like 2: How Social Marketing Works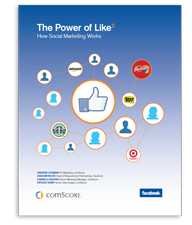 The Power of Like 2: How Social Marketing Works is the second research report in a series examining the ways in which brands can quantify the paid and earned effects of their social marketing programs on Facebook and optimize their efforts. The analysis leverages data and insights from the Comscore Social Essentials™ and Comscore AdEffx™ products.
By understanding the core elements of maximizing reach on Facebook – Fan Reach, Engagement, and Amplification – brands can benchmark their performance against other brands and devise strategies to improve on these dimensions and deliver measurable social marketing ROI. The report includes original analysis demonstrating ways in which exposure to earned and paid media on Facebook drives behavioral lifts in purchase behavior.
Understand audiences and their media consumption across TV, digital, and cross-platform.
Learn More