- February 4, 2013
Digital Wallet Road Map 2013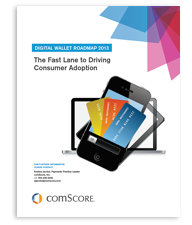 Rapid technology advancement and unprecedented innovation coupled with a drive to win consumer share of wallet have placed a spotlight on the payments industry, and digital wallets have taken center stage. But the questions still remain – will digital wallets win over the consumer audience? Which players will be cast in the lead role, and which will play the understudy?
Comscore's Digital Wallet Road Map 2013 will first size the current and future digital wallet market opportunity from a consumer perspective. In order to uncover the drivers behind consumer intent, the study will explore consumer understanding, usage preferences, brand perceptions, and the interplay between these factors. It will identify opportunities both in terms of product marketing as well as in digital wallet functionality and features.
Study Length: 48 pages
Illustrations: 56 figures
For a sample of illustrations featured in the report, please download the new expanded Study Abstract below.

For alternate payment methods, please contact Andrea Jacobs at ajacobs@comscore.com.