-
November 20, 2014
State of the U.S. Online Retail Economy in Q3 2014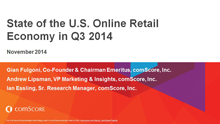 Desktop e-commerce, up 13% year-over-year in Q3, continues to grow at a faster rate than the overall retail sector, while mobile commerce is providing an increasingly meaningful contribution to total digital commerce.
In this presentation, Comscore Chairman Emeritus & Co-Founder Gian Fulgoni and Comscore VP of Marketing & Insights Andrew Lipsman take an in-depth look at the online retail trends that will drive this holiday season and impact the market.
Key insights from the webinar include:
Q3 2014 Total Digital Commerce accelerates marginally to 14% year-over-year as it continues to gain share from brick-and-mortar.
Consumer sentiment is improving, but economic concerns remain as 31% of consumers still rate economic conditions as poor.
Free shipping continues to grow in importance hitting an all-time non-Q4 high in Q3 at 68%, suggesting still a need for retailer deals.
Comscore forecasts a cautiously optimistic 16% growth in online spending this holiday season, with desktop expected to grow 14% year-over-year and mobile expected to grow 25%.
5 S's expected to play important role in retailers' holiday success:

Short Calendar
Social Commerce
Smartphone Apps
Sit-Back Shopping
Showrooming
Comscore Media Metrix® Multi-Platform provides an unduplicated view of total audience behavior across desktops, smartphones and tablets.