-
March 27, 2015
2015 Canada Digital Future in Focus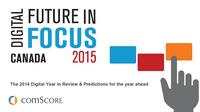 This annual landmark report explores how the prevailing trends in in web usage, multi-platform engagement, online video, and digital advertising are shaping the Canadian marketplace and what these trends mean for the year ahead.
Here is a sample of insights included in the report:
How Canadians' engagement online compares to other countries such as the US
How many Canadians are watching videos online, across a surprisingly broad range of categories
The latest on Canada's Multi-Platform population, and the impact of increasing smartphone adoption
How smartphones continue to shape the retail path to purchase
The current state of online advertising in Canada, and how Comscore is helping to advance the industry
You may also be interested in joining us for our upcoming 2015 Canada Digital Future in Focus Webinar on Tuesday, April 14 at 2 p.m. ET as we recap an exciting year in Canada. During this webinar, we will share insights from the report, exploring how the digital landscape changed in 2014, and what this means for the year ahead.
Comscore Media Metrix® Multi-Platform provides an unduplicated view of total audience behavior across desktops, smartphones and tablets.