Cyber Monday Spending Soars to $1.46 Billion, Ranking as Heaviest U.S. Online Spending Day in History
Cyber Monday 2012 Expected to be Heaviest Day of Season for Third Consecutive Year
RESTON, VA, November 28, 2012 – Comscore (NASDAQ : SCOR), a leader in measuring the digital world, today reported holiday season U.S. retail e-commerce spending for the first 26 days of the November-December 2012 holiday season. For the holiday season-to-date, $16.4 billion has been spent online, marking a 16-percent increase versus the corresponding days last year. Cyber Monday reached $1.465 billion in online spending, up 17 percent versus year ago, representing the heaviest online spending day in history and the second day this season (in addition to Black Friday) to surpass $1 billion in sales.
2012 Holiday Season To Date vs. Corresponding Days* in 2011
Non-Travel (Retail) Spending
Excludes Auctions and Large Corporate Purchases
Total U.S. – Home & Work Locations
Source: Comscore, Inc.

Millions ($)
2011
2012
Percent Change
November 1 – 26
$14,114
$16,378
16%
Thanksgiving Day (Nov. 22)
$479
$633
32%
Black Friday (Nov. 23)
$816
$1,042
28%
Weekend (Nov. 24-25)
$1,031
$1,187
15%
Cyber Monday (Nov. 26)
$1,251
$1,465
17%
*Corresponding days based on corresponding shopping days (November 3 thru November 28, 2011)
"Despite some news reports suggesting that Cyber Monday might be declining in importance, the day has once again set an online spending record at nearly $1.5 billion," said Comscore chairman Gian Fulgoni. "However, it is also clear that the holiday promotional period has begun even earlier this year, with strong online sales occurring on Thanksgiving Day and Black Friday. Now, we shall see the extent to which continuing and attractive retailer promotions are able to boost sales for the remainder of the week."
Digital Content & Subscriptions and Consumer Electronics Post Strongest Cyber Monday Gains
Cyber Monday saw Digital Content & Subscriptions continue to set the pace among product categories with a year-over-year growth rate of 28 percent. Consumer Electronics, buoyed by gains in smartphone sales, ranked second at 24 percent, while tablet sales helped the Computer Hardware category post a 22-percent growth rate. Video Games, Consoles & Accessories (up 18 percent) and Jewelry & Watches (up 17 percent) rounded out the top five.
Cyber Monday: Top Gaining Product Categories
Cyber Monday 2012 vs. Cyber Monday 2011
Total U.S. – Home & Work Locations
Source: Comscore, Inc.
Percent Change
Digital Content & Subscriptions
28%
Consumer Electronics
24%
Computer Hardware
22%
Video Games, Consoles & Accessories
18%
Jewelry & Watches
17%
Shopping at Work Accounts for Nearly Half of Cyber Monday Spending
Nearly half of dollars spent online at U.S. websites originated from work computers (47.1 percent), down slightly from last year. Buying from home comprised the majority of the remaining share (47.2 percent) while buying at U.S. websites from international locations accounted for 5.7 percent of sales.
Breakdown of Cyber Monday Spending by Location
Cyber Monday 2012 vs. Cyber Monday 2011
Total U.S. – Home & Work Locations
Source: Comscore, Inc.
Cyber Monday 2011
Cyber Monday 2012
Point Change
Home (incl. University)
43.2%
47.2%
+4.0
Work
50.2%
47.1%
-3.1
International
6.6%
5.7%
-0.9
Total
100.0%
100.0%
N/A
"The term 'Cyber Monday' was coined by Shop.org in 2005 to refer to the significant jump in e-commerce spending that occurred following the Thanksgiving holiday weekend as consumers got back to sitting in front of computer screens at work," added Mr. Fulgoni. "At the time and for several years afterward, Cyber Monday was often misconstrued as the heaviest online spending day of the year, when in fact it barely cracked the top ten days of the season. However, with the passage of time, the day grew in importance as a result of an increasing number of retailers offering very attractive deals on the day and extensive digital media coverage making sure that consumers were aware of them. As a result, Cyber Monday has assumed the mantle of top online spending day for the past two years – a trend we expect to hold once again in 2012."
Weekly Online Holiday Retail Sales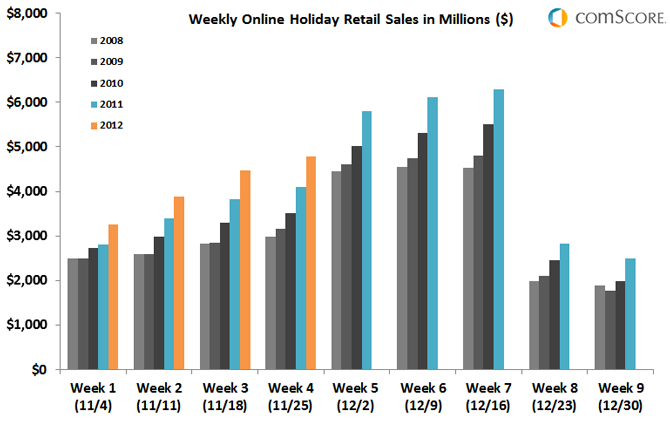 About Comscore
Comscore, Inc. (NASDAQ: SCOR) is a global leader in measuring the digital world and preferred source of digital business analytics. For more information, please visit www.comscore.com/companyinfo.
Contact:
Andrew Lipsman
Comscore, Inc.
+1 312 775 6510
press@comscore.com
Follow @Comscore